This archived news story is available only for your personal, non-commercial use. Information in the story may be outdated or superseded by additional information. Reading or replaying the story in its archived form does not constitute a republication of the story.
Editor's note: This is the fourth installment in a weekly series featuring highlights from a KSL investigative podcast series titled "Cold" that reports new information about the case of missing Utah woman Susan Powell.WEST VALLEY CITY — Detective Ellis Maxwell had no idea on the morning of Dec. 7, 2009, that his life was about to change, forever.
Maxwell had navigated a snowy commute into the West Valley police headquarters and was at his desk working on a robbery case when his supervisor called his name.
"He comes up behind me and he's like, 'Yo Ellis, what are you doing?' It's like, 'Just doing my job,'" Maxwell recalled. "He's like, 'All right, well I need you to go out and help patrol on a missing family.'"
Maxwell had drawn the assignment of helping locate Josh and Susan Powell, as well as their two sons, Charlie and Braden. The family had vanished under suspicious circumstances.
#josh_pic
The Powell family's day care provider, Debbie Caldwell, had called their emergency contact, Jennifer Graves, when the boys failed to arrive at her home as expected that morning. Graves was Josh Powell's sister and lived in nearby West Jordan.
Graves' mother, Terrica Powell, called 911 as she and her daughter drove toward West Valley City. They arrived at the Powell family home minutes before the first responding officers.
They discovered all of the exterior doors on the Sarah Circle house were locked. The windows were also all covered. Police officers eventually broke a window to gain access to the home, fearing the family might have been overcome by carbon monoxide gas.
The home, they discovered, was vacant.
Maxwell arrived at the house a couple of hours later. He first noticed two box fans in the living room, both on and aimed at the couch.
"Some believe that it was blowing on the carpet but the reality was it was blowing on maybe the carpet but also the couch," Maxwell said. "It was very obvious that the couch had been cleaned, where the love seat hadn't."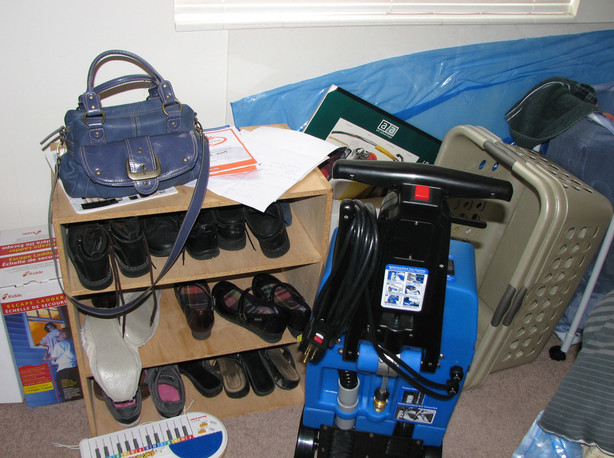 #rugdoc_pic
Maxwell also located Susan Powell's purse, wallet and keys undisturbed in the master bedroom. There were no signs of a struggle inside the house and no property missing.
Josh Powell returned with the boys late that afternoon. His wife was not with him. She has never been located.
Maxwell conducted a first interview with Powell that night, followed by a second the following day. He immediately identified Powell as the prime suspect in Susan Powell's disappearance and likely murder.
Legacy of the case
Maxwell spearheaded the investigation from that first day through the Feb. 5, 2012, murder-suicide in Washington during which Powell killed his sons and then himself, to its declaration as a cold case on May 20, 2013. At that time, West Valley police released copies of the case files, including reports, witness interview transcripts, court filings, evidence photos, timelines and more.
Maxwell and a handful of other detectives and attorneys had to scour each document for protected information and black out those sections.
"It was a daunting task to say the least," Maxwell said. "The only reason it happened is because the case essentially came to an end. Like, there's nobody that can be held accountable."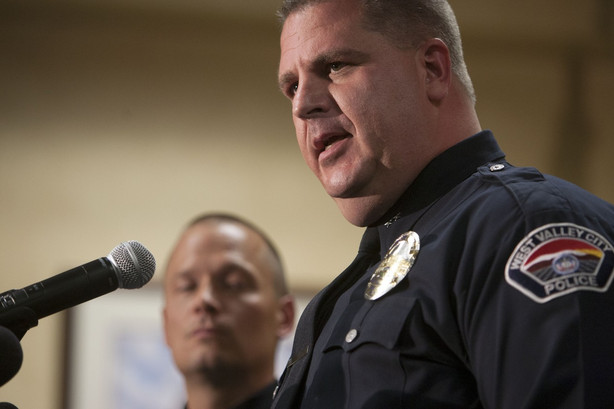 #presser_pic
Maxwell began studying psychology at Columbia College after the Powell case went cold, in part motivated by a desire to understand the mindset of Josh Powell. He retired from police work at the beginning of 2016, concluding a 20-year career in law enforcement.
Since then, he's graduated from college, obtained a private investigator license and opened his own P.I. agency, Shield Balance.
Like many of the investigators who worked the Powell case, Maxwell continues to grapple with the frustrating outcome.
"I think everybody involved in the case has struggled at one point or another with it," Maxwell said. "All of them, not just me, are going to have to answer questions and live with this case for the rest of their lives."
Sharing the story
West Valley City's redacted Susan Powell case file formed the basis for the "Cold" podcast series.
"Even though the case has been released and it's been redacted, I don't think an average person could sit down and look at this and really wrap their mind around it," Maxwell said. "There's way too much information, way too many details."
Maxwell began sharing his insights in 2017. His voice enters the podcast in Episode 4, which recounts the events of Dec. 7, 2009.
Maxwell is also working on a book about his experiences on the case.
"It's tough going back and reliving that entire episode," he said. "I'd sit down and I'd start typing and I'll type and type and type and do this and do that and then next thing you know, I can't sleep for two, three days."
#ellis_vid
Maxwell hopes to have the book completed before the 10th anniversary of Susan Powell's disappearance on Dec. 7, 2019. He believes it might help answer lingering questions about why investigators made certain choices.
"It'll never go away for me," Maxwell said. "There's probably not two weeks that pass by where somebody will ask me something about the case."
Domestic Violence Resources
Utah Domestic Violence Coalition operates a confidential statewide, 24-hour domestic abuse hotline at 1-800-897-LINK (5465). Resources are also available online: udvc.org.

Help for people in abusive relationships can be found by contacting:
____
You can hear more from Ellis Maxwell in "Cold." Subscribe for free to the new KSL Podcast at www.thecoldpodcast.com. Engage with "Cold" on Facebook, Instagram and Twitter at @thecoldpodcast.
×
Photos
Related Stories