This archived news story is available only for your personal, non-commercial use. Information in the story may be outdated or superseded by additional information. Reading or replaying the story in its archived form does not constitute a republication of the story.
PROVO — Often the best strategy a volleyball team can employ is the most simple one: get the ball to your best hitter.
That's what Utah volleyball did in Friday night's NCAA Tournament opener with Dani Barton Drews.
Drews had a match-high 18 kills on 36 attempts, and the Utes swept Denver 25-23, 25-18, 27-25 Friday night in the Smith Fieldhouse in Provo.
"They're a big block, and I messed up a few times. But I think it helped to mix up the inside sets with a long set," Drews said, crediting her setter Bailey Choy. "They were struggling with that sometimes, and I thought mixing that up helped a lot to open up some things.
"When we pass in system and the middles have to stay on middles, that opens up me a lot."
Megan Yett added 11 kills and six digs, and Kenzie Kerber supplied 10 kills, seven digs and two blocks for the Utes, who got 33 assists and 12 digs from Bailey Choy.
"Dani's an athletic player, and I trust her to kill any bad that I can throw up — whether it's bad or good," Choy said of Drews, whose coach called her "a Terminator." "She does an amazing job with what she gets."
The Utes (19-13) will face the winner of No. 4 BYU and Stony Brook in Saturday's second round. The match, which tips at 7 p.m. MST, will be broadcast on BYUtv.
The last time Utah played an NCAA Tournament match in Provo, the Utes lost to UNLV, 3-1. This time was different.
"There was a lot of fight in us," Utah coach Beth Launiere said. "We knew they were a good defensive team, and we were going to be in long rallies.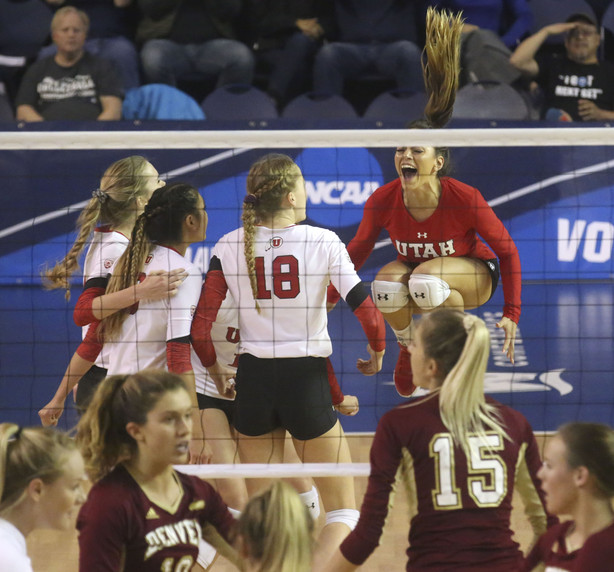 "But so many different people came up big in those long rallies."
None were as big as Drews, though.
The sophomore who starred in both volleyball and basketball at Brighton High scored 18 of the Utes' 51 kills, passed on 12 of their 57 digs, and touched the ball an unconscious 48 times in Utah's system — with an ace thrown in for good measure.
Every time the Pioneers tried to rally, she was there.
"We tried to stop her, but I don't think you can really stop someone like that," Denver coach Tom Hogan said of Drews. "She proved why she is one of the top players in the country."
Becca Latham had 13 kills and Lydia Bartalo added 11 kills to lead the Pioneers, who rolled to the Summit League title with a 15-0 record.
Denver (27-3) took an early lead in each of the three sets, but Utah never let the Pioneers lead for long.
The Utes held the in-state visitors to .175 hitting during a 25-18 win in the second set, taking a 2-0 lead and looking to close out the sweep.
Drews took command during the third set. The sophomore from Brighton High put down three kills during a 6-0 run that gave the Utes a 12-7 advantage en route to an 18-12 advantage.
But Hogan called timeout to challenge a point, and the Pioneers turned things around.
The Utes committed four-straight hitting errors during a 6-2 run that tied the match 20-20. Latham struck for a kill, then added an ace to cap a 3-0 run that put Denver up 23-21 in the third set during the big rally.
"We realized we were down, but we didn't talk about it that much," Latham said of the third-set rally. "We just said, as long as you get the ball in the box, we'll cover for you."
Two teams that played to five sets in the Utes' home opener couldn't let the decisive third die down. Denver had two opportunities to prolong the match, but Yett pulled out a pair of kills, including one that set up match point en route to the 27-25 final.
The Utes held off the Pioneers 3-2 in the first go-around back on Aug. 25, the third match of the season and the home opener in Salt Lake City. But that didn't prove to be the case Friday night.
Hogan credited Utah's defense and passing for the change in final scores. Utah libero Brianna Doehrmann had 16 digs, the third Ute to register double digits on the back line.
"I could not be more proud of this team," Launiere said. "The last three weeks of the season, we've just found a lot of ways to win matches. I thought tonight was another step in what we've been doing for the last 3-4 weeks of the season."
×
Related Stories