This archived news story is available only for your personal, non-commercial use. Information in the story may be outdated or superseded by additional information. Reading or replaying the story in its archived form does not constitute a republication of the story.
MIDVALE — The mother of Lisa Vilate Williams — the woman who was allegedly shot and killed over the weekend by her boyfriend's ex-wife — described her daughter as kind and generous.
"My beautiful Lisa, she was murdered while decorating a Christmas tree with the homemade ornaments she was making with the kids," Tawny Williams wrote in a Facebook post Tuesday.
"She was so kind, sweet, generous, loving, and brought joy and excitement to every aspect of life. Please share the beauty of her life rather than the monster that ripped her from ours," Williams said.
"She was magic, and I want her remembered for how she lived and not for how she was killed."
The tragic incident unfolded Sunday evening when Chelsea Watrous Cook, 32, of Herriman, went to an apartment at 7690 S. Center Square to drop off cold medicine to one of her children, according to police. Cook went into the apartment while her ex-husband was in the parking lot.
"(Cook) was told to leave the apartment, but she refused to listen. (She) remained unlawfully inside of the apartment during this time. (She) then locked herself in the bathroom while (she) was on the phone with the 911 operator," a Salt Lake County Jail affidavit states.
Cook then came out of the bathroom, walked to her coat, grabbed a handgun and fired three to five rounds at Williams, according to the report. Williams died shortly after in a local hospital.
Cook's and her ex-husband's twins, both 3 years old, were "present during the entire ordeal," the report states.
---
She was magic, and I want her remembered for how she lived and not for how she was killed.
–Tawny Williams
---
On Tuesday, Cook's family offered their condolences to the Williams family.
"No words can express our sorrow over the loss of your daughter, Lisa Vilate Williams. She brought great joy to Travis Cook and his children, and her light and beauty will never be forgotten or replaced," said the family's spokeswoman, Kimberly Jensen, Cook's aunt.
"We cannot make sense of this senseless act of violence. We are deeply shocked and saddened. We grieve alongside you during this tragic time."
Cook was a health and yoga teacher at Skyridge High School in Lehi, according to the school's website and Cook's Facebook page. By midmorning Monday, Cook's profile had been removed from the high school's website. A spokesman for the Alpine School District said Cook was immediately fired.
Previous charges
Unbeknownst to the district, Cook was already facing three misdemeanor charges stemming from an Oct. 16 incident that happened at her apartment in Herriman.
The Herriman Police Department investigated the case that resulted in Cook being charged with two counts of domestic violence in the presence of a child and one count of assault. The victim in the case was an adult male who lives at a separate residence, according to Lt. Cody Stromberg.
As a licensed school teacher, Cook should have reported the charges to the school district within 48 hours or as soon as possible, according to the Utah Administrative Code. But an Alpine School District spokeswoman said the school district was not made aware of the charges.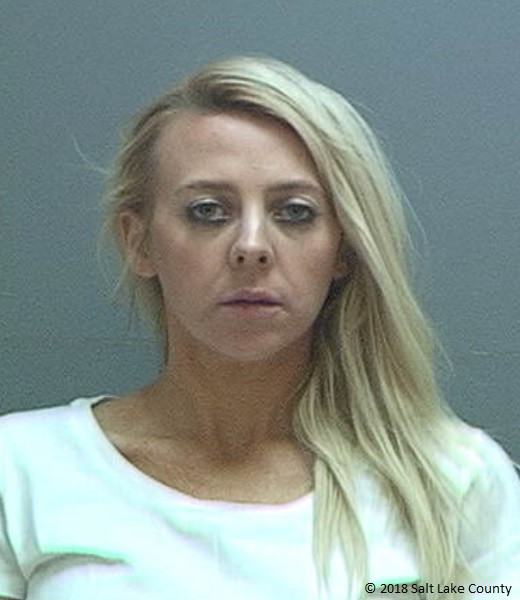 "We should have been made aware so that proper steps could have been taken," said Kimberly Bird, assistant to the superintendent at Alpine School District. "We would have followed the process and made sure that everybody was safe."
"Any charges of that nature you must self-report," Bird said.
As of Tuesday evening, the district had still not received the report from state officials about the October charges, even though Cook already appeared in the Herriman Justice Court on Nov. 13 for an arraignment, where she entered pleas of not guilty on all three charges.
A representative for Utah's Department of Public Safety said the Bureau of Criminal Identification received Cook's paperwork from the Herriman Police Department in the beginning of November, according to Marissa Cote, Department of Public Safety public affairs director. However, it wasn't processed until Monday because an electronic version wasn't filed first, she said.
Had Herriman Police submitted Cook's citation electronically, Alpine School District would have been alerted to the charges in early November.
A Go Fund Me memorial account* was established Tuesday for Lisa Vilate Williams.
"She loved all of the small things and was enamored with making every little thing special and beautiful," her family wrote.
"From our Parisian themed dates to finding the saddest plant in the store as a project to bring back to life she made everything better, she sought out life. We all miss her so much; her spirit was magic and we can only hope to feel it again."
Domestic violence resources
The Utah Domestic Violence Coalition has a statewide, 24-hour hotline for victims of domestic violence at 1-800-897-LINK (5465).
The Division of Child and Family Services offers counseling, teaches parenting skills and conflict resolution and can connect the family with community resources. Their goal is to keep children with their family when it is "possible and safe," according to their website. Visitdcfs.utah.gov/questions/or call 1-800-323-DCFS (3237) for resources or to report child abuse or neglect.
The Christmas Box House acts as a temporary shelter for children and can provide them with new clothing and shoes, among other services. Call the Salt Lake office at 801-747-2201 or the Ogden office at 801-866-0350.
*KSL.com does not assure that the money deposited to the account will be applied for the benefit of the persons named as beneficiaries. If you are considering a deposit to the account, you should consult your own advisors and otherwise proceed at your own risk.
×
Photos
Related Stories