This archived news story is available only for your personal, non-commercial use. Information in the story may be outdated or superseded by additional information. Reading or replaying the story in its archived form does not constitute a republication of the story.
PROVO — After 12 years on the Hill and a dismal firing in 2016 after serving as co-offensive coordinator, current BYU quarterbacks coach and passing game coordinator Aaron Roderick has plenty of reasons to feel slighted by the first FBS university that employed him.
He has plenty of reason to take it personally when he returns to the place of his former employment Saturday at 8 p.m. MT (FS1, KSL Newsradio) with his new team.
He has even more reason to take it personal when realizing that his new team is his alma mater, the school where he played wide receiver from 1996-98 after two years as a JUCO All-American at the former Ricks College.
But Roderick won't take it personal.
Why? Because the BYU-Utah rivalry game is about more than just him, he admits. To say otherwise would be disrespectful to a series that dates back nearly 100 years — even if both sides can't agree how many times the game has been played.
"It's not personal. I respect the rivalry and I respect the game enough that I am going to give everything I can to come out with the win," said Roderick, who coached everything from wide receivers to quarterbacks to coordinating the offense for the Utes. "I still have a lot of friends on that staff."
He also keeps in contact with most of those friends, and still lives just over a mile away from Utah's campus.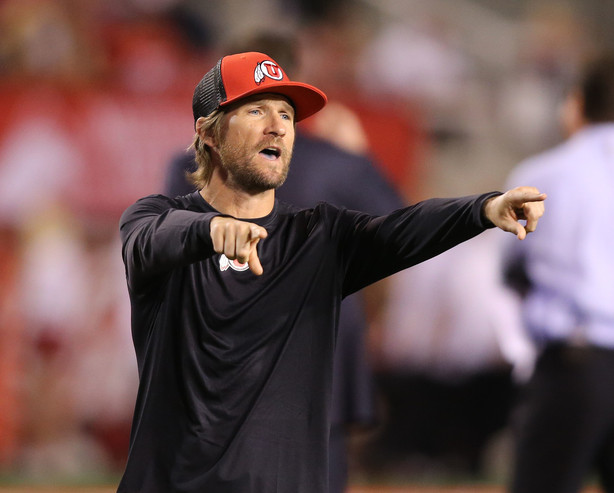 One of those friends is Kyle Whittingham, the former BYU linebacker who has brought the Utes into a new age since taking over as head coach in 2005.
Whittingham has led the Utes to a 119-59 record, including an astonishing 11-1 record in bowl games. Those games include victories over Pitt (2005 Fiesta Bowl) and Alabama (2008 Sugar Bowl), two wins that not only helped elevate the Utes' program to today's heights but also helped end the former Bowl Championship Series.
But Whittingham is more than great for his own program. He's also developed an extensive coaching tree — one that includes Roderick, current BYU head coach Kalani Sitake and Cougar defensive coordinator Ilaisa Tuiaki.
"Kyle's a great coach," Roderick said. "I learned a ton from him, and I know Kalani did, too. He's as good as it gets; he's one of the best head coaches in college football, and I learned a ton from him."
After BYU clinched bowl-eligibility with a 45-10 win over New Mexico State, Sitake took several moments in his post-game press conference to congratulate Whittingham, whose team had clinched the Pac-12 South title following Oregon's win over Arizona State well after the Utes' conference finale at Colorado.
Playing Utah is important to the current BYU head coach, as well. But so, too, are the friendships he formed in a decade on the Hill, the last three seasons going as assistant head coach.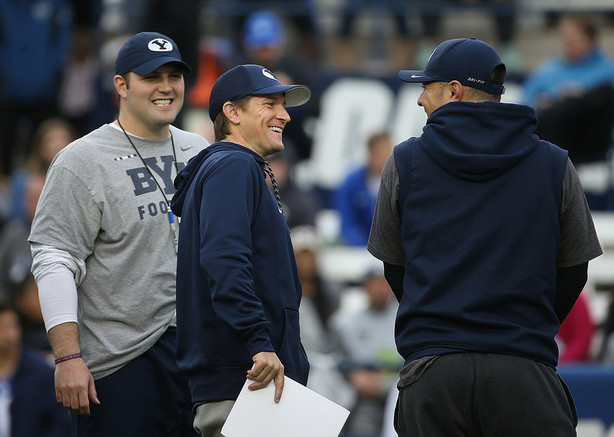 "This is an important game to me," Sitake said earlier this week. "It's an important game to our coaches, our administration, our fans, and our players are excited for this game.
"I love the feeling that we have right now, and I'm excited to go up to Rice-Eccles and play a great one Saturday night.'
Roderick had multiple opportunities to leave Utah during his dozen years in Salt Lake City. He accepted a job offer from Washington prior to the 2009 season, but returned to Utah a couple weeks later, citing personal reasons.
He made a similar move in 2013, when BYU went so far as to publish a press release announcing the hiring of Utah's senior-most offensive staff member — only to retract the move on the same day when Roderick once again returned to Utah for personal reasons.
It's easy to see that Utah means a lot to the ex-BYU wideout — but there's "no bitterness" to the way the two sides parted two years ago.
"I worked there for 12 years, and that was a really good run," Roderick said. "I probably stayed for too long. But 12 years in one place is a good run, and I'll always be grateful for those 12 years."
×
Photos
Related Stories