Estimated read time: 5-6 minutes
This archived news story is available only for your personal, non-commercial use. Information in the story may be outdated or superseded by additional information. Reading or replaying the story in its archived form does not constitute a republication of the story.
PROVO — One last time.
BYU's seniors took to LaVell Edwards one final time in their careers, and the success will likely lead to one final game to be played in the postseason.
Lopini Katoa scored four touchdowns, and Matt Hadley added two more as the BYU offense put up more than 500 yards against woeful New Mexico State, 45-10 to clinch bowl-eligibility with one game remaining.
Oh, and that rivalry game.
The Cougars (6-5) will play at Utah next Saturday, Nov. 24 at 8:15 p.m. MT (FS1, KSL Newsradio). But before the annual rivalry game, let's take a look back at how the Cougars made themselves available for the postseason.
BYU coach Kalani Sitake after the Cougars clinch bowl-eligibility with a win over NM State .... https://t.co/CcFMgsgVdB

— KSL Sports (@kslsports) November 18, 2018
So, slow starts, huh?
Kickoff temperatures plunged below 40 degrees, so maybe it makes sense that BYU's offense took some time to get warmed up.
Just like a week ago in Foxborough, when the Cougars fell behind 10-0 before rattling off 35-unanswered points in a 35-16 win over UMass, BYU fell behind early.
The Cougars went 3-and-out on their first two drives, and Josh Adkins gave the Aggies a 7-0 drive with a 17-yard strike to Drew Dan on his 13-play second drive of the opening quarter.
Unlike against the Minutemen, BYU didn't wait until the second quarter to turn things around.
It only waited on cornerback Malik Moore.
The freshman hauled in his first career interception at the NMSU 16-yard line. Four plays later, Hadley cashed it in for six to pull even, 7-7 with about two minutes left in the opening stanza.
That started a trend. Isaiah Kaufusi added an interception on the next drive, and Hadley promptly converted that for six, as well.
It was just what the BYU offense needed — a little help from its defense.
"Turnovers are a focus on the defense to turn the game and swing the game," said Kaufusi, who finished with five tackles, a tackle for loss and an interception. "I think after that, Hadley scored a touchdown and then the game just changed.
"Those turnovers are huge; the momentum and the crowd getting behind us really starts the offense rolling. When we create turnovers we're a dang good football team."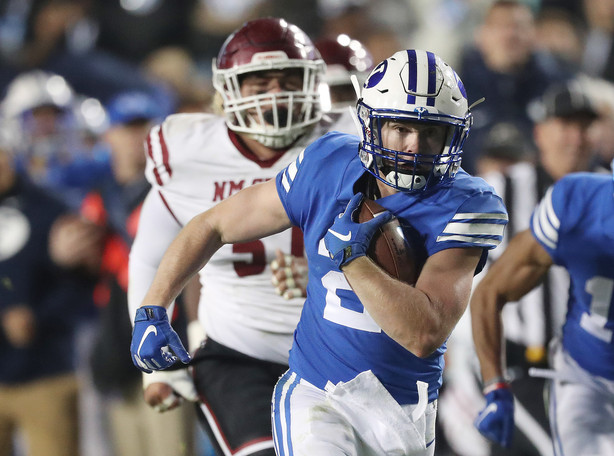 Matt Hadley is a running back, even if it took four years to notice
It's only fitting to honor a senior's career on the night of their final home game, so let's take a look at Matt Hadley for a moment.
A record-breaking, state-champion running back from tiny Connell High School in Washington, Hadley plowed the way to 6,881 yards and a state-record 124 touchdowns in high school. After joining his older brother (and linebacker) Spencer at BYU, Hadley slowly eased into the Cougar rotation — on the defensive side of the ball.
He played in seven games as a freshman in 2012, moved to safety for his junior season in 2016 and had a career-high 41-yard kick return against West Virginia as he found his footing on special teams, as well.
Then came the tragedy; Hadley played in just five games due to injury in 2017 — but after being granted a medical redshirt by the NCAA last spring, he returned for one final go this past season.
That's when new offensive coordinator Jeff Grimes moved him back to running back.
Since then, Hadley has averaged 6.25 yards per carry for 319 yards and four touchdowns. And it's only natural to wonder what might have been, if he had been moved to running back earlier in his career.
"He's a great leader," Katoa said of Hadley. "The energy he brings, and his ability to make plays has helped our offense so much. The fact that he came in way late has showed me a great attitude. He was just a great example.
"Matt's pretty easy to get along with. He's a jokester, and he brings his humor and hard work to the room."
A bowl game, a bowl game, BYU will have a bowl game
Maybe it's an indictment against college football, that .500 teams can still participate in the annual postseason tradition of playing in an exhibition game, with many of them losing money or failing to sell their assigned ticket allotment in exchange for games in far-off places like Shreveport, Louisiana or Albuquerque, New Mexico against Conference USA or Sun Belt opponents.
But looking at the faces of BYU's seniors Saturday night, it's hard to deny that going to a bowl game doesn't mean something.
"It didn't hit until we walked as a senior class from the 50-yard line to the end zone. We've just been thinking that we have another game on our hands to win, so we can get to the bowl game," said Butch Pau'u, a team captain and standout linebacker for the class. "It wasn't until we took that walk that I was able to sit back and relax, and enjoy my time, because i"ve been really grateful and fortunate to be here."
The Cougar seniors suffered through the 4-9 season of 2017 as much or more than anyone else. They were there when BYU had its bowl game-streak snapped in humbling and humiliating fashion during a season that led to the eventual ouster of former offensive coordinator and BYU legend Ty Detmer.
Saturday made the Cougars bowl-eligible again.
It's a small step, but a significant one, toward rebuilding the BYU brand.
BYU is not contracted with a bowl association in 2018, and as an FBS independent, they'll have to wait for some conference to not be able to fill their contracted allotment.
But with the Cougars' marketing machine, coast-to-coast fanbase, and several thousand eyeballs that have watched them nearly every week on the ESPN family of networks, it's highly unlikely that BYU won't hear its name called on bowl selection Sunday.
The bigger question is where.
"We're super excited," Katoa said. "It should help us focus more on beating Utah and focusing on that next game, not worrying about what's to come because we know that we're eligible.
"Obviously, we have a big game next week. We're excited to start preparing for that."
×