Estimated read time: 4-5 minutes
This archived news story is available only for your personal, non-commercial use. Information in the story may be outdated or superseded by additional information. Reading or replaying the story in its archived form does not constitute a republication of the story.
PROVO — Growing up in Dallas, former high school quarterback Micah Simon didn't know much about the rivalry between BYU and Utah before he got to Provo.
His freshman season in 2015, the two teams weren't even scheduled to play — a rare hiatus from the long-term rivalry series that will kick off its 93rd all-time meeting Saturday at 8 p.m. MST (FS1, KSL Newsradio) in Salt Lake City.
But the college football gods can have a funny sense of humor, and so it was during Simon's freshman season the Utes and Cougars were paired together in the Las Vegas Bowl.
And even though Utah got out to a 35-0 start before holding on for a 35-28 win, Simon was awestruck at the crowd, the passion and the energy from both fan bases for what was then a newly-minted non-conference series.
For as much hand-wringing that existed among some portions of both fan bases over the game, the bowl event sold out in less than a day.
Welcome to the rivalry, son.
"It's the most important game of the year, to us, to the coaches, and to the fans who know it, too," Simon said Monday. "We're going to prepare super hard for this game, and be ready to go Saturday night.
"It's a great rivalry, and I'm glad to be a part of it."
The series is so contentious that both sides can't even agree how many times the game has been played. BYU contests that the Cougars trail 31-57-4 all-time in the 92 previous iterations of the game, while the Utes claim a 60-34-4 record by adding six games that were played when BYU was known as Brigham Young Academy.
And even though the Utes have won the last seven contests, there's plenty of reason for both sides to get up for the game.
BYU coach Kalani Sitake gets ready for Rivalry Week .... https://t.co/ppkSnAYJlY

— KSL Sports (@kslsports) November 19, 2018
Just look at both head coaches.
Kyle Whittingham played linebacker at BYU from 1978-81, nearly 20 years before BYU coach Kalani Sitake starred at fullback from 1997-2000. In addition to Whittingham, Utah assistants Justin Ena and Freddie Whittingham also played for the Cougars, and wide receivers coach Guy Holliday first held the same position at BYU before moving north.
"This is an important game to me. It's an important game to our coaches, our administration, our fans, and our players are excited for this game," Sitake said. "I love the feeling that we have right now, and I'm excited to go up to Rice-Eccles and play a great one Saturday night."
Sitake then deadpanned: "I'd love to play the game, still. I've got at least one good play left in me."
It's even important for players who didn't grow up in Utah. Offensive lineman Austin Hoyt is from Ione, California, served a mission in Denver, and has spent four seasons at right tackle for the Cougars.
But growing up, he wasn't allowed to wear red in his household and he's seen every BYU-Utah rivalry game since he can remember.
"My dad was a big believer in the rivalry," Hoyt said. "We still respect Utah and think it's a great school. But that rivalry has been in me since I was little."
BYU safety Austin Lee played his freshman season at Utah, the school where his grandfather Gordon played from 1959-61 and later coached.
Lee played in seven games for the Utes, mostly on special teams, after signing with Utah over offers from Colorado, Oregon State and Stanford.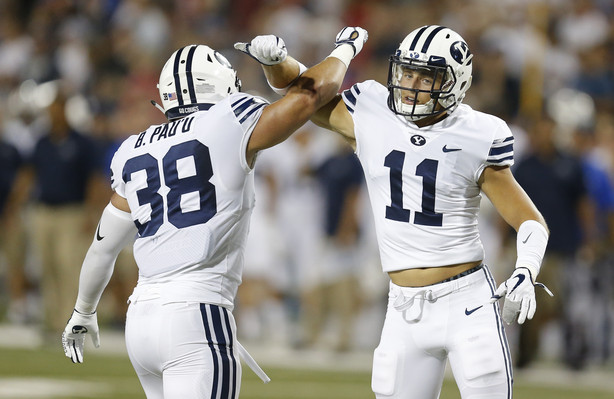 But after a two-year church mission in Tulsa, Oklahoma, the Alta High product felt it was time to move on — and even the transfer was difficult. He first spent a semester at Salt Lake Community College before advancing to Provo.
Through it all, his family supported him — even those who bred him to be a diehard Ute fan.
"They're very supportive of me personally and my goals and ambitions," Lee said. "Once they saw what would be a better fit for me, they approved. I think it was different, turning red into blue for me. But they were excited for me as an individual."
Lee has seen how both sides of the rivalry view the long-term series, and he insists what many won't say publicly — even with Utah moving on to a Power-Five conference in 2011 with Pac-12 expansion, the Utes hold a special place for the rivalry with BYU.
"When I was over there, it was very much emphasized that we play BYU and it's a rivalry game," he said. "It was taught as a rivalry to kids who missed out on that, those were from out of state. The people who are from in-state, they know it already. Guys like Britain Covey and Chase Hansen (who both grew up in Utah County) … they're in-state kids, and in-state rivals, and it's a big part of the game for them.
"It's very emotional."
×
Related Stories