SALT LAKE CITY — We've all had that craving for a big, warm chocolate chip cookie and maybe a big glass of milk to go with it. You've also probably had the accompanied feeling of not wanting to go through the process of baking cookies or going to the store to get them. Utah's newest trend remedies this.
Cookie delivery has been all the rage this past year from Lindon to Logan. A few of the companies have started advertising freshly baked cookies delivered from the oven to your doorstep.
Here is a look at a few of those companies and what makes them similar and different:
Crumbl and Baked
In Logan, you'll find two competing cookie delivery businesses: Crumbl Cookies and Baked. Both offer warm boxes of cookies that can be delivered across Cache Valley, which is particularly popular with students at Utah State University.
In the past year, Crumbl has gone from having one location in Logan to having eight locations all over Utah. It offers a box of four, warm chocolate chip cookies for $10. To get them delivered, there is a delivery fee of $3 and an expected tip for the driver.
Baked currently has three locations and also offers four cookies in a box for $10, but it lets you mix-and-match flavors, according to its website. You can pick up cookies in the store or get them delivered. Some locations don't charge for delivery, but a tip is expected for the drivers.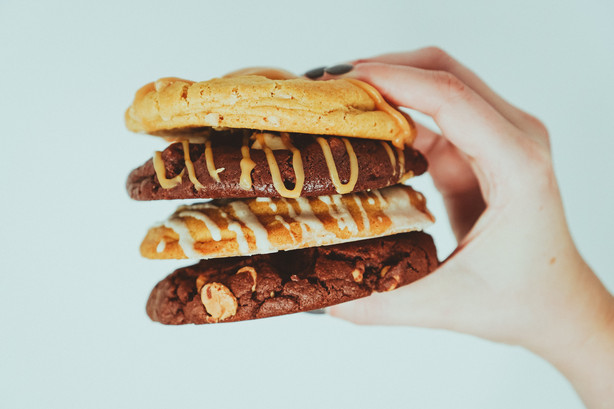 Goodly Cookies
Goodly Cookies in Salt Lake City has a similar story to Crumbl. The owners and founders, Brandon Plewe and Clay Rockwood say they started their cookie delivery service after discovering that "everything available was either closed or not up to our high standards, so we decided to take matters into our own hands."
Goodly's name is indicative of not only its cookies but also its business model. A portion of the proceeds of every cookie sold is donated to the Huntsman Cancer Foundation, according to Goodly partner and general manager Hailee Henson. This was inspired by co-founder Brandon Plewe after he was diagnosed with cancer 10 years ago.
"A percentage of any cookie that anybody buys whether it be delivery, coming into the store, or catering, a portion of that goes back to Huntsman," Henson said. "Our motto is 'Do good, eat cookies.'"
It offers six kinds of cookies at $3.50 a piece or a box of six for $20: the Goodly General (chocolate chip), Choc-PB Love, White Chocolate Raspberry Delight, snickerdoodle, a gluten-free chocolate chip and a rotating seasonal cookie (right now, it is Pumpkin Chai Spice.) Delivery is an additional $2.99 or you can pick up your order at their pop-up store at 1329 S. 500 East, Salt Lake City. The company is opening a new, permanent storefront in early 2019, according to Henson.
Chip
Chip is another local cookie delivery service that planted its roots in Provo. Started by the Wirthlin siblings, Chip says it wants "every single customer to feel like family as they enjoy our delicious gourmet cookies." Similar to Crumbl, Chip offers a box of four warm cookies for $10. Delivery is $2.99.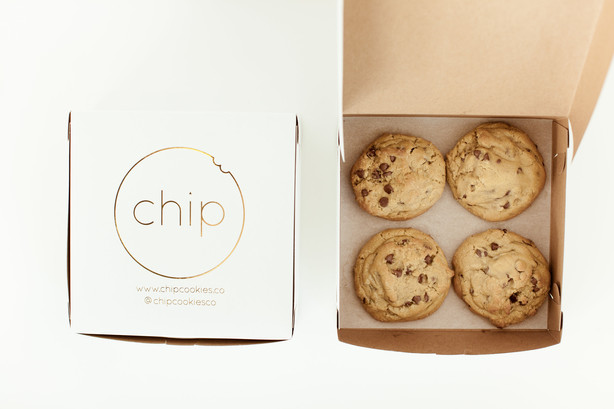 Chip was the first cookie delivery service to open its doors in Utah. It opened its first store in Provo in November 2016 and currently have eight locations, five of which are in Utah, according to owner and founder Sarah Wilson (formerly a Wirthlin.)
"My husband had the idea because I was having pregnancy cravings," she said. "I would crave chocolate chip cookies late at night and (Sean) is not really a baker."
Sarah Wilson and her husband ended up writing a business plan for Chip and pursuing the idea with her brothers, Chris and Stephen Wirthlin. She said the original idea was to strictly deliver the cookies, but people started showing up in their startup kitchen to buy them. The owners eventually purchased a storefront for Chip, and Wilson said they are now working on opening their fourth location.
"We use really amazing ingredients, and I think that's what sets us apart," said Wilson. "On top of that, we really value experience. We want to make sure our customers are happy."
So where was this cookie trend born?
Crumbl, Chip, and Goodly were all started or theorized by college students. Goodly founders got the idea while they were in college and Wilson's brothers/business partners were attending BYU. Crumbl founder Sawyer Hemsley opened the first storefront while in his final year at Utah State University. All three businesses tend to cater to college student life and make sure delivery is available late into the night, some until 1 a.m. In fact, Chip doesn't even start delivery until 8 p.m. and is open until 2 a.m.
"We do have quite a following with college students," Henson said. "Right now, it's families with young kids that seems to be a really big part of our market."
Placing orders is also made easy with online ordering. Goodly and Chip have even released a mobile app for placing orders.
Not only is cookie delivery trendy, but it's also expanding. In addition to several of the stores opening new locations, many are also expanding their menu. Crumbl, for instance, releases new flavors of cookies every week, keeping customers on the edge of their seats. It has also been experimenting with ice cream delivery. Chip also offers new flavors of cookies, which it calls its "Chip of the Month." It has also been offering delivery services to The Church of Jesus Christ of Latter-day Saints' Missionary Training Center in Provo.
No matter if you live in northern or southern Utah, a cookie delivery service is bound to be available near you.
Editor's note: This article initially said Goodly Cookies offers three cookie flavors, but it offers six. It also said that the price for Goodly Cookies was a box of four for $10, but it is six cookies for $20. And the article has also been corrected to reflect that the company does in fact offer pickup at their pop-up store. Also, the article initially said that Chip started in 2017, but it actually opened in November 2016 in Provo. It also said Chip has three locations, but it actually has eight total, one of which just opened last weekend.
×
Photos