HERRIMAN — There is a common theme among the Zabriskie kids' Halloween costumes this year: "Star Wars."
Five-year-old Brynlee Zabriskie is dressing up as Rae, her 4-year-old brother Bentley Zabriskie is a stormtrooper, and the baby, 2-year-old Burkley Zabriskie, is dressing up as BB-8.
These kiddos have one goal in mind: "To get some candy on Halloween night," Burkley Zabriskie exclaimed.
They're practicing their trick-or-treating skills at one of many community events leading up to the big night.
"This is already our fourth Halloween event," said Dee Dee Zabriskie, mom of the Star Wars clan. Between church, family, and neighborhood Halloween events, they've had a packed month.
"They get a lot of candy," she said. "(Unfortunately) we wind up throwing bags and bags away."
She tries to make sure her kids don't eat too much candy. Luckily for her, her kids prefer to eat fruit and veggies and get easily sugared-out, even though they get excited about candy Halloween night.
"I think a couple pieces, and it would just put them over the top," she said.
Dr. Hans Reinemer, director of the Pediatric Dental Residency program at Primary Children's Hospital, actually encourages parents to let their kids gorge on their Halloween candy — for one day.
"It's OK to enjoy it for a short period of time. Let them binge on it for a day and then get rid of it," he explained. "As long as parents understand the limits (and) set some boundaries, it can be done safely."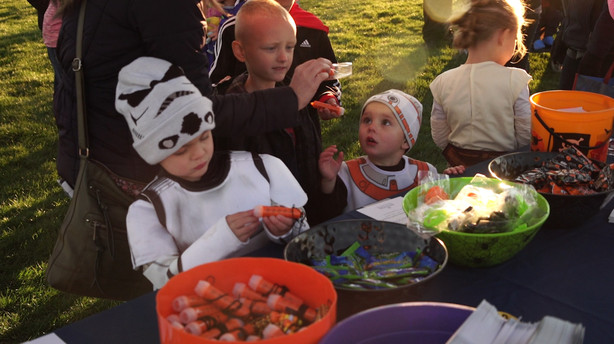 Reinemer says sugar feeds bacteria in the mouth, leading to dental decay. He encourages people to avoid gooey candies that stick to your teeth.
"Certain types of candies are worse than others. A simple piece of chocolate dissolves very quickly and goes away, whereas a piece of really sticky, gooey candy like a Laffy Taffy, gummy bear, caramel sticks in the grooves of your teeth and seems to stay there all day," Reinemer said.
He also recommends that kids only eat candy during mealtimes.
"We don't want kids grazing especially on their Halloween candy," Reinemer said. "Parents need to know, it's not what you eat — it's how often you eat."
He also encourages kids to brush their teeth right after eating candy. "The last thing a child should have in their mouth before they go to sleep is a toothbrush, not a piece of candy from their bed," Reinemer said.
This year, the Zabriskie kids, dressed as Rae, a stormtrooper and BB-8, plan to join the resistance — on tooth decay, that is.
Reinemer said good dental health for kids is necessary to help them eat, speak, and even develop socially. He recommends kids start seeing the dentist by 12 months of age.
×
Photos