Estimated read time: 8-9 minutes
This archived news story is available only for your personal, non-commercial use. Information in the story may be outdated or superseded by additional information. Reading or replaying the story in its archived form does not constitute a republication of the story.
SALT LAKE CITY — Before she was gunned down on campus by a bitter ex-boyfriend, the man's manipulations had led Lauren McCluskey to believe that despite his lies, harassing text messages and efforts to extort money from her, she wasn't in danger.
And even after receiving multiple reports about what was going on, University of Utah police determined that while they would investigate the harassment, Melvin Rowland, a convicted sex offender, didn't appear to pose a physical threat to the student who was almost two decades his junior.
That's according to a shocking timeline of moments leading up to McCluskey's murder, presented Thursday by U. police and university officials.
The startling report also revealed Rowland had looked for McCluskey on campus for days, embedded himself among her friends in her dorm building, and posed as a police officer to try and lure her out into the open.
And just minutes after shooting and killing McCluskey, 21, with a borrowed gun, Rowland called a woman he'd recently met on a dating website to pick him up and take him to dinner.
"This was another person Rowland had duped into thinking he was a great guy and he could do no wrong," said U. Police Chief Dale Brophy during a news conference Thursday at Rice-Eccles Stadium.
"And immediately after shooting and killing his girlfriend, (he) was able to go to dinner, go to the Capitol and go to (the woman's) house as if nothing was amiss."
U. President Ruth Watkins said two independent investigations will review the school's campus safety efforts, and the police department's handling of McCluskey's complaints against Rowland before he killed her.
Brophy emphasized the review of the police department will look into the agency's protocols and not the actions of individual officers.
"We're committed to doing what we need to do to make sure that everything on this campus is as safe as possible," Brophy said, adding that he welcomes the investigation and is open to making improvements.
More information about how and when the reviews will be conducted will be released as is becomes available, Watkins said.
Related story:
McCluskey first met Rowland in September at a local bar where he worked as a bouncer. The two quickly began a relationship.
"He visited her often at the residence hall and built friendships with other students in the building," Brophy said.
But after dating him for about a month, McCluskey learned that 37-year-old Rowland — a parolee who had served time in prison for forcible sexual abuse and enticing a minor over the internet — had lied about his age and his criminal past.
When McCluskey confronted him in her dorm room on Oct. 9, Rowland owned up to his sex offender status but claimed to be 30 years old, Brophy said. McCluskey went through with the breakup, but allowed Rowland to spend the night in her dorm. She even loaned him her car to run errands the next day, Brophy said.
That next day, McCluskey's mother called campus police and asked for officers to help her daughter pick up the car, Brophy said.
When dispatchers called McCluskey, she refused the help at first, saying that "she didn't feel uncomfortable with Rowland coming up to her apartment," police said. He was going to drop the car off at her dorm building and McCluskey said she would reach out to police if she did become worried.
McCluskey later called police back and requested a ride to her car, which had been dropped off in the parking lot of Rice-Eccles Stadium.
---
If his lips were moving, he was lying. I don't think he told the truth to anybody based on our investigation and based on everybody we've talked to.
–U. Police Chief Dale Brophy
---
Within two days of the breakup, McCluskey began receiving suspicious emails that she believed came from Rowland's friends. The Oct. 12 emails said Rowland had died and blamed her for his death, the police chief said, though his social media posts earlier that day suggested otherwise.
McCluskey told police she did not feel physically threatened but believed Rowland's friends were trying to "lure her somewhere," Brophy said.
The next day, she began receiving text messages from different numbers, threatening to post compromising photos of McCluskey and Rowland on the internet if she did not pay the sender.
McCluskey told police she sent $1,000 to an account "in hopes of keeping these photos off the internet," Brophy said. Police took a report and the case was assigned to a detective to screen for sexual extortion charges.
But a formal investigation didn't begin until Oct. 19 due to the department's case load. At that point, detectives began trying to "identify all suspects involved," as police did not know which of Rowland's friends, if any, aided in the extortion.
Investigators now believe Rowland had been working alone all along, using manipulation tactics to make it look like some of his friends were involved in the extortion. He used multiple cellphones, email accounts and spoofing apps to mask his phone number, according to Brophy.
The chief acknowledged that while officers had begun looking into the harassment and extortion, on the day that McCluskey was killed his agency had not yet reached a point in its investigation where it would contact other law enforcement agencies — including Adult Probation and Parole.
He said at that point they were not aware of a physical threat to McCluskey.
"We did believe that Rowland and/or his associates both were threatening her financially and reputationally. But there was no indication from Lauren to us at any point in this investigation that he was threatening physical harm. … He was very, very good at getting people to trust him, and Lauren was no different," Brophy said.
While officers knew Rowland was a registered sex offender, Brophy said he did not know if the department was aware that he was on parole at the time.
Meanwhile, Rowland was moving in on McCluskey.
Brophy said that from Oct. 19 until the day of McCluskey's death, security camera footage shows Rowland around campus, "looking for Lauren without her knowledge."
Read more:
On Oct. 22, McCluskey again reached out to police after she received a text from a number she did not recognize. The person who sent the text claimed to be the department's deputy chief, Rick Mclenon, and requested she come to the police station. Brophy said investigators now believe the text came from her killer.
"We later discovered that Rowland was outside of her dorm room at that time appearing to be looking around waiting for her, and that was his attempt to get her to leave her room."
Rowland spent the afternoon in the residence hall waiting for McCluskey with some of her friends, whom he had gotten to know while dating McCluskey.
"He was very manipulative, very good at manipulating people, and he became friends with many of them. This allowed him to contact people and allow him into their dorms at any time, because they were friends at this point in time," Brophy said.
At 8:20 p.m., Rowland "confronted" McCluskey, who was on the phone with her mother in the parking lot outside her dorm building. She dropped her cellphone and belongings.
Her mother, Jill McCluskey, said she heard her daughter yell, "No, no, no!" and within three minutes her father, Matt McCluskey, was on the phone with campus police reporting that his daughter was in trouble.
Meanwhile, Rowland "dragged Lauren to a different spot in the parking lot, where he forced her in the back seat of a car that he had driven to campus, and he shot her in the car multiple times," Brophy said.
About an hour and 20 minutes later, after searching McCluskey's apartment and nearby buildings, police found the woman's body in the back seat of the car, and a lockdown was ordered as police searched the campus for Rowland.
The search eventually spread off campus, and at 12:46 a.m., Salt Lake police found and pursued Rowland on foot. He entered Trinity A.M.E. Church, 239 Martin Luther King Jr. Blvd. (600 South), and fatally shot himself as police entered the building, Brophy said.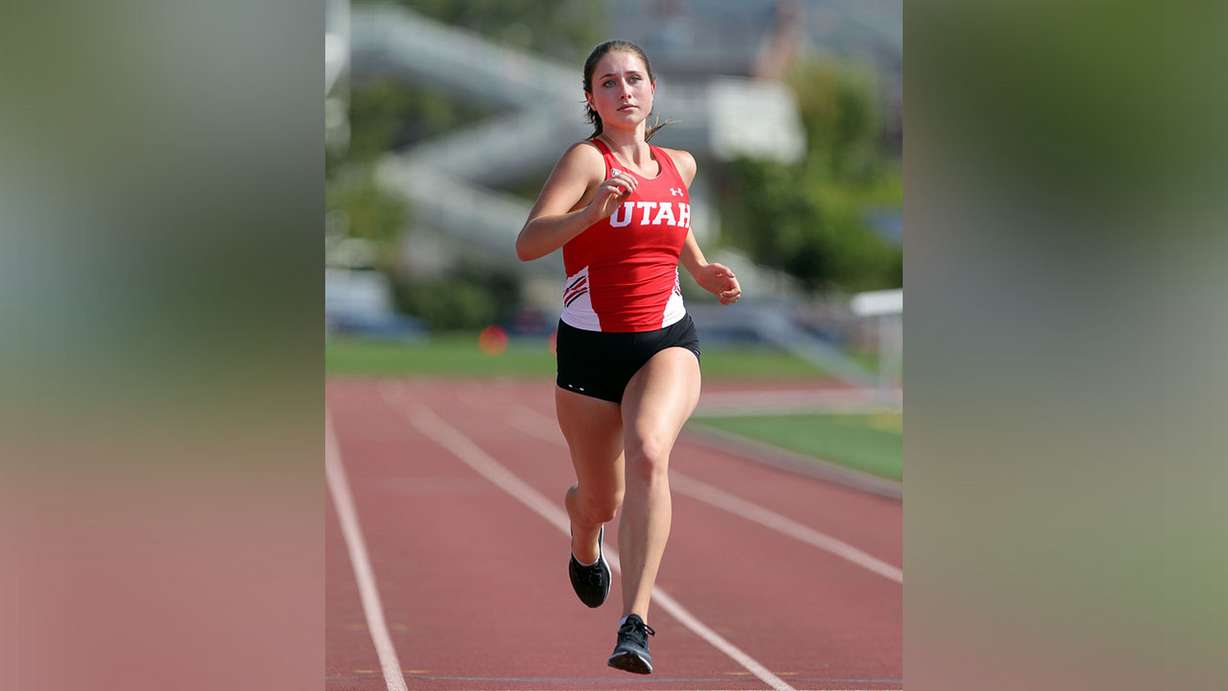 McCluskey's murder has left many with questions, including where Rowland got the gun and whether more could have been done to protect her.
"Rowland, like I said, was a manipulator. If his lips were moving, he was lying. I don't think he told the truth to anybody based on our investigation and based on everybody we've talked to," the chief said.
He borrowed the gun from a friend under the pretense that he wanted to take his girlfriend target-shooting, according to Brophy.
That friend called police and told them about the gun Rowland had taken. Brophy said charges are not pending against the friend, or the woman who picked Rowland up after the shooting. Both are cooperating with police.
McCluskey, of Pullman, Washington, was a senior at the U. and a member of the university's track team. Watkins said McCluskey's parents were presented Thursday with the bachelor's degree in communication that their daughter had been pursuing. They will also receive a framed jersey.
"We are all too aware that there is no degree that can adequately acknowledge the outstanding contributions that Lauren made to our campus and to this university and to her field of study," Watkins said.
She said McCluskey's murder "has been one of the most tragic events in the history of our campus" and promised that her legacy will not be forgotten.
×
Photos
Related stories
Most recent Utah stories