Estimated read time: 4-5 minutes
This archived news story is available only for your personal, non-commercial use. Information in the story may be outdated or superseded by additional information. Reading or replaying the story in its archived form does not constitute a republication of the story.
Editor's Note: Find updates to this article here.SALT LAKE CITY — A woman was shot and killed on the University of Utah's campus Monday night, prompting a lockdown and sending police searching for the suspected shooter until he was found dead hours later.
Police were looking for 37-year-old Melvin Rowland, sending out alerts after receiving reports of the shooting around 9 p.m. and urging all on the U.'s campus to secure in place. They reported Rowland was last seen leaving the Medical Towers northbound on foot.
Police said there was a previous relationship between Rowland and the woman, who was not immediately identified. They believed Rowland and the woman had some kind of a dispute while on campus, but details about the incident were not available.
The woman was a student at the U., according to police, but Rowland was not.
After police from multiple agencies searched the university for Rowland late into Monday night, the lockdown was lifted around 11:50 p.m. when officials said they believed Rowland had left the campus.
Early Tuesday morning, Salt Lake police learned Rowland was near the historic Trinity African Methodist Episcopal Church, 239 E. Martin Luther King Jr. Blvd. (600 South). Officers spotted Rowland and pursued him on foot until he forced his way inside the church through the back door.
Once inside the church, officers found Rowland dead of a self-inflicted gunshot wound, according to police.
Domestic violence resources
Utah Domestic Violence Coalition operates a confidential statewide, 24-hour domestic abuse hotline at 1-800-897-LINK (5465). Resources are also available online: udvc.org.

Help for people in abusive relationships can be found by contacting:
Police did not know if Rowland had any association with the church.
Shortly before 2 a.m. Tuesday, U. officials announced the situation was "all clear," saying "Melvin Rowland, the suspect in the fatal shooting on campus, has been located and is no longer a threat."
The university also announced that all morning and evening classes Tuesday were canceled, but that campus services and facilities would remain open, including support and counseling services for students, faculty and staff.
News of the shooting and the search for Rowland sent shock waves across the U.'s campus.
A student who identified himself as Anthony said he was walking on campus Monday evening when he heard four to six quiet gunshots.
"When the shots were fired I was in the garage that is right next to the parking lot, and I was going for a walk, and I heard the shots, and I looked out the window," the student said.
"The shots were really quiet for gunshots though, that's why I wasn't 100 percent sure they were gunshots. When I looked out into the parking lot, I saw a man fitting the description run between the garage and the parking lot, and after that I just ducked behind the wall to stay safe."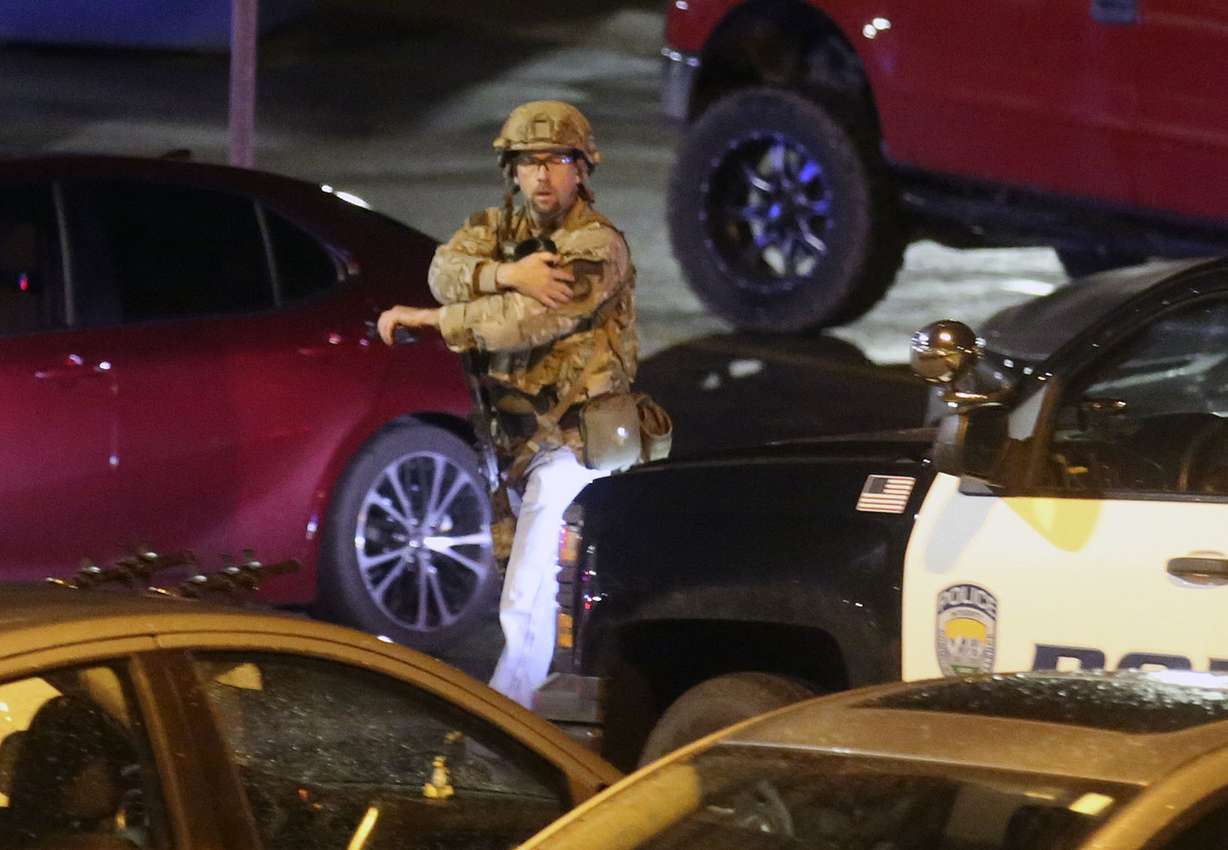 Tyler Olsen, an MBA student, described watching police arrive on scene.
"It was really scary to look out the window and see. I saw 15 to 20 police officers right where we're standing right now," Olsen said. "I mean, you're in your home, but nowhere feels safe in that moment."
Students on campus took to Twitter to express their anxiety while the school was locked down and buzzing with police activity.
"Last year I was a senior in high school, and heard about the shooting … Today I'm a freshmen at the #UniversityOfUtah and I'm on lockdown … I really hope it doesn't become a tradition," Twitter user Ashley Jimenez tweeted.
"#UniversityofUtah second shooting in a year, I've been in college for barely three months and I'm on lockdown from a shooting directly above my dorm. Enough is enough, #GunControlNow," Kendall Jo Smith-Williams wrote.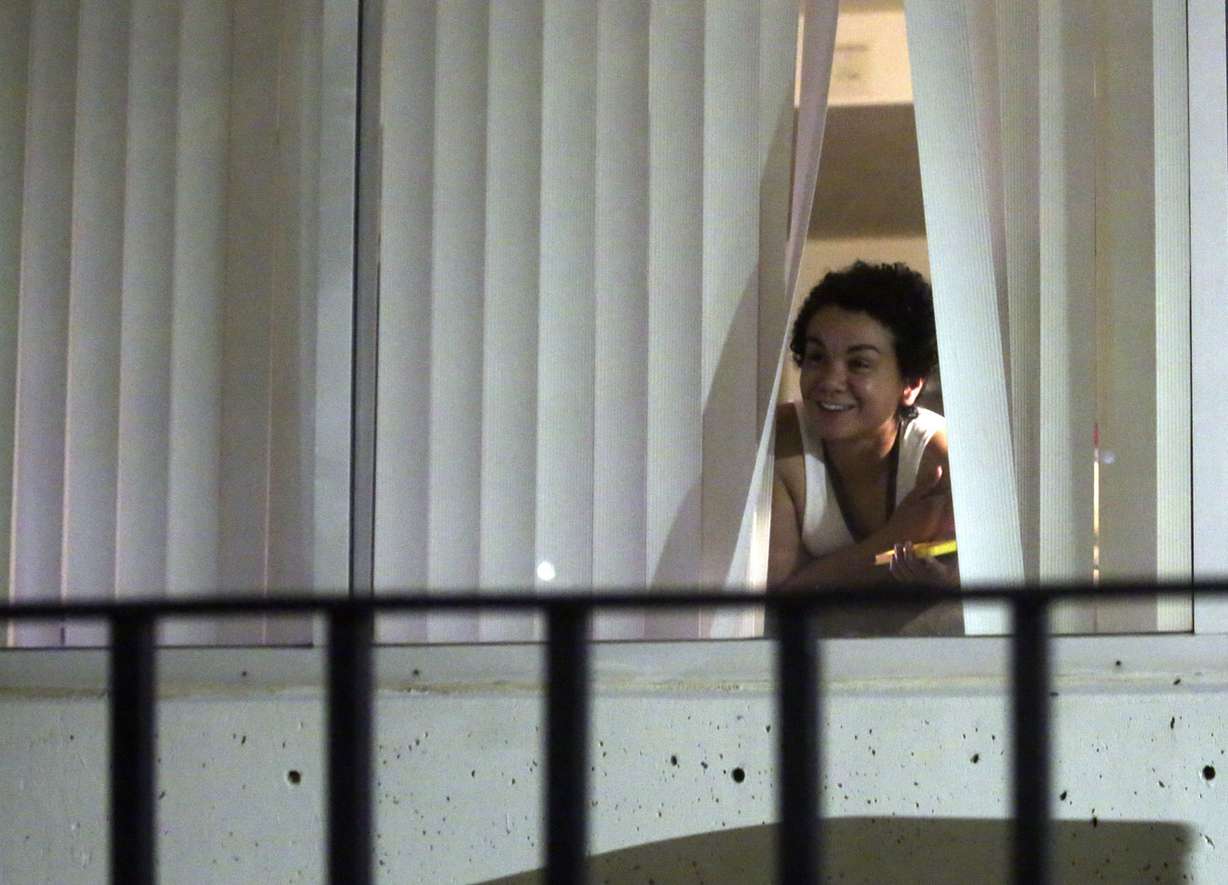 One student is confirmed deceased.

All morning and evening classes are canceled for Tues., 10/23. Campus services & facilities will remain open.

Support services are available for students, faculty and staff.

More info at https://t.co/sMi4tPwuZ7

— University of Utah (@UUtah) October 23, 2018
#U_classes
"Last year when I was in DC, I got the text alert about the shooting at the #UniversityofUtah. I felt helpless. This year, I am at home, about 30 minutes from campus. I still feel helpless. Stay safe, Utes! All I can do is contact friends and make sure that they are safe," Frances Floresca wrote.
Gov. Gary Herbert tweeted late Monday night, "My heart goes out to all who have been dealing with the tragic #UofUShooting tonight."
The shooting comes just days before the one-year anniversary of the death of U. student ChenWei Guo, who was shot and killed on campus by a drifter who attempted to steal his car and kidnap a woman was with him on Oct. 30, 2017. The shooting launched a massive manhunt on campus and in the foothills above the school as police searched for Austin "AJ" Boutain, who was arrested the next day at the Salt Lake Main Library.
University support services
Suicide prevention resources
If you or someone you know is struggling with thoughts of suicide, KSL encourages you to call the suicide prevention hotline at 1-800-273-TALK.

Crisis Hotlines
Utah County Crisis Line: 801-226-4433
Salt Lake County/UNI Crisis Line: 801-587-3000
Wasatch Mental Health Crisis Line: 801-373-7393
National Suicide Prevention Lifeline: 1-800-273-TALK
Trevor Project Hotline for LGBTQ teens: 1-866-488-7386
Online resources
#suicide_prevention
Contributing: Ashley Kewish
×
Photos
Related stories
Most recent Utah stories