This archived news story is available only for your personal, non-commercial use. Information in the story may be outdated or superseded by additional information. Reading or replaying the story in its archived form does not constitute a republication of the story.
SALT LAKE CITY — On Tuesday, students at Clayton Middle School in Salt Lake City piled into their auditorium cheering and singing to celebrate the arrival of a well-anticipated fitness center with a special ribbon-cutting ceremony.
The National Foundation for Governors' Fitness Councils worked with Gov. Gary Herbert to award the school a brand new $100,000 "DON'T QUIT! Fitness Center."
The program's chairman, Jake Steinfeld, said they reward schools that find new and innovative ways to keep their students active.
"I have never heard of a school that has done so much with so little," Steinfeld said.
Physical education instructor Betsy Spiegel, who was recently named Utah Physical Education Teach of the Year, said they offer traditional sports but also a wide variety of activities.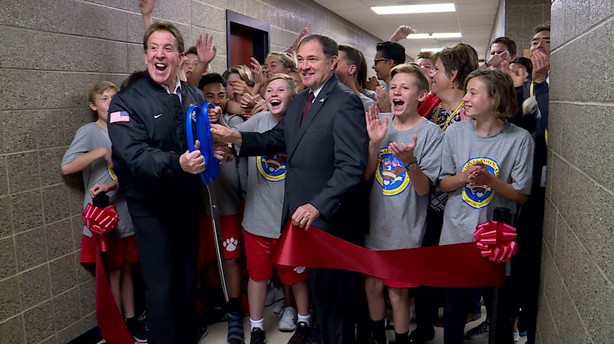 "We've included sports like Spikeball, can jam, team handball, Speedminton," she explained, in addition to lunchtime intramurals, yoga, rock climbing, slacklining and snowshoeing.
But the school hasn't yet had access to gym equipment.
"We've made a lot of our fitness apparatus that we use during class, and so by having this facility now, this is just going to help us meet the needs of the students' physical fitness means a lot better," she explained.
One eighth-grade student, Mia Feldman, said their previous fitness center, "was kind of just an empty room."
But today, students said the new gym gives them even more encouragement to exercise. "I personally love it because it encourages me to go into the fitness room. … I play soccer, so maybe I can work on my quads," Feldman said.
Seventh-grade student Sawyer Sutton is a running back and linebacker on the school football team. He said the new fitness center is going to make their team better.
"Now this can encourage people and people can get more strength," Sutton said.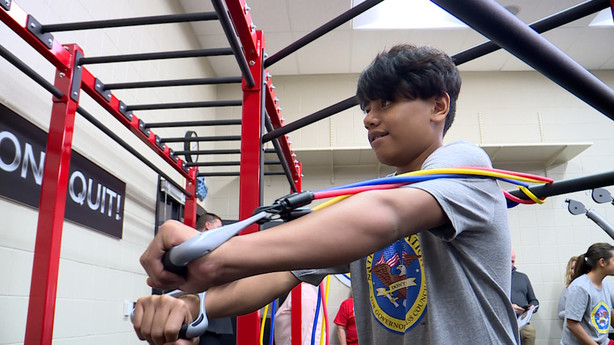 Spiegel explained that once students leave Clayton, they'll now have the education to work out in a gym effectively and safely in the future.
"They're going to feel comfortable. They're going to know what to do. They're going to know what muscles they're working and how to do it properly," she said.
Intermountain Healthcare's Tom Cook, an exercise therapist at the Salt Lake Clinic's LiVe Well Center, said it's best for kids to start exercising while they are young.
"For kids, they do better in school when they have increased blood flow to the brain. …. The more we move, really the healthier we are," he said.
Cook encourages students and most people to get 150 minutes of cardio each week, in addition to at least two days of strength training for each major muscle group.
Steinfeld said the benefits of a new fitness center go beyond just physical.
"It's amazing to see what happens when you put a fitness center in a school. Test scores go up. The positivity of the community goes up," he said.
The National Foundation for Governors' Fitness Councils also awarded two other Utah schools with a DON'T QUIT! Fitness Center: Bear River Middle School in Garland and Eagle View Elementary in Roosevelt.
The organization plans to put fitness centers in all 50 states. It's financed through public and private partnerships with companies like The Coca-Cola Company, Wheels Up and Nike, and doesn't rely on taxpayer dollars or state funding.
×
Photos