This archived news story is available only for your personal, non-commercial use. Information in the story may be outdated or superseded by additional information. Reading or replaying the story in its archived form does not constitute a republication of the story.
PROVO — Move over, Tanner Mangum; there's a new quarterback on campus in Provo.
And she's leading the No. 1 team in the nation.
Yes, she.
With all the offensive fire of the top-ranked BYU women's volleyball, it's easy to overlook the pass that leads to the perfect set, the heightened kill and the thumping point that sends fans in the Smith Fieldhouse into a frenzy.
But behind those kills is Lyndie Haddock-Eppich, the Cougars' senior setter who gets involved in every kill, every pass, every serve-received — virtually every touch of the match — for the Cougars, who are 15-0 and 5-0 in West Coast Conference play before Friday's match at San Diego (7-8, 4-1 WCC) on TheW.tv.
Yes, Haddock-Eppich is the quarterback of a top-ranked BYU team.
That can come with lots of glory, especially in a program like BYU. And it can also come with plenty of shame.
When the Cougar attack isn't running smoothly — and it's rarely happened in 2018 for BYU, which has only lost one set since an upset of then-No. 1 Stanford back on Aug. 31.
"I love having so much responsibility," Haddock-Eppich said. "Sometimes, (with) great responsibility comes great reward — and it's also on me when the offense isn't running. The coaches trust me with the job, and I love setting our hitters; we have really good hitters."
Haddock-Eppich rates No. 21 nationally with 11.18 assists per set, and she fuels hitters like Heather Gneiting (.419 hitting percentage) and No. 8 Roni Jones-Perry (4.57 kills and 5.37 points per set), who rank seventh and eighth, respectively, in the nation in hitting percentage.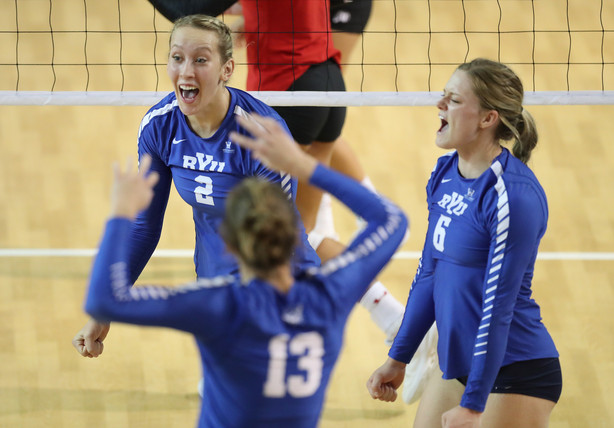 "Lyndie's doing a great job distributing the ball to the right hitters at the right times, and she's communicating with everybody on the court," said BYU coach Heather Olmstead, who is 102-11 in four seasons in Provo. "She's really putting up hittable balls for the pin hitters and middles.
"I think she's just a quiet leader, and she's figuring out how to keep scoring points. Knowing who to set at the right time is critical for her."
Olmstead trusts her setter like a football coach trusts the starting quarterback — both to run the offense, and to know when something isn't working, to try something new.
Haddock-Eppich extends that same trust to her team.
"There's a lot of on-the-court work, but even more off-the-court work," she said. "There isn't one person that isn't ready to go in and be fired up for her teammates.
"We trust each other, because we all want the same goal."
A native of Longmont, Colorado, Haddock-Eppich and her twin sister, Lacy, who plays outside hitter for the Cougars, came to Utah as teenagers before enrolling at BYU. Graduates of Timpview High, the twins have led a remarkable four-year run for the Cougars that culminated in this season's No. 1 national ranking, the first top billing for the school in the AVCA coaches' poll since 1986.
But Haddock-Eppich has done more than that individually.
The 5-foot-10 senior has 2,823 career assists, which is on track to finish in the top-five in BYU program history in the rally scoring era. Add to it 589 digs, 182 kills and 209 block assists, and Haddock-Eppich can make a case for the most athletic setter in the country.
"Lyndie is a competitor, first and foremost," Olmstead said. "She wants to compete and she wants to get better. When you have those two traits, it makes for a good volleyball player. She's really tried to learn the game and taken everything we've said as coaches, and tried to get better.
"Plus, she's athletic; you add that on top of it, she can jump well, get big, play physical. She's put the time in the weight room to develop her body and be a physical presence at the net. Every trait we want in a setter, she has — and she's just an amazing human being."
Individual accolades aren't the focus for Haddock-Eppich, though. She wants to do something special with her team.
It's a mutual feeling, she said, from Jones-Perry to Gneiting to star libero Mary Lake and middle blocker Kennedy Eschenberg.
Perhaps BYU's biggest team strength is its team.
"Yeah, I'm a senior and all seniors want it more in their senior year," Haddock-Eppich said. "But I think it's not just the seniors on the team that really want it; it's every single person — the freshmen, the sophomores; that's what makes us such a hard team to beat.
"Everyone is so dialed in."
×
Photos
Related Links
Related Stories