This archived news story is available only for your personal, non-commercial use. Information in the story may be outdated or superseded by additional information. Reading or replaying the story in its archived form does not constitute a republication of the story.
PROVO — At least one person in Roni Jones-Perry's home was ecstatic when the BYU women's volleyball team earned the No. 1 ranking in the nation Monday.
But it wasn't the BYU star outside hitter with 1,092 career kills — it was her husband. After he texted her the news, Jones-Perry responded the way a teenager might to her mom after being told to come home 30 minutes before curfew.
To paraphrase the post-millennial generation: K.
"He was way more excited about it than I was," she added. "I was like, 'This is a little uncomfortable, but I'm really excited that you're so pumped about it.' It's fun for us, but the fans have a little more freedom to get wrapped up in it. We have things to do."
Oh yes, they do.
Fresh off its first No. 1 national ranking since 1986, BYU will host rival Utah at 7 p.m. MDT Thursday night in the Smith Fieldhouse (BYUtv).
If the annual rivalry match or Utah's win the last time the two teams met in Provo in 2016 isn't enough, the bout will be closely watched by every NCAA volleyball coach in the country — the Utes are also ranked No. 24 in the latest AVCA coaches' poll.
"We're excited to host Utah and to have a top-25 matchup at our place," BYU coach Heather Olmstead said. "We know they will be well-prepared and ready to play. It will be a grind, it will be a tough match, and I think both teams will play real well."
The Cougars (8-0) are used to difficult matches, of course. They've already notched wins over No. 16 USC, No. 21 Marquette and No. 2 Stanford — which started the season as the top-ranked team and had the only 10 first-place votes that didn't go to BYU in this week's poll.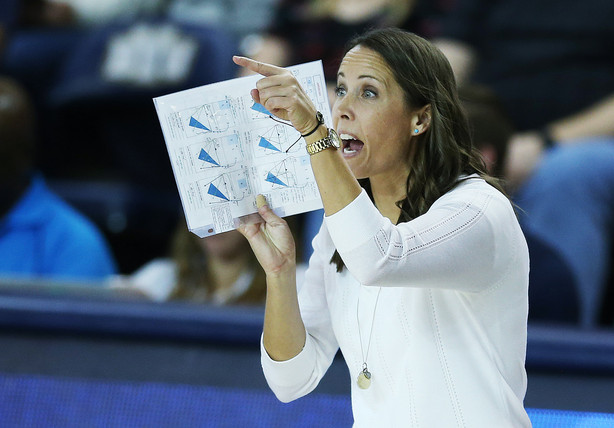 But there's something a little extra special about the Utes (7-2).
"I think rivalries add this extra emotional side to volleyball that isn't always there," said Jones-Perry, who prepped at Copper Hills before signing with BYU over interest from the other local schools, including Utah. "But at the same time, it's still volleyball. They're a good team, we're a good team, and it's going to be a really high-energy game."
Olmstead was impressed after Tuesday's practice how her team acknowledged the top ranking. The players celebrated it, they met and talked about it — but then they got right back to work.
They earned the recognition, she said. And few have earned it more than Jones-Perry, a third-team AVCA All-American after last year's Sweet 16 run.
"Roni just keeps growing each year, as a person and a volleyball player," Olmstead said. "She always wants to keep getting better. She really challenged herself to see how good she can get; it doesn't matter who she is playing. She's competing with herself to see if she can be the best she can be."
Utah was picked to finish eighth in the Pac-12 this season after last year's 24-10 record that ended in the regional semifinals of the NCAA Tournament.
Gone is Adora Anae, who earned back-to-back first-team All-American honors for the first time in Utah's program history. But Utah averages 14.3 kills per set, led by pin hitters Dani Drews (formerly Dani Barton of Brighton High) and Lauga Gauta.
New Number One
"They are unique in that they have two lefties, and you don't see that every day," Olmstead said. "They've got good size, a good block, good ball control and they are well-coached. They are the perfect team we want to play to see how good we are, and I think they have great energy as well."
The Cougars were picked to win the West Coast Conference — again — and Thursday's match might be the last big test before facing San Diego in conference play.
Of course, the No. 1 next to their name puts a whole new target on BYU.
"As rankings go up, people want to beat us more just because of a number on them," said Jones-Perry, who averages 4.81 kills per set. "I know after we beat Stanford, it was a huge deal because they were No. 1.
"It's cool that people are acknowledging us, but it doesn't mean anything in the long run."
Oblad out
The day before the match, Utah coach Beth Launiere announced that All-Pac 12 middle blocker Berkeley Oblad will miss the remainder of the season with an elbow injury that will require surgery.
"Berkeley's elbow has caused her a lot of pain for a long time," Launiere said in a news release. "It is a big loss for our team, but we know it is best fo Berkeley in the long run."
Oblad earned AVCA All-American honorable mention honors a year ago after compiling 300 kills with 142 blocks for the Utes. The senior played in six matches this season, stringing together 30 kills and 14 blocks before her injury.
×
Related Stories