This archived news story is available only for your personal, non-commercial use. Information in the story may be outdated or superseded by additional information. Reading or replaying the story in its archived form does not constitute a republication of the story.
SALT LAKE CITY — The Rev. Kimal James says the Gospel According to St. Mark, in the New Testament, makes it "powerfully apparent how important healing care is in Jesus' ministry."
"Jesus healed a man who had an unclean spirit. Then he healed Simon Peter's mother-in-law who had a fever," the Rev. James, the pastor of the First United Methodist Church in Marriott-Slaterville, recounted.
"Later, the community brought to Jesus all who were sick or possessed with demons, and he healed them. Jesus then healed many who were sick with various diseases, and after some prayer, Jesus healed a leper."
She then added with a smile, "That was just Chapter 1."
The Rev. James and several other Utah religious leaders teamed up at a press conference in the courtyard of the Catholic Diocese of Salt Lake City on Wednesday to make their case for passing Proposition 3, the state's Medicaid expansion ballot initiative, saying there are compelling humanitarian and ethical reasons to vote for it.
"It's a basic truth about Jesus that healing the sick occupied a great deal of his time and attention," she said.
"There is no such thing as Jesus without healing. Jesus and healing go hand in hand. That was true in the first century and it's true in the 21st century. If we want to be followers and disciples of Jesus then we must also be involved in this ministry of providing health care to more and more people."
The Rt. Rev. Scott Hayashi, bishop of the Episcopal Diocese of Utah, said he believes Utahns' decision on Proposition 3 amounts to a moral choice.
"As a person of faith, as a person of belief that all people have dignity, because they have been made by a creator, I believe that doing this is not only the good thing to do, but the right and the moral thing to do for Utah," Bishop Hayashi said.
The ballot initiative would increase the state sales tax from 4.7 to 4.85 percent in order expand Medicaid coverage to all Utahns earning up to 138 percent of the federal poverty level, bringing eligibility to an estimated 150,000 people who otherwise do not qualify.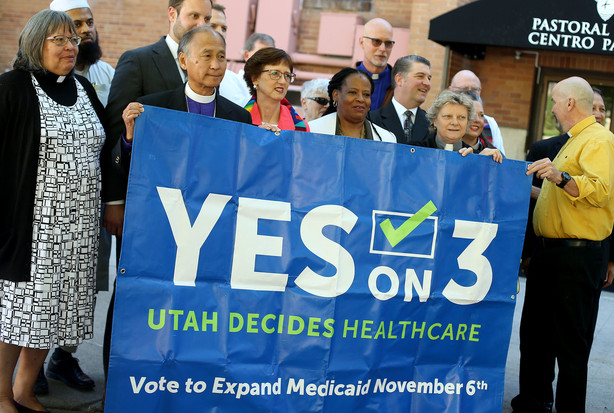 The ballot initiative campaign, Utah Decides Health Care, estimates the tax increase would bring in $91 million in state funds, unlocking about $800 million in matching federal money.
Supporters of the initiative say expanding Medicaid would fill a critical need for those who fall in a "coverage gap" by virtue of earning too much income to be eligible for the federal insurance program, but earn too little to be eligible for plans sold on the federal health exchange or to reasonably afford employer-sponsored plans.
Efforts to expand Medicaid eligibility to 138 percent of the federal poverty level have fallen short in recent years at the Utah Legislature, where opponents have said they are concerned about the long-term sustainability of federal Medicaid matching rates, and worry about whether an expanded program may at some point overwhelm the state budget.
But Utah lawmakers agreed to pass a smaller scale Medicaid expansion this year, bringing eligibility for the programs to all Utahns earning less than 100 percent of the federal poverty level. That form of expansion, which its supporters say would contain significantly fewer budget concerns than the ballot initiative, would make an estimated 70,000 to 90,000 Utahns newly eligible for Medicaid.
The legislature-approved expansion is subject to a significant federal approval process, and has not yet received that approval.
The Most Rev. Oscar A. Solis, bishop of the Catholic Diocese of Salt Lake City, described some of the help Utah religious organizations give to the poor, but said they "cannot do it alone."
"They need the help of the government, to help support this wonderful service to the underprivileged and those who are poor," Bishop Solis said.
He added that in order to protect the "dignity and sanctity of life, we need to provide for the basic needs of people, and that includes health care."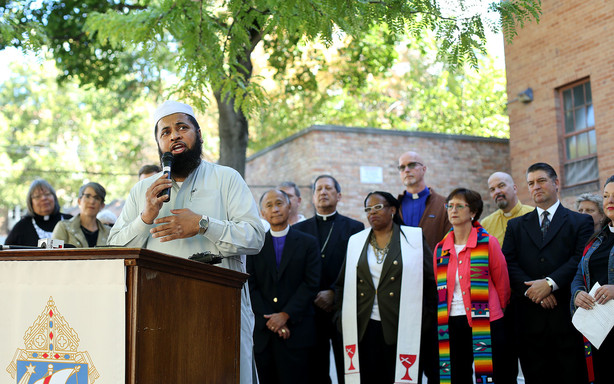 The Rev. Curtis Price of the First Baptist Church said that, in light of recent efforts to expand Medicaid falling short in Utah, "it's time for us together to fix this, it's time for we the people to stand together."
"Without access to health care, people in poverty have to make choices between food and a doctor visit, between shelter and medical care," the Rev. Price said. "Without access to health care, people die — not because we lack the resources, but because we lack the will."
Imam Shuaib Din, of the Utah Islamic Center, said he believes voting for Proposition 3 is "a win win in that it is a win for us in this world, and it is a win for us in the afterlife."
Added Eric Biggart, chairman of the LDS Caucus of the Utah Democratic Party, "we have been commanded to offer comfort, not judgement on the least of us."
The Rev. James said expanding Medicaid also expands the opportunities of Utah's low-income families.
"Sick people can't work and care for their families. Healthy people can," she said. "Please vote yes (to) Proposition 3. I believe this is what Jesus would have us do."

×
Photos
Related Stories