This archived news story is available only for your personal, non-commercial use. Information in the story may be outdated or superseded by additional information. Reading or replaying the story in its archived form does not constitute a republication of the story.
AMERICAN FORK – Wherever you look, nearly all of Utah's 98,000 businesses are hiring. Unemployment is just 3.1 percent, and that's putting pressure on many businesses.
While it's a common sight to see employers advertising that they are hiring in Utah and right now, many entry-level jobs are difficult to fill.
Just ask the owners of Fong Asian Dining, a family-owned restaurant near 500 East and State Street in American Fork.
"What I feel happens with most family-owned businesses, whenever we can't hire someone we end up doing the work on our own," said Annie Li.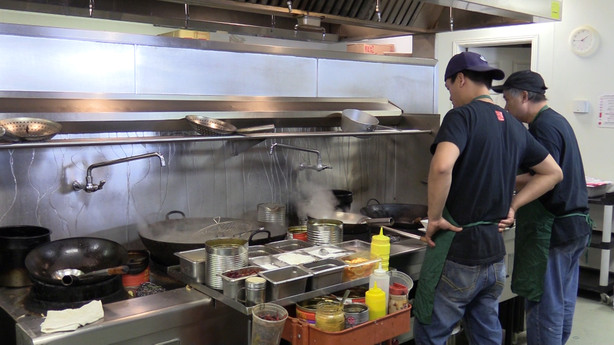 So during the day, it's often up to the owners to get the job done. Over the past several years, they've built a loyal following of customers.
"Oh my goodness, we've been coming here for years," said Jessica Villeneube, who describes herself as a regular customer. "I think it's hands down the best Chinese food you'll find. It's always fresh, and we don't eat Chinese food anywhere else. This is where we come."
Like most restaurants in Utah now, Fongs is always looking for servers.
"I feel that a lot of people who look to ... find server jobs are high school students. So, a lot of them go to school within the day, so it is hard to find someone that's willing to (work) mornings and nights," Li said.
Fongs is better off than most chain restaurants, where companies are having to get very creative, to make it easy for people to apply for positions.
"Sometimes what you see happen are the lower-wage jobs struggle more than the others," said Carrie Mayne, chief economist for the Utah Department of Workforce Services.
Related:
She said while available fast-food jobs are very visible, all job sectors in Utah — except mining — are dealing with a labor shortage.
"We're seeing a need for workers at all the different skill levels. (It) can be challenging for employers to fill those positions when they're fighting for the workers," Mayne said.
Mayne said the lack of available workforce is related to the state's growing economy.
"When unemployment gets really low — like in the 3 percent range — we often call that full employment, meaning that everyone who wants a job is getting a job. So, that 3 percent are simply people who are in the process of looking for and getting a job," she added.
State economists also said many businesses may be forced to pay higher wages to be staffed with enough employees to keep operating, which in turn will add to the costs for the consumer.
×
Related Stories