Estimated read time: 6-7 minutes
This archived news story is available only for your personal, non-commercial use. Information in the story may be outdated or superseded by additional information. Reading or replaying the story in its archived form does not constitute a republication of the story.
SALT LAKE CITY — Medical billing advocates say a Utah man should consider himself lucky after his insurance covered most of his out-of-state emergency room visit and appendectomy that resulted in nearly $80,000 in bills.
"I woke up in the middle of the night with what I thought was a stomachache," said Lehi resident Richard Wyler.
In late June, Wyler was working on a construction project near Las Vegas. He thought he had food poisoning but reported to work the next day even though he wasn't feeling well.
"I probably wouldn't have gone to the emergency room unless my work made me," Wyler said. "I honestly didn't think anything of it. I thought I was going to be sent home."
The 30-year-old ended up needing his appendix removed. He underwent the laparoscopic surgery and was discharged the next day.
Unexpected medical costs
Wyler has recovered just fine, but said he was surprised when he started getting the bills a few weeks later.
"I first got the large bill from the hospital for $76,000 and I was thinking, 'Nah, this can't be right,'" he said.
Besides the main bill from the hospital, Wyler said other bills have been trickling in from the anesthesiologist and other providers.
"I believe I'm about $80,000," he said of the total amount.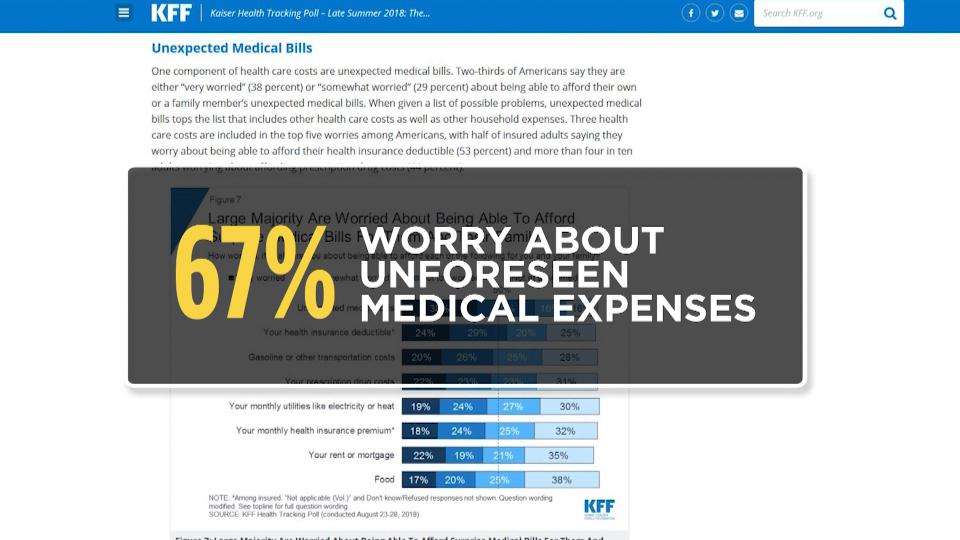 Unexpected health care bills, like the one Wyler received, are a top financial concern for Americans, according to the latest Kaiser Health Tracking Poll that found 67 percent worry about affording surprise medical bills.
"When given a list of possible problems, unexpected medical bills top the list that includes other health care costs as well as other household expenses," a summary of the poll said.
What's more, four in 10 insured adults said they had received an unexpected medical bill in the last year.
Wyler went over each line of his bills and had questions, but didn't know where to turn for answers.
The experts review Wyler's bills
Two companies that specialize in medical billing advocacy looked over Wyler's bill.
"Price transparency is one of the biggest problems that we have in the health care industry," said Whitney Duhaime, vice president of Denials Management in Salt Lake City.
The good news for Wyler is that he went to an in-network hospital, which means his insurance company has an agreed-upon, contracted price for the surgery.
"There were no denials on here; everything appears to be covered," Duhaime said while looking over the bill.
Of the $76,081 billed by the hospital, Wyler's insurance said the eligible amount was just $15,384. The portion that Wyler is responsible to pay is $3,076.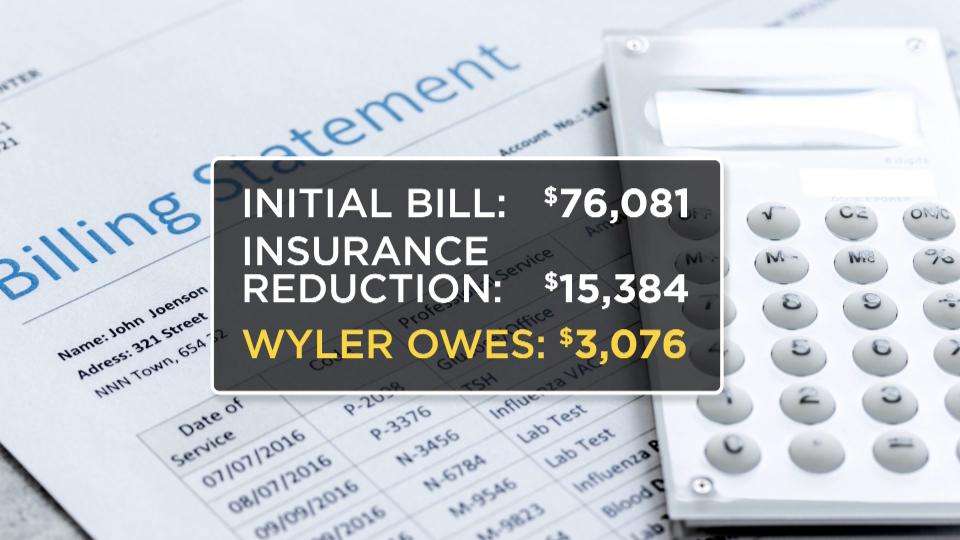 The other company, Colorado-based Aspen Medical Billing Advocates, reviewed the bill and came to the same conclusion: the eye-popping hospital bill is almost irrelevant in this case.
"Doesn't really matter what they charge," company founder Victoria Caras told KSL in an email. "They're only going to get the amount the insurance company agreed to."
Bottom line, even if Wyler fought a few charges and won, his portion of the bill probably wouldn't change. But if Wyler was uninsured or required to pay a larger portion of the bill, it would be a different ball game.
"I'd go through a bill like this with a very fine-tooth comb," Duhaime said. "I'd probably request my medical records. I'd be questioning every charge."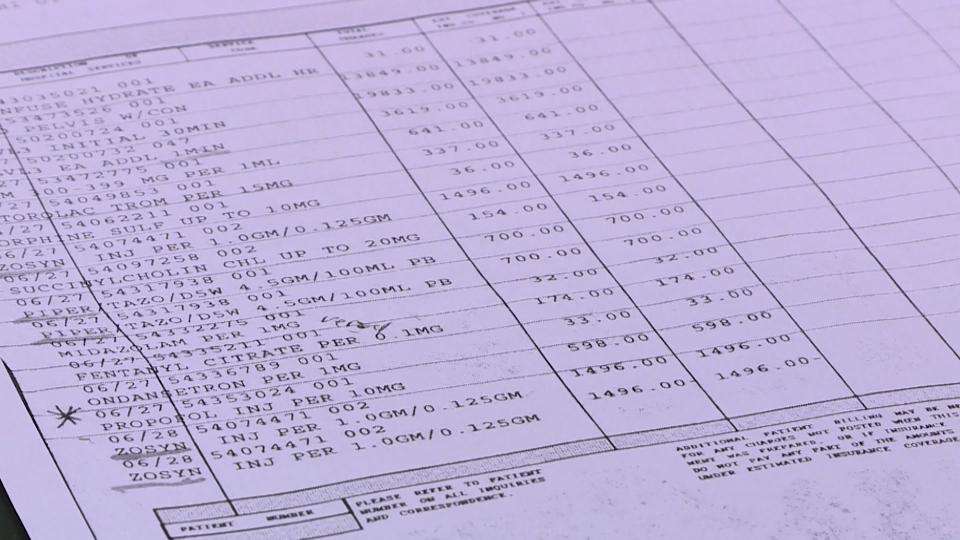 One charge that both billing advocate companies said they would fight in an uninsured situation would be the $13,849 charged for Wyler's abdominal and pelvis CT scan.
Duhaime said the scan should only cost between $500 and $2,500 while the website Healthcare Bluebook puts the price range from around $300 on the low end to more than $6,000.
"To play their game you got to know the rules of their game," Duhaime said about questioning medical bills.
Be your own advocate
If you want to be your own advocate, start by getting an itemized bill — you normally won't get one unless you ask and it gives you more bargaining power to address specific charges.
Once you have the bill, check for errors and duplicate charges. Then, compare it to your explanation of benefits (EOB) from your health insurance company and make sure the amounts match.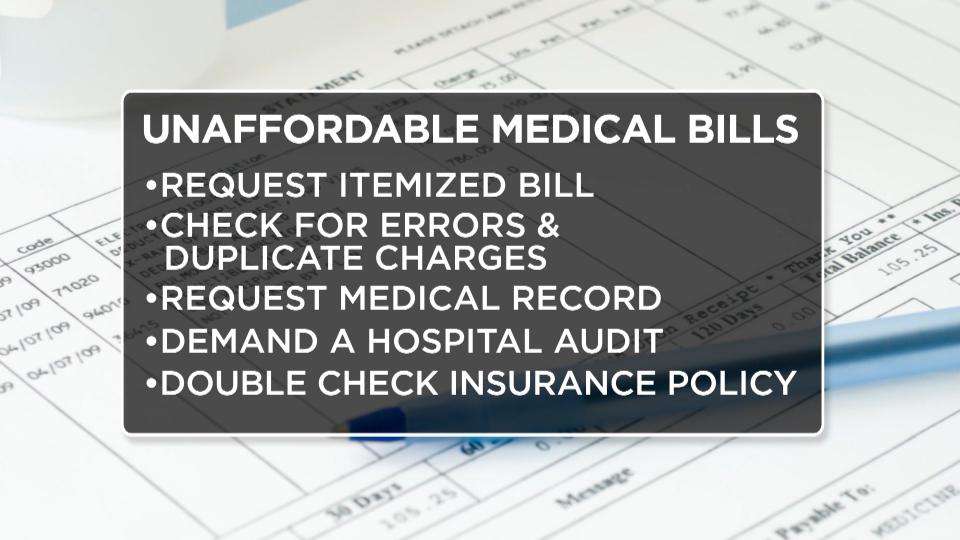 "You would be amazed at the amount of clerical errors that come on the bill," Duhaime said of her experiences. "The date could be wrong, the units can be wrong, the codes can be wrong."
You can also request your medical record from the facility. Billing advocates say you can't be billed for something that's not part of the medical record.
If something doesn't look right, call and ask the hospital to audit the bill themselves. You'll also want to double check your policy to make sure your insurance is paying at the right rate and that co-insurance and deductibles are correct.
"I think the biggest advice is to get your policy and get to know it and then also to check everything," said Mary Covington, president of Denials Management.
Covington has been working in the insurance claims industry for nearly 50 years and says the days of personalized billing are long gone.
"More denials than ever," she said. "Computers are processing claims — not people."
Move ahead with these additional steps, especially if you are among the 12 percent of Utahns without health insurance.
Look up the fair market price for medical procedures and compare those to your bill. While you're at it, check for "up-coding" that's when something simple is billed as a more expensive procedure.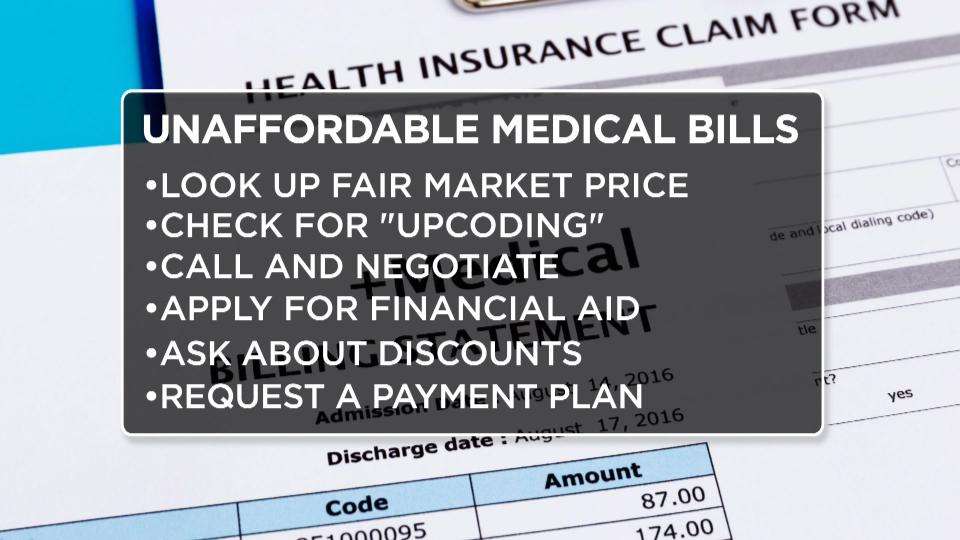 Once you've reviewed your bill, call and negotiate. Remember: just like in Wyler's situation, insurance companies negotiate prices all the time. When you've settled on the amount to pay, see if you qualify for financial aid or self-pay or prompt-pay discounts.
You can also request a payment plan — just make sure it's without interest or fees.
Throughout the process, pay attention to the calendar and make sure your bills aren't going to collections — which could negatively impact your credit score.
"I think it's as important to take care of your wallet as it is your health," Covington said. "Because your wallet can make you sick."
Wyler is on a payment plan to take care of his portion of the bill. His insurance told him he'll probably end up paying around $5,000 in all.
"This has been such a hassle," Wyler said of the process.
He said this has been an eye-opening experience into the cost of health care and the complicated billing practices.
"My family has been joking about, 'Next time this happens, I just need to come home."
×
Photos
Related stories
Most recent Utah stories