This archived news story is available only for your personal, non-commercial use. Information in the story may be outdated or superseded by additional information. Reading or replaying the story in its archived form does not constitute a republication of the story.
SALT LAKE CITY — Laura Rough's dream of becoming a nurse hatched while she was in high school.
With Rough having been born with a severe hearing impairment, many people she knew believed her career goal was audacious. When her eyesight also began to deteriorate in her early 20s, that chorus of doubts grew.
"That fact that people said to me I couldn't be a nurse gave me the drive to say, 'I'm going to show you, I'm going to do it,'" Rough says. "And I did it."
Rough is now a nurse of more than 20 years, having previously worked in the emergency room and intensive care unit, currently working as a utilization nurse for University of Utah Health. As she reflects on her career, she says the main lesson she has learned is that "I have to focus on the positive."
"You have to, or you may never leave home," she said frankly.
Rough was one of close to 200 people to gather at DeafBlind Awareness Day on Friday, hosted by Deafblind Advocacy of Utah at the Department of Workforce Services offices in Salt Lake City.
The daylong gathering was centered on socializing and networking opportunities for those who with varying degrees of deafness and blindness, or some combination of the two. It was a chance to connect them to important services, including help seeking a job, and building a sense of community among both service providers and clients.
"I think it reminds people we're not alone," Rough said.
Stephen Ehrlich, 70, who is completely blind and deaf, agreed it was important "to meet each other, to socialize."
"It's important for us to get together because we are isolated a lot," Ehrlich told the Deseret News through an interpreter. "It gives us hope."
Ehrlich, a part-time tactile interpretation instructor at the Robert G. Sanderson Community Center of the Deaf and Hard of Hearing in Taylorsville, said services and events for the deaf and blind in Utah have improved significantly since he first moved to Utah 20 years ago, when "resources were very limited."
"I am hopeful … we can improve even more," Ehrlich said, calling events like the one held Friday "a good beginning."
Guests at the awareness day conference were treated to a barbecue lunch, speaker lectures, drawings for crocheted and quilted items, and numerous informational booths from organizations serving the deaf and blind.
For the curious, there were also demonstrations showing how a blind person learns to navigate using a white cane or guide dog, and some participants got to experience the world of a deaf-blind person by using Google Vision technology and a hearing barrier.
Laura Benge, Rocky Mountain Region representative for the Helen Keller National Center for Deaf-Blind Youths and Adults, praised the conference as a way for service providers to better "meet the people they're supposed to be serving."
"It's really great for (providers) to be at gatherings like this," Benge said. "It's really good to see the experiences of people you're working with, in a different (setting)."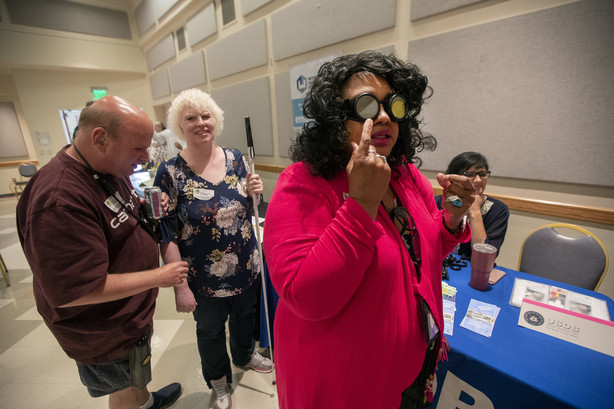 Benge said her organization is a federally funded nonprofit that serves the deaf-blind, their families and the professionals who serve them. She noted that one way service providers can improve resources offered to a deaf or blind person is to be attentive on their long-term ambitions rather than simply assisting with day-to-day needs.
For example, she said, some deaf or blind high school students enjoy accessible classrooms and learning materials, but aren't given individualized career guidance. In some cases, "Nobody's ever had the conversation, to talk to you about, 'What do you want to do?' Or 'What's available?'" she said.
For Utahns who want to more thoughtfully interact with a deaf or blind person they know or come into contact with, frequently "intimidation is the biggest barrier" to starting a conversation, Benge said. She offered a simple remedy: "If you don't know how to approach (them) … just go up and ask. Be friendly."
"Most people can guide you" on the norms of such a conversation, she added.
Ehrlich said that while people like himself have some unique life experiences compared to those "in the seeing and hearing world," in the most important ways they are just like anybody else.
"We all are human, with emotion," he said. "We have happiness, we have sadness. We suffer, we have joy."

×
Photos