PROVO — Aleva Hifo didn't quite know what to think at first.
The junior wide receiver was expected to be one of BYU's leading pass-catchers in 2018, a year after hauling in 37 passes for 437 yards and two touchdowns during the Cougars' woeful 4-9 campaign.
But now his new boss, offensive coordinator Jeff Grimes, preached to him about running the football; it's called a "jet sweep," and Grimes had seen it at multiple stops along his journey to BYU — from Dan Hawkins at Boise State to Matt Canada at LSU.
Grimes was convinced it would work. Hifo and some of the other receivers needed some convincing.
"I can't say how many jet sweeps we practiced in January. It was a lot," Hifo said candidly after Wednesday's practice. "But we all doubted, didn't think it was going to work."
Following the Cougars' 28-23 win at Arizona to open the season, call Hifo a believer in the jet sweep. In addition to a defense that limited Arizona quarterback Khalil Tate to just 14 yards on the ground, the Cougar offense produced 46 yards on eight sweeps, plus a handful more fake-jet sweeps that went to the running backs.
The idea is simple: find some of the fastest guys on the team and get them the ball quickly. On most college football teams, that's the wide receiver group.
Getting them the ball on a jet sweep means forcing them to make a play from the backfield — like a running back who has to climb over the entire defense to earn yardage and make plays.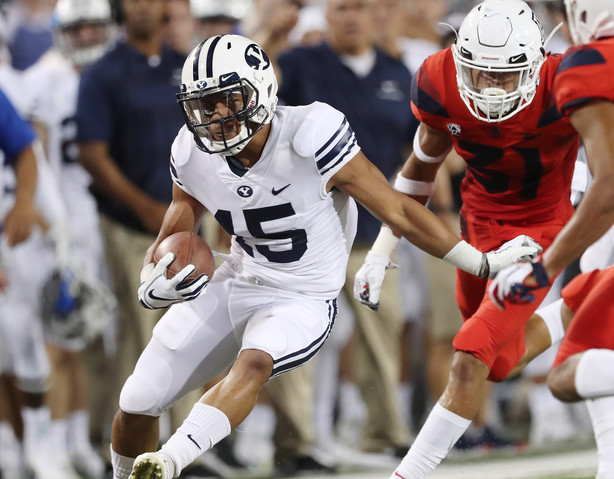 Wide receivers often run off the edge of the line of scrimmage when running a jet sweep. But the idea is the same.
"Getting the ball in the backfield is good — just get the ball in our hands," said Hifo, who is listed at 5-foot-10 but is one of the fastest guys on the team. "That's been an emphasis of the receivers, so we can make a play for ourselves."
Four different receivers ran the ball for BYU against the Wildcats, including Hifo's four carries for 19 yards. Neil Pau'u took the sweep twice for eight yards, Micah Simon ran the ball once for a 6-yard gain, and senior Dylan Collie added a 13-yard jet sweep for the Cougars.
That's in addition to leading rusher Squally Canada, the workhorse back who put together 24 carries for 98 yards and three touchdowns, and backup Lopini Katoa's 39 yards on eight carries.
"When you play more guys and distribute the ball more widely, then it makes it harder to defend," Grimes said. "A basketball team that has five guys that can score is harder to defend than one with two guys who are great scorers.
"We try to live by that, and play as many guys as we can."
Grimes isn't afraid to go to to the hot hand in his offense, either — even if that means pulling up younger players to supplant older veterans who aren't performing.
"Our strength is going to be our team, not in the individual," he added, channeling an inner monologue of Utah Jazz coach Quin Snyder. "No one is too good to be sat out. The guys who play the best during the week are the guys who are going to get the snaps on Saturday.
"The strength of our offense is our offense. It's the group, not the individual."
Even in the passing game, BYU didn't have on standout receiver. Hifo led his corp with 36 yards on two catches, while Canada was the No. 2 receiver with 29 yards on two carries out wide. Tight end Moroni Laulu-Pututau added 24 yards on three receptions, and Matt Bushman, Dylan Collie, Micah Simon and Dallin Holker only had one catch for an offense that out-gained Arizona 392-326.
"I think that's the offense we have to have," head coach Kalani Sitake said. "We can't just lean on one guy the entire game; even Squally couldn't run every play.
"With all that and the outside runs with our receivers, there are quite a few. We'll spread the wealth a bit."
The jet sweep also takes pressure off BYU's heavy-hitter offense, like Canada or senior quarterback Tanner Mangum.
"It gives our offense a lot of balance," Mangum said. "It gives us a lot of options and a lot of things that we can do.
"It's a great concept. You see it at a lot of different levels, including the NFL. It allows you to utilize your speed, keeps defenses off balance, and forces them to shift. If we run it right, it gives us a lot of different ways to get to different plays."
Of course, the Cougars had an element of surprise against Arizona, with first-year coordinator Grimes and his brand-new offensive staff. But Grimes insists there is more in the playbook — and maybe even more to the jet sweep than what BYU unveiled last Saturday.
Some players hope so, too.
"I'm trying to get a jet sweep," tight end Moroni Laulu-Pututau said. "I'm too slow for that now; they don't give me the ball. They give it to Aleva every time.
"Leva is an athlete … Everyone sees what he does under the lights. But if you guys were to see the preparation he puts one every day in practice, it's 100 percent on every rep. It's impressive, and there's a lot of credit to him."
×
Related Stories