Estimated read time: 4-5 minutes
This archived news story is available only for your personal, non-commercial use. Information in the story may be outdated or superseded by additional information. Reading or replaying the story in its archived form does not constitute a republication of the story.
SALT LAKE CITY — Nineteen-year-old Alyssa Hendricks "loved everybody" and "welcomed everybody," according to her mother, Nicole Hendricks.
A "spunky cheerleader" attending cosmetology school, she was among the last people anyone would expect to deal with a drug addiction, her mother said.
"It was super shocking to most everyone that knew her," she said.
But she'd become addicted to pain pills after a car accident her senior year of high school, Nicole Hendricks said. The mother believes her daughter's depression and anxiety may have also played a role.
She then turned to heroin last year, Nicole Hendricks said. The day before she was to enter rehab, Alyssa Hendricks' parents got a call from their daughter's fiance telling them she'd overdosed.
Nicole Hendricks said her daughter had only started using heroin about a month before.
But after her daughter's death, the mother says she found support and understanding through an organization of other parents who had also lost children to overdose.
Nicole Hendricks, along with hundreds of others whose lives have somehow been impacted by opioid addiction, gathered in front of the state Capitol building in Salt Lake City Friday evening to "raise awareness of overdose and reduce the stigma of a drug-related death," according to event organizers.
The event, hosted by Overdose Awareness Utah, was one of many happening around the world on International Overdose Awareness Day, held every year on the last day of August. Friday's gathering was the third year the event took place in Salt Lake.
As hundreds of people united around the Capitol steps, friends chatted and bunches of purple and white balloons floated overhead.
Event organizer Amber Baum lost her daughter, 22-year-old Kenzie Baum, in 2013 to a heroin overdose. She said she "laid in bed" for a couple of years after her daughter's death.
But then, she said, she realized since no one was going to save her, she should help others. So she became involved in different organizations for family members of those who have struggled with addiction.
Now, "I have more mom friends than I could ever want," Baum said. "It's an awful club to be in," she explained, but it's a "support system."
As she spoke to the Deseret News, several of those "mom friends" volunteering at the event buzzed around her, asking for direction as they prepared for the event, some stopping to give her a hug.
"We've all lost a child to this epidemic."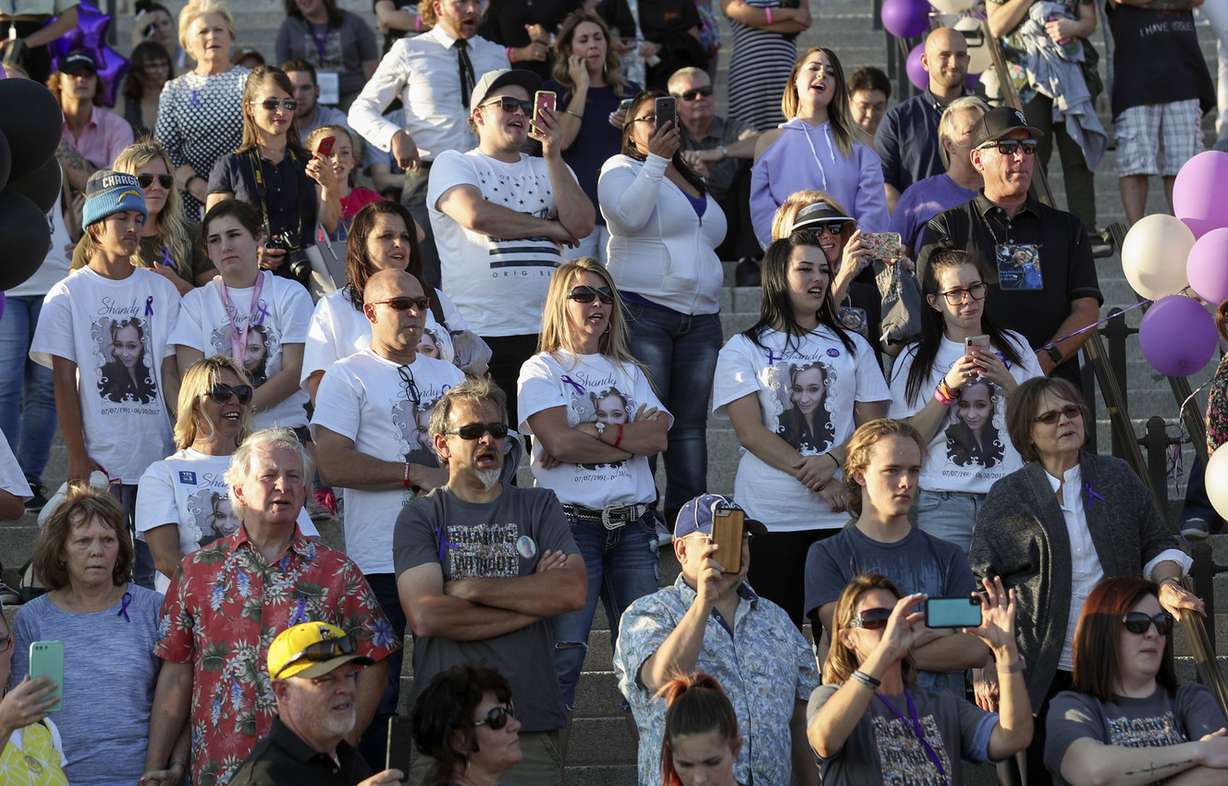 Baum said she wants people to understand that there's now "support out there" and "love out there" for those in similar situations. She says when she and others lost their children years ago, there was less awareness about the issue and they were "ashamed."
Having someone to talk to who understands doesn't take the pain away, she said, but it makes it "tolerable."
Beau Carter, another attendee, lost 24 friends to overdose — two of them in the same week. He says he himself suffered with an addiction for 12 years, but he recovered from it and has an "amazing job" and a daughter.
"When one of my best friends died, I just felt like, people need a place where they can get resources," he said. He started a group called Addicted We Stand to help addicts "get back on their feet," he said.
"I would basically want people to know that there's help out there … not to give up."
After an hour of mingling, a ceremony kicked off with a moment of silence, music from the One Voice Children's Choir and a balloon release. Utah House Speaker Greg Hughes, R-Draper, spoke briefly and described his efforts to help fight the opioid epidemic.
"There's a lot of meetings that go on here … nothing is more impacting to a policy maker, to a public servant, than you," he told the crowd. He said when people share their stories with lawmakers, it makes an impact.
"This is such a heartfelt group, and it's so personal to everyone," he said, adding that he was wearing sunglasses so no one would see him cry.
---
I would basically want people to know that there's help out there … not to give up.
–Beau Carter
---
He said state lawmakers have been trying to enact change by making naloxone more widely available and putting more money towards "behavioral health."
"There is no party to this issue," he said.
Following angelic music by One Voice Children's Choir, 176 people lined up and made their way to the grass in front of the Capitol. They stood together, the group forming the shape of a Boeing 737 airplane to represent the 176 people who are lost every day in the United States to overdose.
The idea behind it, according to event organizers, is that when a plane crash occurs, it is investigated until officials discover its cause. Organizers said they want the same to be done for the opioid epidemic.

×
Photos
Most recent Utah stories