This archived news story is available only for your personal, non-commercial use. Information in the story may be outdated or superseded by additional information. Reading or replaying the story in its archived form does not constitute a republication of the story.
SALT LAKE CITY — Four college basketball coaches sat on a stage inside Vivint Arena's main foyer Tuesday afternoon wearing business casual, holding a microphone each, and laughing and joking with one another and moderator Craig Bolerjack.
By Dec. 8, the foursome will have a decidedly different tone.
BYU coach Dave Rose, Utah's Larry Krystkowiak, Weber State veteran coach Randy Rahe and newcomer Craig Smith from Utah State took questions from the media Tuesday as the organizers of the Beehive Classic announced tipoff times and promotions for the second of a contract three-year neutral-site event that will feature the four most established college basketball teams in the state on one floor.
"Basketball in the state of Utah is a tradition and a passion for each university. I think it's important that we play," said Rose, who has tried to steer the four-team event toward reality since his time as an assistant coach under BYU's Steve Cleveland. "I'm just happy to be a part of it."
The biggest surprise came early when it was revealed that the games will be held hours earlier than last season's late-night slate. Organizers hope the day games also aid ticket sales for an event that drew just under 8,000 fans last year.
BYU and Utah, the obvious headliner of this year's Beehive Classic, will tip at 12 noon locally in a game that will be broadcast on the ESPN family of networks. Utah State and Weber State will follow at approximately 2:30 p.m. MT, and tickets were released for sale by the individual schools' ticket offices and the box office at Vivint Arena.
Neither coach of the biggest rivalry game in the state was concerned with the early tip time, though. Both teams practice in the early- to mid-afternoon, and Krystkowiak even argued that late tipoffs — as are customary in college basketball — are more of a deviation from the student-athlete's typical schedule.
"From a personal perspective, I've always thought I'm a little sharper the earlier the game is," Krystkowiak said. "I end up becoming a nervous wreck throughout the day. How nervous can you get for this? You wake up, have a little breakfast, and the next thing you know, you're in here warming up."
December's game will be the 259th all-time meeting between BYU and Utah, with the Cougars holding a 130-128 edge in the rivalry series.
But it will be a rare neutral-site game between the two, as well. The two haven't faced each other outside of BYU's Marriott Center and Utah's Huntsman Center since they were both in the Mountain West Conference.
"I imagine tickets will be hard to get," Rose said. "The 12 o' clock games are good for the fans, but tough on the guys; it's a whole different day."
While Utah plays in the Pac 12 and has an offseason loaded with games against marquee opponents like Kentucky, Minnesota and Nevada, Krystkowiak admits the BYU matchup is a special breed amongst nonconference games. Ditto for Rose and the Cougars, who have nonconference games against Nevada, UNLV, San Diego State and Mississippi State, in addition to four in-state contests against the Utes, Aggies and Wildcats.
The Cougars are also riding a 12-game winning streak at Vivint Arena, including last season's 74-68 win over Weber State.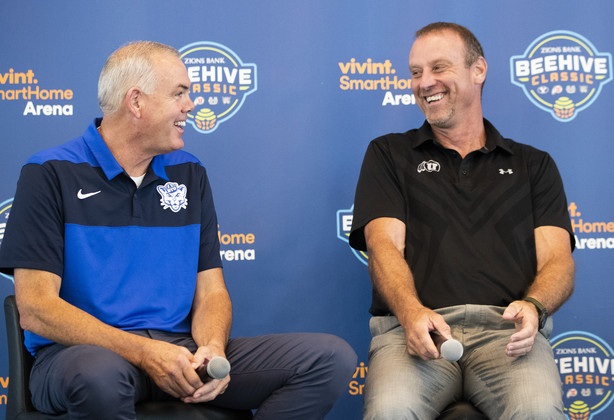 "It's going to be tough," Krystkowiak said. "They've never lost here … and if I would've known that, we never would've played the game.
"Honestly, it's like cheating," he added, jokingly.
A relative newcomer to the state, Aggie coach Craig Smith opens his first season in Logan after four seasons at the University of South Dakota. Prior to his team as a head coach, Smith spent a half-dozen years as an assistant at Colorado State from 2007-12 — when BYU and Utah were both league rivals.
So he's familiar with the intensity college basketball fans bring to the Beehive State.
"It's great being a place where you love Utah State and can't stand any other school," Smith said. "I've worked at a lot of places, and some places love School X and kind of like School Y. Here, there's not a lot of middle ground.
"Our guys know what is it at stake. They know the tradition of all the schools. Everywhere they go, they know it, they see it and they feel it."
The event helped raised $30,000 for each school's scholarship fund a year ago, according to Vivint Smart Home Arena President Jim Olson. He expects the tradition of giving back to continue this year.
"It's a great opportunity for us, for our fans, and for all the fans in the state — come together for one Saturday afternoon, and go compete. There's nothing better," Weber State coach Randy Rahe said. "The passion for basketball in Utah is unmatched. It's as passionate as any state in the country."
Beehive Classic
×
Photos
Related Stories