Estimated read time: 4-5 minutes
This archived news story is available only for your personal, non-commercial use. Information in the story may be outdated or superseded by additional information. Reading or replaying the story in its archived form does not constitute a republication of the story.
SALT LAKE CITY — TJ Haws was feeling it offensively, connecting on 7-of-12 shots that included four 3-pointers.
But with a win in the inaugural Beehive Classic hanging in the balance Saturday night, the BYU men's basketball team needed defense.
Enter Yoeli Childs.
In addition to Haws' season-high 24 points, Childs made a crucial stop on a potential game-tying bucket in the game's final minute to help the Cougars hold on for a 74-68 win over Weber State in front of an announced crowd of 7,729 fans at Vivint Arena.
"We talk a lot on this team about having poise and getting stops," said Haws, who also had five of the Cougars' 13 assists. "Eli and Yoeli had a big block at the end, and those stops are what win basketball games."
Elijah Bryant scored 13, Jahshire Hardnett added 11, Zac Seljaas added 10 and Childs added 10 points, 10 rebounds, two blocks and a steal for the Cougars (8-2).
"I thought it was a great game," BYU coach Dave Rose said. "Both teams executed well, and maybe there was a little bit of frustration because of an expectation that isn't real. But when guys are short-handed, teams beat other good teams. They played great."
Jerrick Harding scored a game-high 29 points for the Wildcats (4-5), and Dusty Baker added 13 points, seven rebounds, three assists and four steals.
Weber State, which played without starters Brekkott Chapman and Zach Braxton, got off to a hot start. Two quick buckets by Baker gave the Wildcats a 10-7 lead just minutes into the game.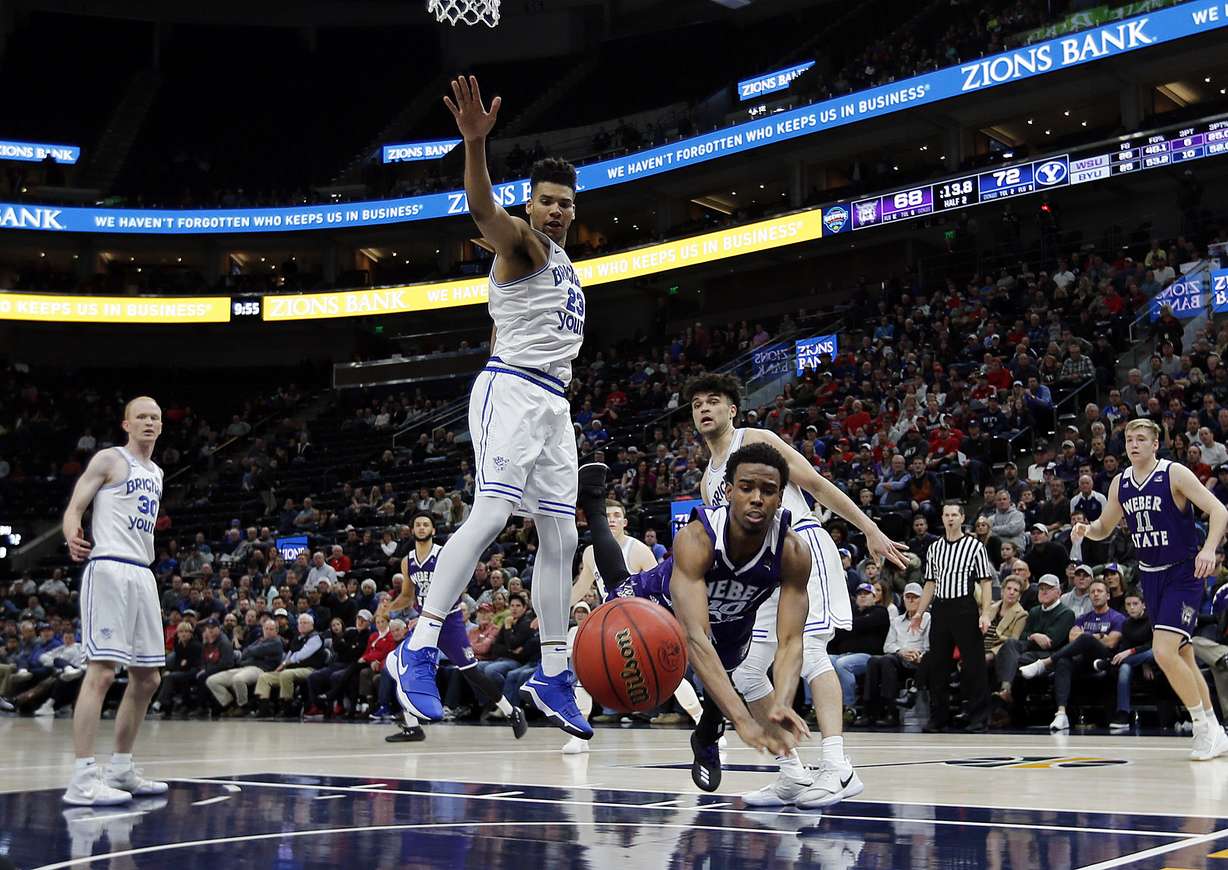 That's when McKay Cannon, who transferred from Weber State and became eligible less than two weeks ago, entered the game.
The junior came off the bench, capped an 11-0 run with a 3-pointer with 9:53 left, and gave the Cougars a 24-16 advantage that they rode for most the rest of the first half.
"I knew they were good," Cannon said of his former teammates. "Coming from there, I respected them. Being with them for two years, you know what they are and how good they can be. They were there, and I'm just excited I was able to leave my imprint on the game."
Ryan Richardson pulled the Wildcats within four, and BYU clung to a 36-32 lead at halftime.
But in the second half, Harding could not be stopped. The former Gatorade Kansas player of the year made 12-of-20 shots, and finished with four rebounds and two assists while pacing a 9-0 run out of the locker room for a 41-40 lead.
"He was splitting ball screens and did a great job of getting to the basket," Haws said of Harding. "He finished a lot around the rim with a lot of tough shots tonight."
Added Rose: "We had quite a night trying to guard him. He had a terrific night."
Bryant hit one of back-to-back 3-pointers to spur a 7-0 run and take the lead back. But Weber State didn't make it easy the rest of the way.
Trevon Ary-Turner cut the deficit as low as two, 62-60 with a 3-pointer with just over five minutes remaining. But the Wildcats could get no closer as BYU clamped down defensively to pull to its best 10-game start since the 2011-12 season.
"Give them credit: they made a lot of shots, and we definitely need to be better defensively," Haws said of the Wildcats. "They made big shots and handled it really well tonight."
Nixon out
BYU received word before the game that reserve forward Dalton Nixon would not be available.
Nixon, who joins posts Braiden Shaw and Ryan Andrus on injured reserve, could miss more time with a foot injury, Rose said, though the extent of the ailment is unknown.
"We'll have to let it calm down and then look at it on Monday or Tuesday," Rose said. "From all reports, it's going to be an issue we will have to deal with for a while."
The Cougars have a week off before hosting in-state rival Utah at 9 p.m. MT next Saturday in Provo.
Sprint to the finish
Saturday night was BYU's final game against an in-state opponent away from the Marriott Center. The Cougars, who played at Utah Valley and Utah State before the neutral-site affair, finish off the in-state swing at home against the Utes.
The Cougars split up the trek with a non-conference game against Illinois State on Wednesday.
"It's not the funnest thing to do, playing these in-state games. But it's what college basketball needs in the state of Utah," Rose said. "We have all these teams, and everybody is in a different league, except for Weber and Southern Utah, and since we don't get to play in the league we should do this."
×
Photos
Most recent Sports stories