PROVO — There was a new look on BYU's offensive line as the Cougars practiced in the morning on the 12th day of fall camp.
So new, in fact, that he didn't even have a number.
Keanu Saleapaga was playing on the left side of BYU's second-string offensive line Wednesday, a day before the Cougars will visit LaVell Edwards Stadium for the second scrimmage of fall camp.
The former redshirt freshman defensive tackle played mostly left guard, but he has the ability to play either tackle position for the Cougars, head coach Kalani Sitake said.
"We just felt like he's probably more wired for that," Sitake said of the freshman from Lakewood, California. "I think he'll have success at the O-line."
A former California Interscholastic Federation Division III state champion at La Mirada High School, Saleapaga picked the Cougars over scholarship offers from Arizona, Arizona State, Pitt and Southern California, among others, as a standout defensive lineman.
But his best days may be ahead of him on the other side of the trenches.
"Keanu's a natural," teammate Thomas Shoaf said. "He's a little rough around the edges; I don't know if he's played offense before, but he's picking it up quickly — and I think he'll do well."
BYU's offensive line gave up more pressure to the defense Wednesday, allowing four touch-sacks during the media-viewing portion of practice.
But Shoaf said adding a big body like the 6-foot-6, 295-pound Saleapaga should help improve coverage and protection across the board.
"The big thing is how quickly he picks up the offense," Shoaf added. "There are plays where he misses assignments here and there. But overall, he knows what to do, he understands it, and he picks things up quickly.
"He already has that physicality. Now the big thing is understanding the offense and using your hands."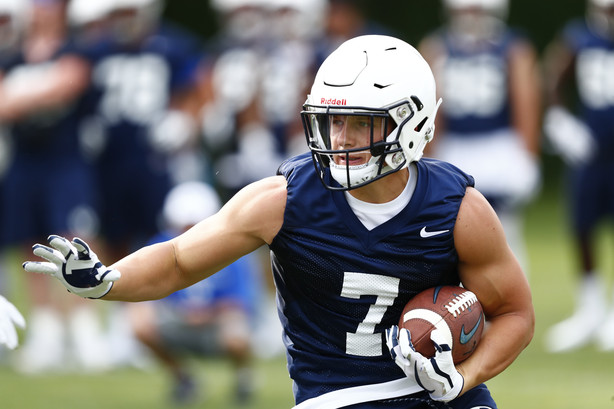 Scrimmage No. 2
The Cougars will hold their second scrimmage of fall camp Thursday morning at LaVell Edwards Stadium.
And while the viewing will be closed to the media and the public, Sitake said he has a strong idea of what he wants to accomplish after running 120 plays in Saturday's opening scrimmage.
"We just need to do some live reps," Sitake said. "It will be fun. These guys will be given a little more time to rest, so it's a good chance to go live.
"Their bodies are ready for tomorrow."
One key factor for the defense will be takeaways. The offense was elated without turning over the football Saturday, but the defense was hard-done after not gaining a single takeaway in 120 plays.
"Having no takeaways from the last one was eye-opening because we played 120 plays," defensive end Corbin Kaufusi said. "We might've done some other things well, but takeaways are huge. That's a big part of the game for us."
Trash talk up to speed
Offensive lineman Ului Lapuaho was dressed in pads for the first time Wednesday as he makes his way back from an injury. But the 6-foot-7 senior guard may still be a ways from suiting up for the Cougars after missing the entire 2017 season.
"In his mind, he's probably closer than he is — but I think he's proved a lot of people wrong already," Sitake said. "We'll see how he goes over the next couple of weeks.
"He's not in bad shape. He's lost a lot of weight. We're just looking for how much his body can withstand, and how many games he can play in a game."
But Lapuaho has already been caught up to speed in one crucial facet of the game — his trash talk, according to his cousin Kaufusi.
"He's not even playing yet, but that dude knows how to talk," Kaufusi joked. "I think his mouth supplies the entire offensive line with trash talk forever."
'That's stupid'
Former NFL running back Merrill Hoge, whose son Beau recently moved from quarterback to running back for the 2018 season, was not happy with the Cougars coaching staff with the position change.
Beau Hoge was one of four quarterbacks competing for the starting job during spring camp. But when coaches — including assistant head coach Ed Lamb, who also coaches linebackers — approached him about a move to running back in April, he accepted it.
Merrill Hoge, who played at Idaho State before spending seven seasons in the NFL, did not mince words about his feelings for the move on BYUtv's SportsNation program.
"This thing is weird to do that," said Hoge, whose son also ran routes at wide receiver Wednesday. "They'll claim they are maximizing talent, but I think it's a waste of talent. I don't think it's a smart move."
Merrill Hoge said his son wasn't "given the option" to compete for the starting quarterback job, which is now down to senior Tanner Mangum and freshman Zach Wilson.
"In 44 years, I've never heard a coach not allow you to compete," Hoge said. "I don't think that will fly … but they didn't want to listen to it."
Update:
Beau Hoge responded to his father's perceived frustrations with a lengthy statement posted to his Twitter account.
"My dad is the best father int he world and believes in me, but I'm at peace with moving to running back and excited to help our team in any way I can," the younger Hoge wrote later Wednesday evening. "I haven't always shared all of my feelings about this with my dad, and that's my fault. My concerns and questions about playing another position were always answered by my coaches in meetings that lasted as long as they needed to in order for me to feel at peace about moving positions."
×
Related Stories