This archived news story is available only for your personal, non-commercial use. Information in the story may be outdated or superseded by additional information. Reading or replaying the story in its archived form does not constitute a republication of the story.
PROVO — Beau Hoge has kept a secret for several months.
And on the day BYU football opened its 2018 fall camp in Provo, he finally got to let the secret out.
Hoge was moved to running back, and while the redshirt junior's days as a quarterback aren't officially over, he also spent some time with the wide receivers in the Cougars' first formal practice.
"I've known for a long time," said Hoge, who heard about the move sometime in April. "I've been keeping it a secret for a while.
"My dad told me that whatever I want to do, he's happy. He's just excited for me to get on the field in any way, shape or form."
The move makes sense, though, according to BYU coach Kalani Sitake. The son of former NFL running back Merril Hoge did not don a green non-contact jersey worn by the signal-callers as the Cougars opened fall camp Thursday in Provo.
"I think he looked really good," Sitake said. "I mean, I think he has the genes for it. He looks really comfortable, and did some really good things on those pass routes and in protection.
"He does (look like his father), but he's built a lot better. We just want to give him a shot there, but I think it suits what we want to do with him."
The 6-foot-1, 220-pound redshirt junior was a 52 percent career passer at BYU, with 394 yards and three touchdowns to four interceptions. But after spending most of his first two seasons at BYU playing limited or no game time, Hoge suffered a head injury after throwing for 95 yards and two touchdowns in a 40-24 loss at Utah State, and never returned to the field.
BYU coach Kalani Sitake was impressed with his team — despite a myriad of position changes — on the first day of fall camp. pic.twitter.com/tEeWHSWTjG

— KSL SportsBeat (@kslsports) August 3, 2018
In the offseason, Hoge and his father visited a Pittsburgh medical facility that specializes in head injuries. And he insists the days of the injury bug are behind him.
"We were able to do a lot of things that will help be proactive in preventing the concussion process," Hoge said. "I think there were some lingering things from high school that contributed to last year."
He's got the support of his teammates, too.
"Beau is an incredible athlete," sophomore quarterback Joe Critchlow said. "I feel confident with him anywhere on the field, and if the coaches think he can help us at running back, then so be it. I support him, and it will be great to hand it off to him and throw to him in the backfield, too."
Critchlow received a large chunk of practice reps, as did senior-to-be Tanner Mangum and freshmen Zach Wilson, Baylor Romney and Jaren Hall.
"To me, that's being a leader," Mangum said of Hoge's move. "He's selfless. He comes in, works so hard, goes to the weight room all the time and watches film.
"Guys respect that and it's a big part of his leadership."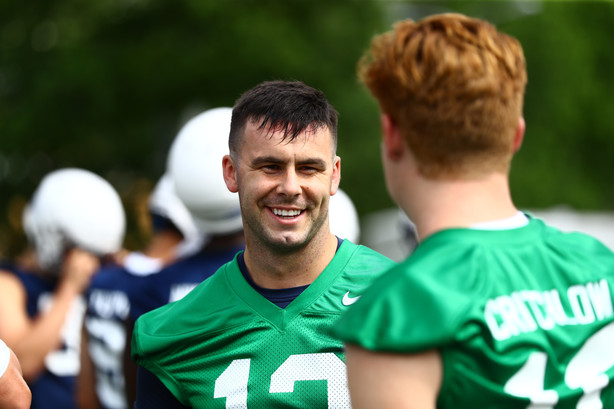 No answer at QB
Even with Hoge's move to running back, Sitake astonishingly said the coaching staff isn't any closer to naming a full-time starting quarterback.
"I'll have to watch the film. Nothing was great, but it was nice to see Tanner back out there throwing the ball," Sitake said. "There are a lot of positive things to see, but I'll know a little bit more tomorrow.
"It's pretty obvious our guys worked hard in the offseason and took advantage of their time."
None of the players are worried about the decision yet, though.
"In total, we ran over 100 players today," Mangum said. "There was a lot of verbiage, a lot of vocab, a lot of schemes. That's part of the grind of camp.
"It's not easy to master a new offense … but I think we did a good job today."
Dye'd football hopes?
BYU senior-to-be running back Trey Dye was not available at practice Thursday, and is no longer listed on the team's preseason roster.
While not a done deal, Dye's days in college football are likely done after myriad injuries, Sitake confirmed after practice. He'll remain with the team as a student-assistant coach, but he's almost certainly finished as a player.
"I love Trey, and he's going to be involved with us," Sitake said. "But it's unfortunate that he had some medical issues.
"I love having him around."
The 5-foot-9 son of former BYU standout returner James Dye caught 16 passes for 152 yards and a touchdown in three seasons for the Cougars.
×
Photos
Related Stories