SALT LAKE CITY — Britain Covey is not your prototypical athlete.
Standing at just 5-foot-8, 170 pounds, Covey is the last person to strike fear into opposing teams.
"Every game in the first possession, I'd get some defensive back say something to me about how I'm small, how he's going to eat me or something, you know, so I'm used to it," Covey said with a smile on his face.
But a standout freshman season, where the quarterback-turned-receiver totaled 519 receiving yards and four touchdowns, surprised many in and out of the program as respect for him grew. Still, no one could stop the former Timpview High star on the field. He had the speed and quick cuts to distance himself from defensive backs and was shifty enough to evade tacklers en route to big gains.
"They (defensive backs) come after me and they over pursue it," he says, "and it gives me a chance to play my game."
But as quickly as his notoriety grew around the league, Covey left for two years to serve a full-time mission for The Church of Jesus Christ of Latter-day Saints. Most around the Pac-12 that saw him play in 2015 have gone, which gives the sophomore receiver a sort of fresh start in a revamped receiving corps at Utah.
For Utah fans, though, the expectations are at an all-time high as they await his return to the field; they remember his affinity for open space and want to see it in what could be a special 2018 season. Those expectations are what receiver coach Guy Holliday encourages Covey to embrace as the season draws near.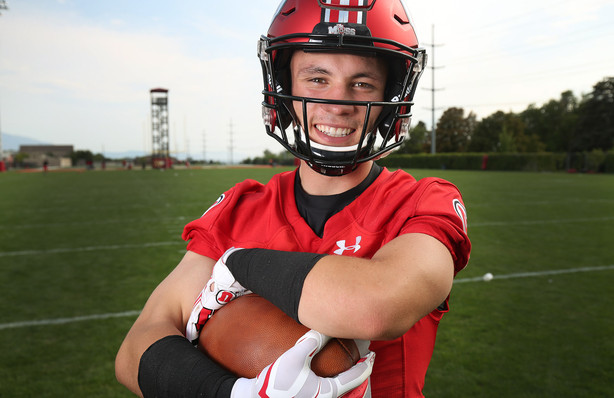 "I always say embrace expectations as a compliment," Holliday said. "I'd rather people expect something of me than people not to. So, I want him to embrace it. I want him to accept the challenge and then let's see what happens."
Holliday, who joined Utah prior to its 2017 season, is new to coaching the returning receiver but said Covey has proven he's up for the challenge and that he's already surpassed expectations throughout fall camp. Offensive coordinator Troy Taylor, who had only heard of Covey's athleticism, said the receiver has gone "beyond" his expectations.
Taylor echoes all the praise about Covey as he's become one of the most consistent receivers of camp, but added that few people understand how smart he is, which has allowed Covey to integrate into the offensive schemes as well as he has.
"He's extremely intelligent — one of the smartest guys I've been around," Taylor said. "How he sees the field, the information he gives you is always very accurate — where the space is, what he should've done. He has great recall on that."
Covey, though, credits his ability on the field to the flexible offensive schemes that Taylor has brought to Utah. He said the offense has more "trust" factored into it than what he was used to running his freshman season under then-offensive coordinator Aaron Roderick. He added that head coach Kyle Whittingham has "really given him (Taylor) the reigns in the offense."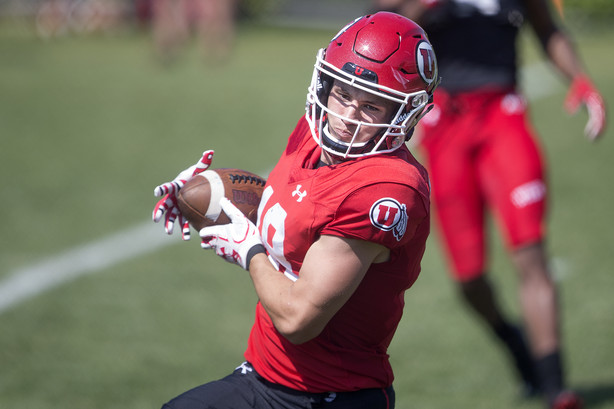 Careful to not disrespect his former coach — "it's hard for me to say because I love coach A-Rod" — Covey said Taylor's offense is "definitely a different style now." He said there are "a lot more option routes, a lot more freedom" and that it's "just a less rigid system."
"The old system wasn't bad, it's just when you have a system like this, if you get good at it, it's better than a rigid system when you're good at it," he added. It's a system where all the receivers become a threat, and where Covey feels like he doesn't have to play the entire time to be valuable as a receiver.
Now, Covey said he has the confidence to know that he can play against anybody. No longer is he acclimating to a Division I program or a new position group. He knows he can hang with the best of them and hit the ground running.
"My freshman year, it was pretty scary, to be honest. I didn't really know how I was going to fare at receiver, so now I have a lot more confidence," he said. "And in terms of our position group, I mean, this is the deepest position group I've ever seen. We've got so many guys on this squad and that's what I like because you can't focus on anybody."
×
Photos
Related Stories