Estimated read time: 3-4 minutes
This archived news story is available only for your personal, non-commercial use. Information in the story may be outdated or superseded by additional information. Reading or replaying the story in its archived form does not constitute a republication of the story.
MIDVALE — So far this year, 25 people have been killed in Utah in motorcycle crashes, according to the Department of Public Safety.
"It's astronomical. It's more than we've ever seen," said Utah Highway Patrol Lt. Todd Royce, adding that this year is on pace to set a record for motorcycle deaths in the state if trends continue.
About 30 motorcyclists gathered with law enforcement officials Wednesday evening at Caesar's Motorcycle Parts & Service shop in Midvale to discuss what they want Utahns to be aware of on the road. The meeting was hosted by the Riderz Foundation, a motorcyclist advocacy group.
During the emotional meeting in front of the shop, with the sound of cars speeding by, several bikers in leather vests shared their frustrations about times when they nearly got into accidents because of drivers distracted by their cellphones.
When asked how many of them had recently had "close calls" on the road, almost all of the bikers raised their hands.
Several said that laws should be changed to increase penalties for texting and driving, and that current laws should be enforced better. They also said those who cause crashes because of texting and driving should be prosecuted.
Elvecia Ramos says she and a friend both got into a motorcycle crash two years ago while riding to a fundraiser for a friend who had been injured in another motorcycle crash. She and her friend were both hit by a driver making a left turn.
While she was still in the hospital, she said the accident prompted her to start the Riderz Foundation to help other people who get into motorcycle crashes, promote safety awareness and educate motorcyclists about how to stay safe on the road.
She said more than 200 people joined the group within its first 24 hours.
"Let's be the force," she said, to advocate for their own safety.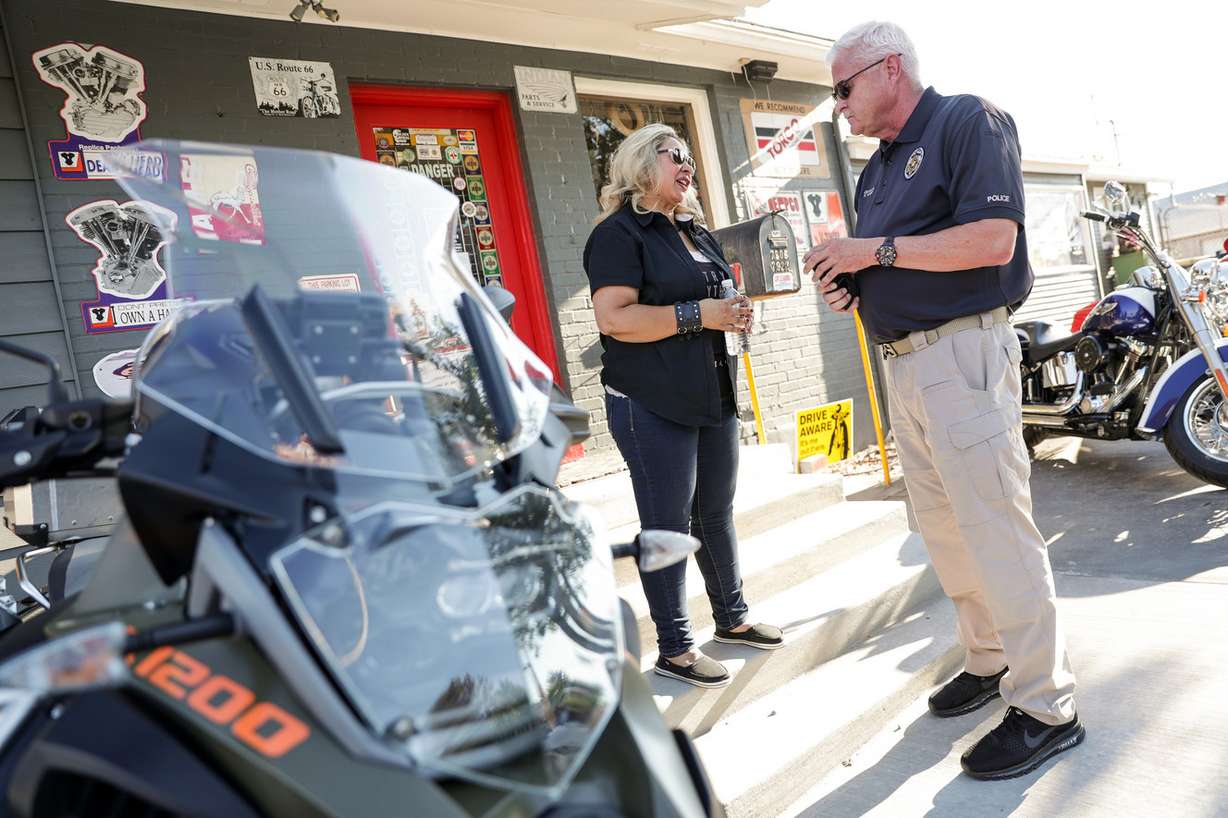 Ramos said it took a year before "I decided I had to get back on" a motorcycle.
But with risks, why do motorcyclists keep riding?
Ramos said she got back on a bike because of the feeling of freedom that comes with it and because it is "meditative."
Shilo Davies, a U.S. Navy chief and member of a bike group, said he loves to ride because of the feeling of camaraderie.
"We all share that one thing in common," he said.
He said he agreed with many others at the meeting that distracted driving is the biggest factor that puts motorcyclists at risk. He said he's had at least 12 close calls this year when he almost got into crashes.
Despite risks, Tim Jacobsen said he loves to ride because of the "connection to nature" it brings.
"In a car, you don't smell, hear things around you," he said. He recalled driving through Idaho and smelling "onions and potatoes."
Jenna Beesley said when motorcyclists drive, they are "so focused on staying alive."
"You feel very alive," she said.
Related:
Addressing the riders' concerns about catching texting drivers, Royce said his organization has been having troopers patrol in high, unmarked vans to catch people texting.
"Another thing we did just the last two days, we had motor guys in Davis County looking for aggressive drivers," he said. "We're doing what we can."
Marques Varela, bike coordinator with the Department of Public Safety and fellow motorcyclist, discussed ways the men and women can better keep themselves safe on the road, warning that the bulk of responsibility falls on the motorcyclists themselves.
He also asked motorcyclists to try not to be aggressive when they get cut off in traffic.
"If someone cuts you off, it's like they offended five generations of your family," he joked.
John Holt, a motorcyclist who also works in public safety, said he has attended most meetings held by the group.
"These meetings are great because it gives everyone a forum to vent," he said.
After about an hour of discussion and some debate, the motorcyclists hopped back on their bikes and rode off into the cooling evening.
×
Photos
Most recent Utah stories