Estimated read time: 4-5 minutes
This archived news story is available only for your personal, non-commercial use. Information in the story may be outdated or superseded by additional information. Reading or replaying the story in its archived form does not constitute a republication of the story.
SOUTH JORDAN — Mark Schultz and his wife have lived in their South Jordan home for 27 years.
They recall a time when there were no power lines close to their home. Now, the lines that are there will be replaced by lines an average of 30 feet taller.
The Schultzes, along with about 75 other residents, gathered at South Jordan City Park in the nearly 100-degree heat Monday evening for an open house hosted by Rocky Mountain Power, giving them a chance to voice their concerns and ask questions about the planned upgrade of power transmission poles close to their homes.
"The question for everybody's always been, why do you take these big lines across subdivisions? Why don't you move them on main roads?" Schultz asked.
According to Spencer Hall, communication manager for Rocky Mountain Power, the project will start construction in 2019 and is set to be online for the "hot season" of 2020.
To help meet current and future electricity demand in the south valley of Salt Lake County, the new, larger power lines will start about 10700 South and 1400 West and will follow the existing line until it crosses the Jordan River at about 11800 South, according to officials.
Some residents asked why the power company does not build the lines underground. Officials from the company said that measure would be very expensive and is something that is typically only done when private businesses request and pay for it.
Hall said the project has been in the works since 2010 when South Jordan and Salt Lake County put together an electrical plan.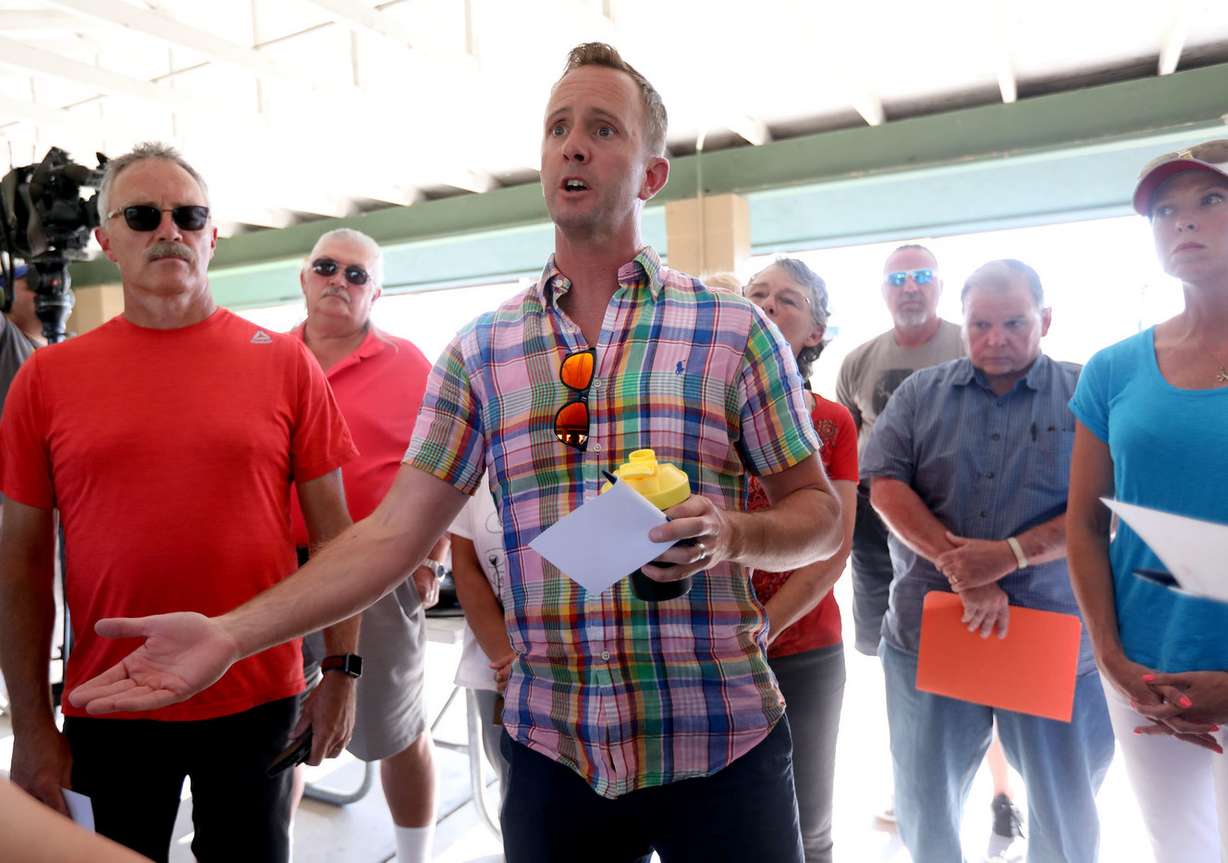 "We're going forward with that, but at some point it's always the first time you heard about it, and so we understand," he said, adding that the power company sought to inform neighbors by knocking on doors, leaving behind flyers and through other measures like the open house on Monday.
"And so we have a lot of our experts out here today trying to answer a lot of these questions. We live in these same communities. We build these for everyone, and so we want everything to be safe," Hall said.
Residents also asked Rocky Mountain officials questions about how the new power poles would impact their community, home value and yards, among other concerns.
Ben Clegg, project manager for Rocky Mountain Power, said the voltage of the current poles is 46,000 volts, and the new poles will carry 138,000 volts.
Rocky Mountain officials said there are no state or federal electromagnetic field levels identified as a public health risk by the state or federal government, but if the state was to implement restrictions, the company would respond.
Camie Hodlmair, a neighbor, told KSL she's concerned about the possibility of kids at an elementary school being affected by potential electric and magnetic field exposure.
Some research has sought to find a link between electric and magnetic field exposure and health risks including childhood leukemia, according to the National Institute of Environmental Health Sciences. The institute calls associations between the exposure and health risks "weak," but still calls for "practical ways of reducing exposures to (electric and magnetic fields)."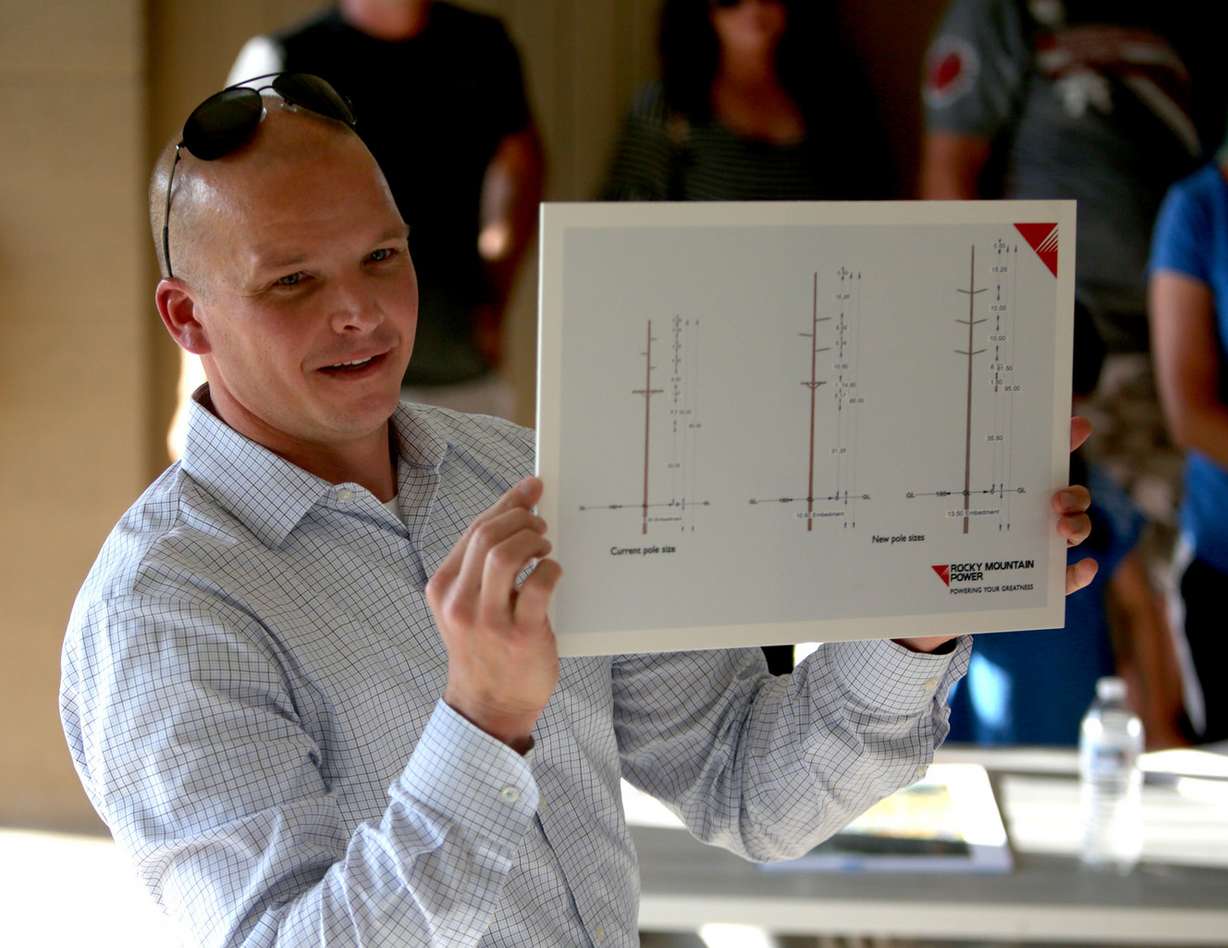 Hodlmair says the science behind electric and magnetic field exposure is "weak science." However, "Is the link enough to be concerned about this voltage of a power line running the entire length of South Jordan Elementary School?" she asked.
"There's enough to at least pause and slow down," she said.
One resident asked how the construction would affect her landscaping and if she would lose trees to the project.
Lisa Romney, regional business manager for Rocky Mountain Power, said the company would work with residents, inform them about construction at their property in advance and, for example, give them tree vouchers to replace any trees that might be lost.
Some residents were not put at ease by the power company's answers.
"They admitted that they haven't run a cost analysis of options that would move this line out of the residential space and away from the school, and just today they put the onus on us as residents to even pay to get a cost analysis for alternative lines," Hodlmair said.
Hall called the residents' concerns legitimate.
"And I think we were able to answer some of them. … At the end of the day, everybody has their different concerns, but we think that all of us are surrounded by power lines, and this is a very common standard available all throughout the valley," Hall said.
Editor's note: An earlier version misspelled the name of Rocky Mountain Power project manager Ben Clegg as Ben Clebb.
×
Photos
Most recent Utah stories