Estimated read time: 4-5 minutes
This archived news story is available only for your personal, non-commercial use. Information in the story may be outdated or superseded by additional information. Reading or replaying the story in its archived form does not constitute a republication of the story.
SANDY — Exactly five months after a mass shooting in a high school in Parkland, Florida, left 17 dead, student survivors and activists held a town hall in Utah Saturday addressing school safety and gun laws.
"I think some of our biggest obstacles, one of them in particular, is that perception that Salt Lake doesn't have a problem, Utah doesn't have a problem, with gun violence," said Elizabeth Love, a Utah high schooler and March for Our Lives activist. "And that simply is not true."
Despite venue changes and an hour delay, the panel — which included Marjory Stoneman Douglas High School shooting survivors, Utah high school students and other activists on the "Road to Change" tour — addressed a packed Mountain America Expo Center Saturday night.
"After the march, on March 24, we saw such energy, such liveliness, all across — not only the country, but the world," said Parkland survivor Ryan Deitsch. "And we decided we needed to bring that energy forward, we need to keep that energy going, we need to keep that momentum."
During the 90-minute panel, student activists addressed high school students and gun rights advocates covering issues ranging from background checks to bump stocks. Activists then held a question-and-answer session.
Salt Lake City Democratic Mayor Jackie Biskupski was in attendance for Saturday's town hall and asked the panel the last question of the night.
"As a mayor who doesn't have oversight over my school district, what can mayors across this country do? What should our No. 1 priority be to help you succeed?" Biskupski asked.
Deitsch asked Biskupski to pursue initiatives to fund violence prevention groups and violence prevention centers. She was also asked by another panelist to start a gun violence commission and school safety committees.
"Done and done," Biskupski said to cheers from the crowd.
March for Our Lives is pushing for universal background checks, federal funding for gun violence research and bans on semi-automatic assault rifles and high-capacity magazines. The group says it's working with the Utah Shooting Sports Council as well as Republican Utah legislators to find common ground and discuss ways to move forward.
Organizers from the "Road to Change" town hall tour were able to secure the Mountain America Expo Center as a venue Thursday after Larry H. Miller Sports & Entertainment dropped out the day before.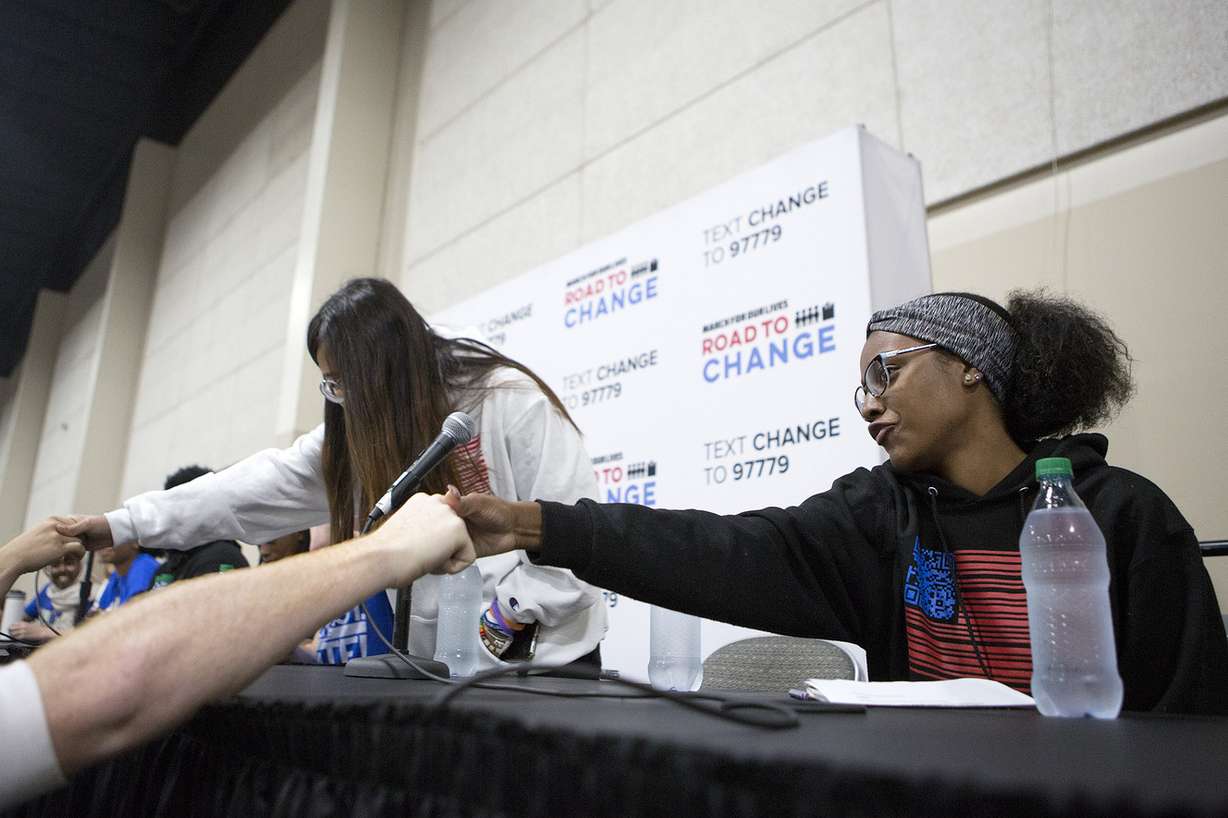 In a statement, the company cited a "potentially contentious situation where additional security will be required."
Members of the Utah Gun Exchange, an online marketplace for buying and selling guns, have been following the "Road to Change" tour in a military-style armored vehicle, countering the students' call for stricter gun laws.
On its website, the Utah Gun Exchange encouraged pro-gun rights advocates to attend the March for Our Lives town hall. The company's co-owner, Sam Robinson, said that about half of those in the expo center were on that side of the debate.
"We want to provide an alternative point of view as it relates to this discussion," Robinson said. "We both have the same objective, which is making our schools safer and want to find ways to work together."
Related story:
While the interactions between the two sides of the debate remained cordial and outbursts from the crowd were minimal, March for Our Lives leaders believe the Utah Gun Exchange has been following the tour for publicity.
"We're activists and they're a business," said Pavel Asparouhov, a student at West High School and local March for Our Lives activist.
"They make money off of following kids around the country, trying to fearmonger teen activists that simply do not want to die," said activist David Hogg, a Parkland survivor.
In the run-up to Saturday's event, March for Our Lives organizers said they looked forward to hosting the event within the district of Rep. Mia Love, R-Utah. Love has said she supports solutions to gun violence in schools but has remained a supporter of gun rights issues.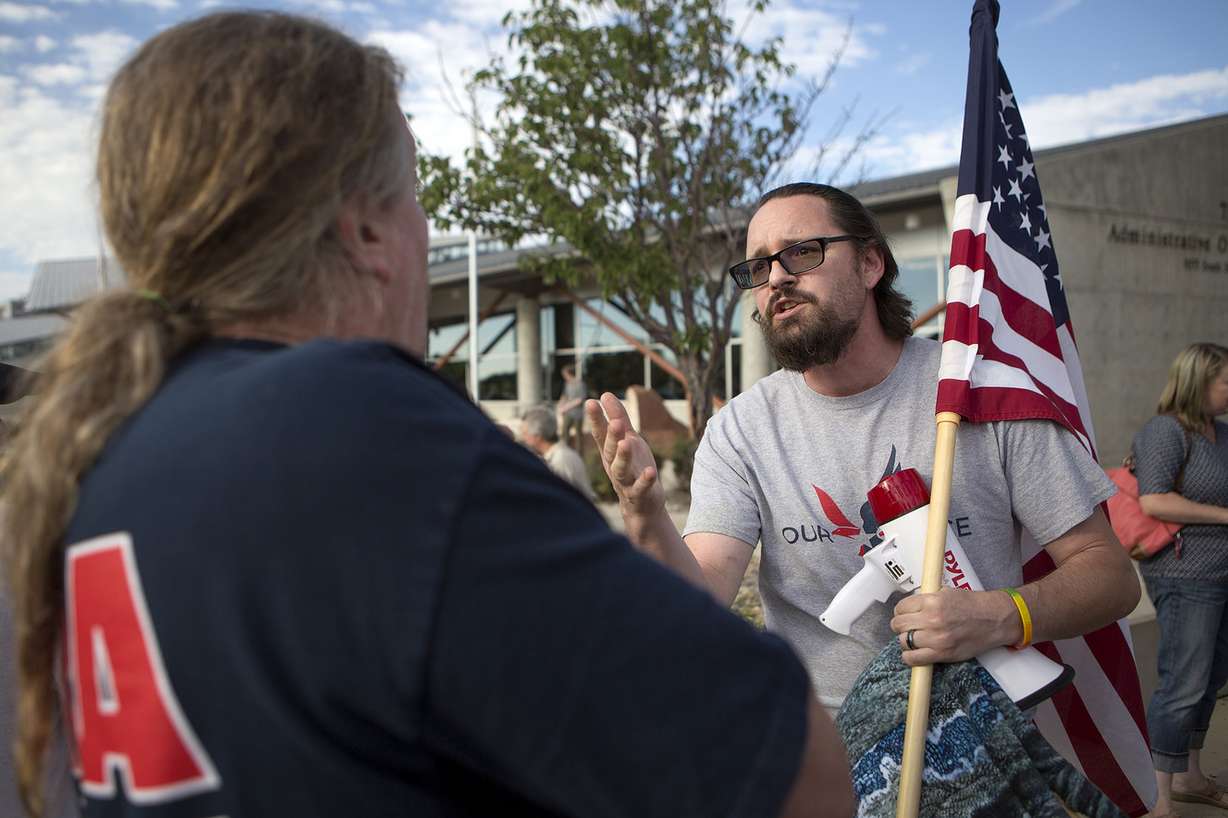 Hogg said that if twice as many young people voted in 2018 as they did in 2016, Utah would be able to vote someone into office "that doesn't just say they're good on guns but actually acts on it."
Hogg and Asparouhov said that while her Democratic opponent, Ben McAdams, has met with their organization, Love has not responded to any of their requests.
"I think what the 'Road to Change' is doing is teaching the youth that you can hold your politicians accountable and that you can make them do what you want them to do because at the end of the day, we put them in office," said a Ariel Hobbs, March for Our Lives activist.
Contributing: Dennis Romboy
×
Photos
Related stories