This archived news story is available only for your personal, non-commercial use. Information in the story may be outdated or superseded by additional information. Reading or replaying the story in its archived form does not constitute a republication of the story.
SALT LAKE CITY — Thousands of Utahns gathered Saturday to participate in a "March for Our Lives" held in conjunction with nearly 850 similar demonstrations all over the world.
Students, teachers and people from all walks of life packed the front lawn at the Utah State Capitol, calling for stricter gun laws and safer schools.
"We're here today to say fear no longer has a place in our schools," said West High School student Abena Bakenra, who has made a habit of scanning every classroom she's in for the best place to hide in case something happens.
"It's easier to get a gun than it is to get a driver's license," the teen told the crowds gathered for the student-led movement.
Utah students, teachers and their families, as well as supporters in every state joined the cause Saturday to "demand that their lives and safety become a priority and that we end gun violence and mass shootings in our schools today," according to the "March for Our Lives" website.
They're calling for stricter gun laws following one of the nation's deadliest school shootings at Marjory Stoneman Douglas High School in Parkland, Florida, on Feb. 14. Seventeen students and faculty were killed by a lone gunman that day and survivors at the high school have spoken out against local and federal politicians saying #enough is enough.
The Utah Highway Patrol estimates 8,000 people attended Saturday's Salt Lake march in Utah, with about 800 at a separate but similar event, marching the same route to defend their Second Amendment rights, but also to show that they want change in the form of more secure schools.
"We want to show that gun owners are peace-loving people, too," said local YouTube activist, "NutnfancyProject" creator Richard Hewitt. "We're not extremists. We're Americans."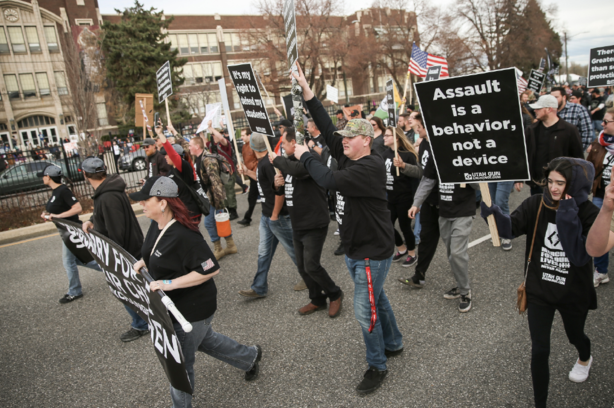 Hewitt, a retired U.S. Air Force colonel, said part of the problem with erratic gunmen, especially in schools, is created by broken families. He also supports arming teachers.
The students chanted "Books, not bullets," "This is what democracy looks like" and "Never again" as they filled the steps of the Capitol. Their brightly colored clothes, including numerous blue "March for Our Lives" shirts resonated in the afternoon sun.
Gun activists donned black and some were in camoflauge. Many of them carried American flags or Gadsden flags created for the American Revolution, which read, "Don't tread on me." They held their own rally, emphatically cheering for those who chose to speak at the open mic.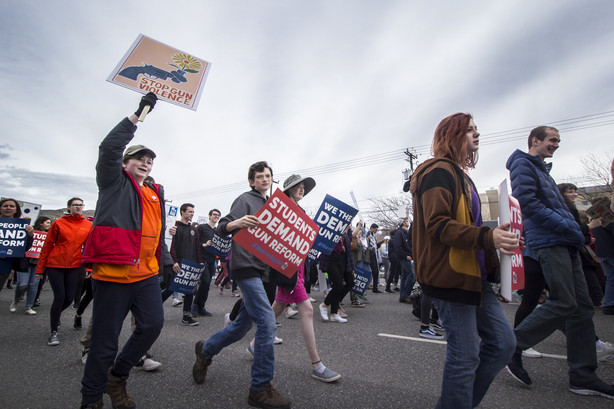 "We're all part of the militia," said Kevin Wilson, of Saratoga Springs. He said tragedies, like the most recent one in Parkland, often incite fear in people who then assume they have to do something and "make emotional decisions."
"A gun is the answer to a bad guy with a gun," Wilson said.
"March for Our Lives" participants rallied for background checks on all gun purchases, a wait period between purchase and pickup, a ban on bump stocks and sales of military-grade assault weapons, not necessarily the handguns and rifles that are owned by the majority of gun owners in Utah and the United States.
"We don't wish to deprive you of your fetishism for your menacing weapons," said Ermiya Fanaeian, a student at the Salt Lake School for the Performing Arts.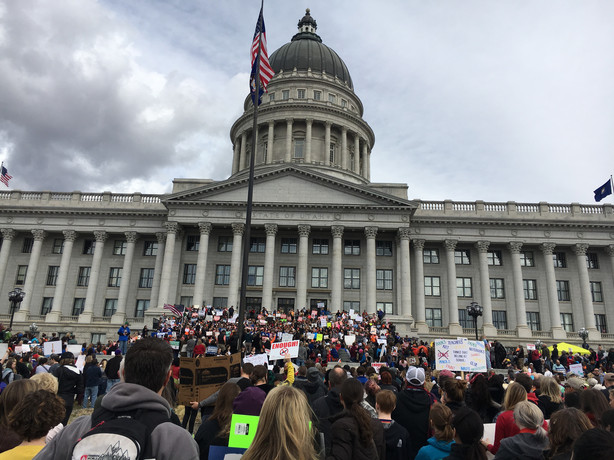 Destiny Waltzing Murray, a senior at Grantsville High School, said she's "sick of hearing about mass shootings and sick of wondering if my school is next."
"I'm tired of being afraid of being shot in my own school, where I'm supposed to be safe," she said, adding that the National Rifle Association "has too much power over us and over our government."
Some students tied makeshift price tags on their wrists, showing 17 cents each, which was calculated using the number of students in Utah and the amount of money Utah's congressional delegation accepts from the NRA.
"Guns aren't going anywhere, but a life is a life and you can't put a price tag on that," Murray said.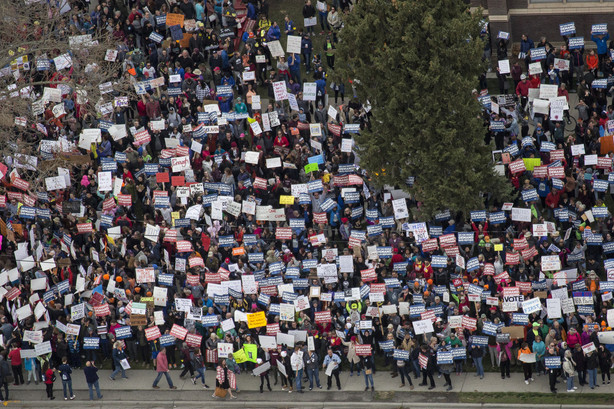 "I want my children to go to school safely," said Stacy Hughes, a gun owner and mother of teenagers from South Jordan. She volunteered for the local "March for Our Lives" event to support the students, including her own kids. Hughes said she has no interest in taking guns away from people and wants "a common-sense approach" to address the issue.
Orem High School student Levi Rodas said he doesn't support changing the Second Amendment. "It's amazing how much fear can control a person when they're uneducated." Removing guns, he said, "will not stop that kind of violence."
Local marchers first met at West High School, 241 N. 300 West, and then walked together, carrying signs to the Utah State Capitol, where student speakers addressed the crowd.
Other Utah rallies were held Saturday in St. George, Logan and Park City.
This story will be updated.

×
Photos