This archived news story is available only for your personal, non-commercial use. Information in the story may be outdated or superseded by additional information. Reading or replaying the story in its archived form does not constitute a republication of the story.
SALT LAKE CITY — Over the weekend, March For Our Lives Salt Lake City organized a demonstration at the Wallace Bennett Federal Building after their request to arrange a town hall with members of Utah's congressional delegation, failed.
The town hall effort was a national one — in partnership with Town Hall Project, March For Our Lives organizers established the April 7 date and encouraged gun safety activists around the country to attend already scheduled town halls and raise their issues; where meetings were not scheduled, March for Our Lives encouraged activists to either pressure their representatives to meet, or hold "empty chair" meetings to call attention to their absence.
But Salt Lake City March for Our Lives did them one better.
Instead of empty chairs, the mostly high school-aged organizers set up cardboard cutouts of Utah Reps. Mia Love, Chris Stewart, Rob Bishop, John Curtis, and Sen. Orrin Hatch, and posed for pictures with them.
And their goal to draw attention to the absence of their representatives was a success.
The images from Saturday's demonstration were shared on Twitter by one of the organizers, Abena Bakenra, and have since gone viral, garnering more than 21,000 likes and over 4,500 retweets. Emma Gonzalez, Parkland student and March For Our Lives organizer, also shared the images adding her own message, which has been liked more than 30,000 times and retweeted by over 5,300 Twitter accounts. If politics is a battle of attention, the March For Our Lives activists might actually be winning.
This latest demonstration by March For Our Lives SLC is the product of continued efforts by the Parkland student organizers to spread their message nationally and sustain public attention to issues of gun safety to force members of Congress to pass new regulations or threaten the electoral security for those who oppose their agenda. To accomplish their goals, these young activists are relying on their social media mastery.
We will not be next.

Today we laid down in the rain, on federal property, for 6 minutes and 20 seconds. Today we showed our reps that we will be heard. Today we proved that we will not be silenced, ignored, or pushed aside.#MarchForOurLives#NeverAgain
📷: Kathryn Jones-Porter pic.twitter.com/BpQ4wbUzKr

— March For Our Lives SLC (@March4LivesSLC) April 7, 2018
Their first nationwide success was the march itself. Reports estimate that around 200,000 people flooded Washington D.C. on March 24 for the demonstration. Around the country, other cities saw demonstrators turn out, as well. In Salt Lake City it is estimated that over 8,000 people participated.
Much like images from the town hall demonstration in Salt Lake, images from marches around the country went viral. In particular, signs that displayed memes were shared widely online and reported on by news outlets.
to our politicians: we took notes of those who didn't come and listen to their constituents. We had to be petty and use cardboard cutouts just to represent you. This is your official warning because we WILL #VoteThemOut come November. Watch your backs 🐸☕️ #TownHallForOurLivespic.twitter.com/SvheLpUggx

— bean (@AbenaBakenra) April 7, 2018
Perhaps frustrated by their limited recourse for fighting for gun safety because they are too young to vote, these young protesters are increasingly turning to creative outlets to air their frustrations, or inspire others.
When Rep. Mia Love didn't show up to our townhall, we wore her quote about the importance of listening to student's school safety concerns on our rain ponchos. listen to us or be #votedoutpic.twitter.com/Xe84Ioqzuu

— Elizabeth Love (@lizlove000) April 8, 2018
For example, a quick search of #EmmaGonzalez on Instagram will return thousands of artist depictions of the Marjory Stoneman Douglas High School student whose face has grown to symbolize the movement.
Photo: Facebook, Kathryn Jones-Porter
Although we will have to wait until the midterm elections in November to see whether the movement will have a substantive impact on those members of Congress who are not supporting the goals of March For Our Lives, there is some evidence of its effectiveness, already.
our reps didn't come so we had to be petty and bring their cutouts #TownHallForOurLives@davidhogg111@cameron_kasky@Sarahchadwickk@Emma4Change@MattxRedpic.twitter.com/v6GLPXhns2

— saida #neveragain (@saida_dahir) April 7, 2018
For example, more Americans are expressing their concerns about mass shootings and indicating that gun control is a top priority. While gun issues are rarely seen as the most important issue facing Americans, according to a Gallup poll from March, respondents indicate that guns and gun control are the second most important problem facing the country.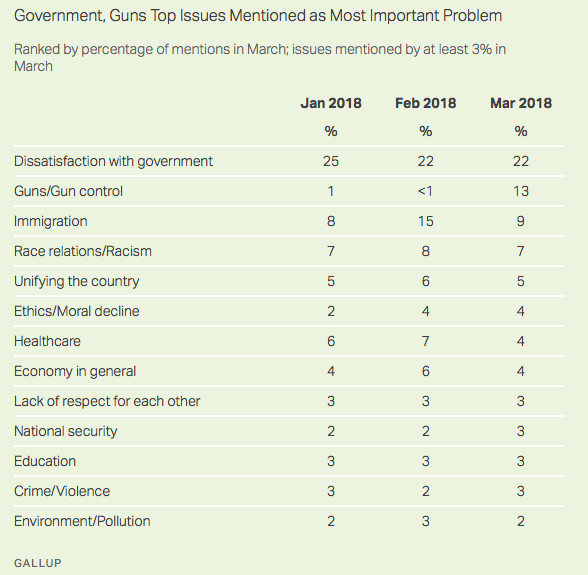 This same Gallup poll also found that support for stricter laws of gun sales is at its highest since 1993. As the data show, support for stricter gun laws nationally tends to increase following mass shootings like Columbine in 1999 and Sandy Hook in December of 2012. Following these shootings, support for stricter laws on gun sales increased to 65 percent and 58 percent, respectively; however, this support eventually declined.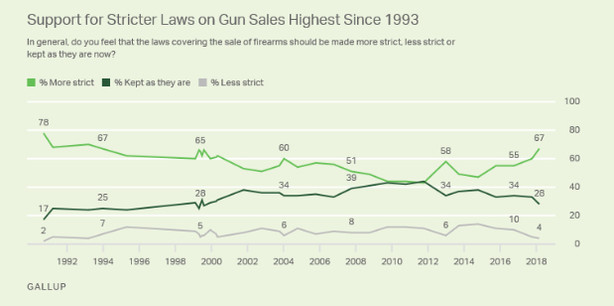 The March For Our Lives protesters, however, are working to keep these issues on the minds of voters through November. Their next national event is scheduled for April 20. That date commemorates the 1999 Columbine, Colorado, high school shooting. On this date, March For Our Lives is organizing a national school walk out. Over 2,019 walkouts have been registered — 24 of which are at Utah schools.
---
×
Photos
Related Stories