Estimated read time: 3-4 minutes
This archived news story is available only for your personal, non-commercial use. Information in the story may be outdated or superseded by additional information. Reading or replaying the story in its archived form does not constitute a republication of the story.
DUCHESNE — It's still amazing what a simple handwritten note can do.
That's why Dayna Porter and her four children had to write some at a small park in Duchesne near the Duchesne County Fairgrounds Thursday afternoon.
They were among a handful of people making thank you signs for the firefighters fighting the Dollar Ridge Fire burning nearby.
"They have such a tough job. This is good for their morale," said Porter.
And if anyone knows how a sign can help the morale of a fire crew, it's her.
Her husband, Jason Porter, is currently fighting the Trail Mountain Fire in Emery County.
"He doesn't post or show me a whole lot of pictures of him right by the flames and occasionally I see one and I'm like, 'I don't really want to see that. I'm good. Keep going'," she said.
Porter doesn't need to see pictures to know how dangerous his job is.
"We saw the 'Only the Brave' and yeah, that's definitely my worst nightmare is to have something like that happen," said Porter.
"Only the Brave" is a movie about the Granite Mountain Hotshots fire crew who died in the Yarnell Hill Fire in Arizona in 2013.
So, to try and not think about it, she and her children keep themselves busy.
They play games at home or try to go outside and do different activities.
Lately, they have been volunteering at Duchesne High School to help evacuees.
She says it's not only good to keep herself busy, it's good for her children to see the compassion of others.
"Hopefully, it teaches them service and how to be grateful for what we have," she said.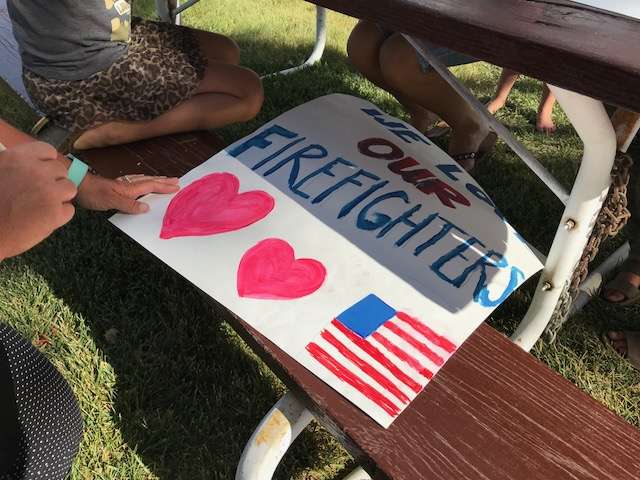 Porter feels if she takes care of things at home, her husband can focus on his job.
She knows that support from home is important, especially when it comes to all those missed birthdays, holidays, and anniversaries.
"We just go when we can and know that's where we're going and try to enjoy it," said Porter.
"We celebrated our anniversary in December one year and one time we went in May. Our anniversary is in August."
August is often in prime wildfire season and they never know when he will get called to help fight a fire.
One thing that bothers her is when she starts reading message board comments or hears people talking about firefighters and why they can't put out flames faster or why they let homes burn. She says that's not fair and fire crews work extremely hard to save homes and dig fire lines.
However, safety is the most important aspect of their jobs.
"I don't say too much when I hear those things and I bite my tongue because, often, they don't understand what's going on," she said. "I understand their frustration, but these firefighters have families that need them back home. That's the most important."
That's another reason why she's making thank you signs, because those firefighters are away from home and she wants to make them feel welcomed and appreciated.
"I don't have a lot of money to give, but I can give my time," she said. "It's the least I can do."
×
Photos
Related stories
Most recent Utah stories