Estimated read time: 4-5 minutes
This archived news story is available only for your personal, non-commercial use. Information in the story may be outdated or superseded by additional information. Reading or replaying the story in its archived form does not constitute a republication of the story.
SALT LAKE CITY — A cross-country family vacation turned tragic Tuesday when three members of a North Carolina family were killed and a fourth critically injured in a head-on crash near Scipio, Millard County.
Tyrone Bova, 47, and his wife, Holly Jo Bova, 43, were killed instantly, according to the Utah. Highway Patrol. Haden Bova, 11, who was in the back seat, died while en route to Primary Children's Hospital, said UHP Lt. Todd Royce.
A fourth member of the family, a 17-year-old boy also in the back seat, was taken to Primary Children's Hospital in extremely critical condition. The UHP did not release the boy's name Wednesday, but friends on social media identified him as Tyler Bova.
A GoFundMe page* to help Tyler and his family was launched Wednesday afternoon.
In the Bovas' hometown of Archdale, North Carolina, a prayer service was being organized for the family Wednesday night.
"Praying the Lord will spare Tyler's life and praying that he'll deliver all the pieces to the puzzle as Tyler tries to piece his life back together. This is heartbreaking. Such a wonderful family," one man wrote on Facebook.
The crash happened on state Route 50 about 3 miles south of Scipio about 8:35 p.m., according to the Utah Highway Patrol.
A Porsche Cayenne was passing another vehicle, but after doing so did not immediately return to the proper lane, staying instead in oncoming traffic, said UHP Lt. Todd Royce. The SUV then hit a Ford Fusion head-on, he said.
The impact from the violent collision caused the SUV to flip onto its roof, and pushed the Fusion backward a good distance, according to Royce. Both vehicles then caught fire. A passerby who came across the crash was able to cut the seat belts of the SUV's occupants and drag them out of the burning vehicle.
Information about the heroic good Samaritan was not immediately available, Royce said.
"Fortunately, the fire department arrived in time to prevent the fire from overtaking any of the occupants," he said.
Member of the Bova family had to be extricated from their car.
Lying among the wreckage of the Fusion, investigators found a binder with the title "Bova Family Vacation 2018," Royce said. The family appeared to be on a cross-country road trip that started at their home. Based on their itinerary, Utah was not their final destination, he said.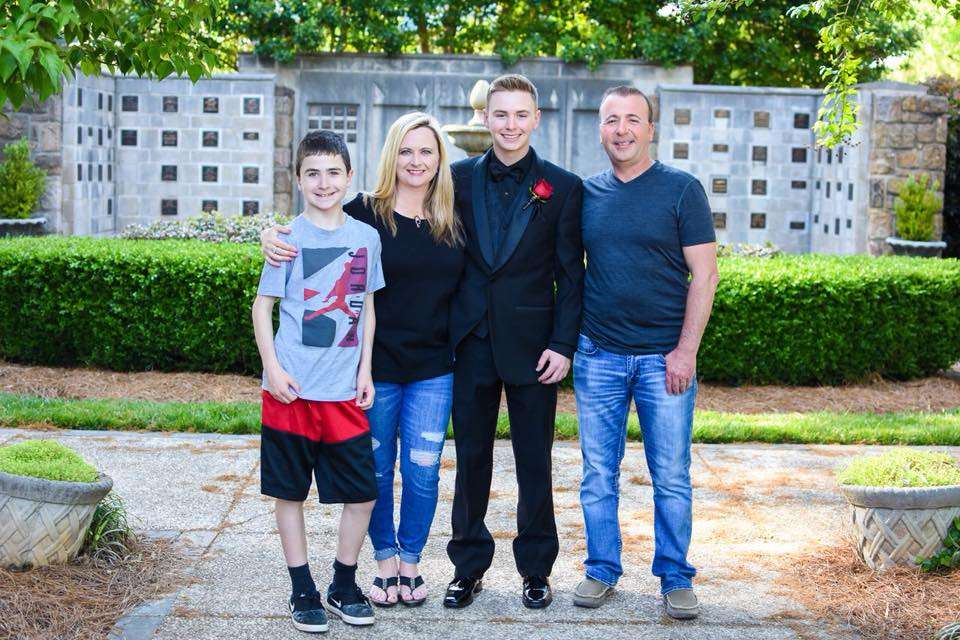 As word of the tragedy spread back to their home state, tributes began to fill social media.
"My heart is breaking for (the Bova) family today! Watching your trip across the country was amazing then to read all of the post of what happened to you is just absolutely mind blowing! I'm so heartbroken … gone way to soon," a woman wrote on Facebook.
"I can't even begin to wrap my head around losing you guys. I'm so thankful for the times we had together … all while making so many wonderful memories that I will forever hold in my heart. Heaven gained three special angels today. While my heart aches, I find comfort in knowing you are smiling down on all of us. Please know we are all wrapping Tyler up with love and prayers for his recovery," another woman wrote.
"We loved this family. We are praying for Tyler and everyone," wrote another.
"Reminded of how precious life is. Treasure every moment and make each second count! Heartbroken over the loss of Holly (and) Tyrone Bova and sweet Haden. Prayers and love for Tyler," another person wrote.
The Sandy woman driving the SUV was stable, Royce said. Her 9-year-old daughter was hospitalized in critical condition. Their names were not immediately released.
Royce said speed and possible distracted driving from two dogs in the SUV were being looked at as possible factors in the crash.
*KSL.com does not assure that the money deposited to the account will be applied for the benefit of the persons named as beneficiaries. If you are considering a deposit to the account, you should consult your own advisors and otherwise proceed at your own risk.
---
×
Photos
Most recent Utah stories