SALT LAKE CITY — Worrisome blood donation trends in the last four years have the American Red Cross searching for new, creative ways to catch people's eye — and its latest effort launched this week has so far turned some heads, the organization says.
Last week, the letters A, B, and O — the symbols marking the most prevalent blood types — began to "disappear from brands, social media pages, signs and websites to illustrate the critical role every blood donor plays," regional Red Cross spokesman Rich Woodruff said.
"When the letters A, B and O vanish from everyday life, the gaps are striking," Woodruff said in a release. "And when A, B and O blood types are missing from hospital shelves, patient care could be impacted."
It's estimated about 96 percent of Americans have type A, type B, or type O blood — either of the positive or negative iteration.
Sponsors participating in the letter removal campaign include G_ – gle, the B_st_n Red S_x, D_min_'s Pizza, St_te F_arm Insurance, Dr_pb_ox, and U.S. – _ nk.
The messaging campaign, with the theme "Missing Types," is simple but effective, according to Red Cross donor recruiter Cheri Van Bibber, whose home base is the organization's donor center in Murray.
"We want people to take a second look (as) they see there (are) letters missing," Van Bibber said. "It's creating this awareness to bring people back."
The numbers would suggest Van Bibber is not exaggerating. Visits to Red Cross' website are up 49 percent since Monday compared to the week prior, and the number of people signing up for donation appointments is up 24 percent in that time.
"I think it's actually helping," she said.
The number of new donors to Red Cross has dropped by an average of 80,000 people annually in the last four years, according to Woodruff.
"This is not just a Red Cross trend, but a challenge blood collection organizations face across the country and around the world," he said.
Van Bibber said "we can't pinpoint why," exactly, the dropoff in new donors has persisted in recent years. But it's clear that summer is historically a problematic time of year for donations, regardless of how active donors are overall, she said.
"Summer I would designate as our worst time for donations, and then December would be next," she said. "Just watching the dynamics, we (see) all of our blood (totals) lower. It's hotter, it's 100 degrees, people are running, they're doing soccer and baseball and swim lessons.
"Everyone's just busy — and then there's vacation. But in the midst of all that, the need increases."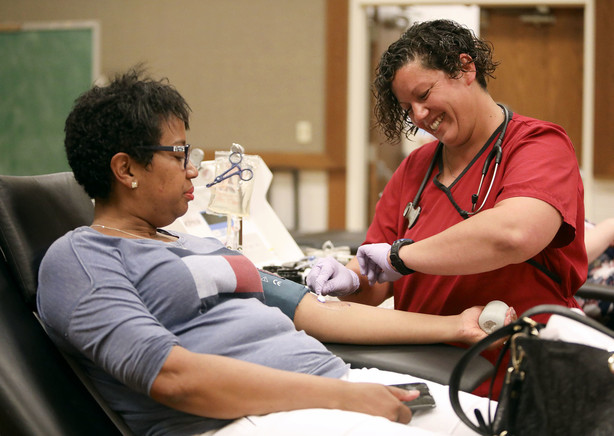 Woodruff said research shows 35 percent of Americans have "never considered that blood may not be available when they or a loved one need it." But "blood shortages are not uncommon in the United States," he said.
In a major catastrophe such as the mass shooting in Las Vegas last fall, Van Bibber said, hospitals do "run up on a shortage of supplies," and people rush to donate blood after the fact. "We have 100 people signing up out the door."
Van Bibber said the rush in volunteers is always more than welcome — Utah Red Cross officials sent 450 units of blood to Las Vegas the day after the shooting. But "it's so much easier if we just stay prepared," she said. "Then we're ready for these things."
She said having a strong emergency-level blood supply beforehand is preferable to relying totally on a swell of post-disaster support, since staff can only work so fast to draw blood from donors, and because in an effort to reduce mistakes there are federal restrictions on how many hours they can work.
"We have a lot of issues when there are these types of emergencies that we deal with," Van Bibber said.
Woodruff said research indicates another barrier to donation is 53 percent of Americans incorrectly believing they are required to know their blood type in order to give blood.
"After individuals give blood, the Red Cross provides each donor their blood type," he said.
According to Woodruff, the Red Cross collects more than 13,000 blood donations every day and supplies about 40 percent of all blood donated in the United States.
"Most people perceive blood is needed in the U.S. every 15 minutes or even every hour or two hours when, in fact, every two seconds someone in this country needs blood," he said.

×
Photos