This archived news story is available only for your personal, non-commercial use. Information in the story may be outdated or superseded by additional information. Reading or replaying the story in its archived form does not constitute a republication of the story.
SALT LAKE CITY — Stop me if you've heard this before:
"Hey, let's hike up this cliff covered with slippery moss and vermin. I hear there's a waterfall."
Hikers are driven by the possibility of finding water. And, why not? After enduring a drastic rise in elevation within a mere mile or two, dipping one's toe in the frosty mountain waters of a hidden lake or waterfall is like the grand finale after a long performance; a tangible, refreshing, and picturesque reward for a job well done, partnered with a feeling of conclusiveness that says, "OK, somebody can come pick us up now."
Fortunately, Utah Valley is dotted with hikes that offer that distinctive, splashy bang at the end. And many of them are suitable for families and people of all ages. If you are looking for an activity that encourages family members to unplug from the electronics and plug into the natural wonders of the Wasatch Front, here are five family-friendly hikes where water is the highlight.
Starting at the mouth of Spanish Fork Canyon, this 0.7-mile paved trail that follows a portion of the Spanish Fork River is the perfect introduction to family hiking. It gets its name from the section of rock where water seeps through the rock face thus creating a hanging garden display along the trail. The trail is level. But if hikers want to get a closer view of the dripping rock action, then that requires a steeper climb. This trail is wheelchair and stroller accessible. Dogs are welcome, but they must be leashed.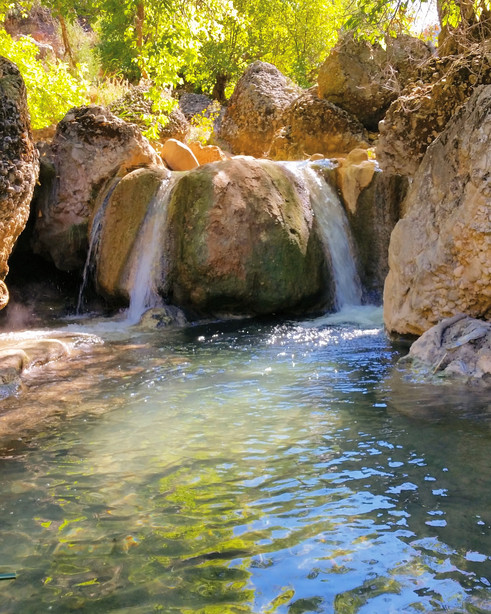 If the hiking crowd looks more like beachgoers with hiking boots than mountain climbers, it's because this trail leads to some of the more popular hot springs and natural hot pools in the area. Fifth Water Hot Springs is located up Diamond Fork Canyon between Springville and Spanish Fork.
This 2.5-mile (4.9-mile roundtrip) hike begins at the Three Forks parking area and requires a moderate skill level. Although there is water, water everywhere, be sure to bring plenty to drink since the hot water temperatures increase the risk of dehydration.
You know who else is a fan of Fifth Water Hot Springs? Rattlesnakes. So, stay on the trail and be aware of your surroundings at all times.
This short but challenging hike lies just beyond Bridal Veil Falls in Provo Canyon. The entire hike from the trailhead at the Provo River Trail and back is just under 3 miles, and it's paved in lower parts of the trail.
The steep and rocky conditions of the upper trail, which clocks in around 0.6 miles, will make you feel grateful you invested in good hiking shoes. And the payoff is a 40-foot waterfall, surrounded by stunning views of the canyon.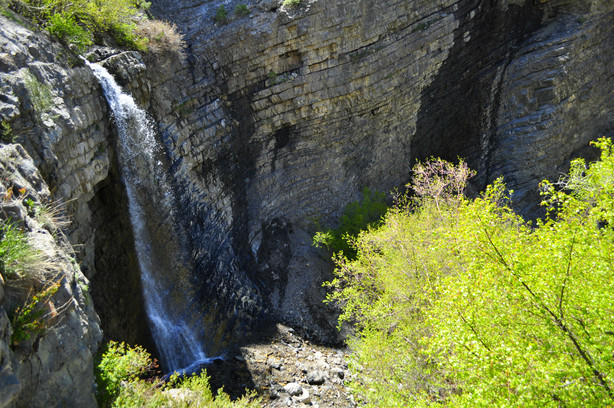 This 1.2-mile trail that sits just east of Pleasant Grove has everything people love about hiking: beautiful scenery, easy incline, plenty of shade, and an amazing waterfall and overlook.
For beginners, this is a great hike to start. But, if you need some time to be alone with your thoughts, your beloved dog, Rascal, and a passing cloud or two, this trail is probably not the ideal choice.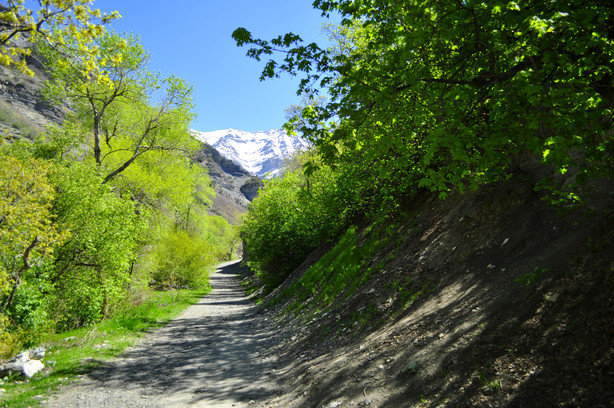 Battle Creek is very popular with the locals. And why not? It's easy to find and it's an invigorating hike that offers a welcome break amid a hectic day.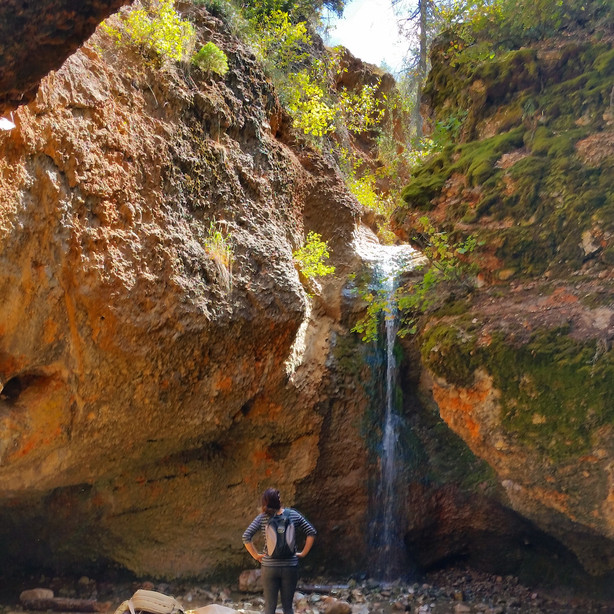 This trail begins in the parking area off Mount Nebo Loop Road outside of Payson. Located about 7 miles up Payson Canyon, this easy, level and wide trail follows a small stream that leads hikers through a beautiful forest setting, complete with shade, vegetation, small wildlife and unique rock formations. There is so much to love about this hike, including the refreshing waterfall and natural pool at the end of the trail that is perfect for a quick dip. You will run into hikers of all ages on this trail. And, as with most trails, dogs must be leashed.
People travel from all over the world to visit the very spots that we enjoy right in our backyard. So take advantage of this beautiful country. These are just five of the many trails that welcome hikers of all ages to experience the unique wonder of the Utah Valley canyons. If you bring your family, these hikes are guaranteed to delight. Be sure to bring a towel. And, for more hiking trail adventures in Utah Valley, visit Utah.com and ExploreUtahValley.com for thorough lists.
---
J'Nel Wright is a freelance lifestyle and health writer, who once traded a Discman for a set of hiking sticks. Life has never been the same since.
×
Photos