SALT LAKE CITY — Throwing on a swimsuit, grabbing a set of weights, and jumping in the pool has been Carolee Harmon's routine for the last 15 years. Today, she's almost 84 years old and is a water aerobics veteran.
But, she's also breast cancer survivor.
"Almost every one of us has had some kind of surgery — a shoulder, a knee, a hip," Harmon said.
Harmon knows better than most. After a double mastectomy and double knee replacement, she said water aerobics has helped her recover and stay in shape.
"This is wonderful therapy," Harmon described. "The thing that's so great about it is that you can work at your own speed."
Instructor Leeaine Burnett at the Salt Lake Jewish Community Center explains how. "The water is so supportive. You can do things that you can't do on land," she said.
Intermountain Healthcare's Dr. Richard Lassere recommends water aerobics to most of his patients. "You get aerobic conditioning. You get stretching and you get strengthening," he said. "If you're worried about falling, it's OK! You fall in the water and you get back up, and you didn't break your hip."
Another student, 67-year-old Sheila Fredman, recently turned to water aerobics. "I used to be a runner, hiker, bicycler, (and) climber. I did all of it and now it's like I can hardly do anything," she said.
After playing too hard, she developed arthritis in her knees. "I wore them out fair and square," she admitted.
Fredman said non-weight-bearing activity protects her cartilage and doesn't hurt her knees.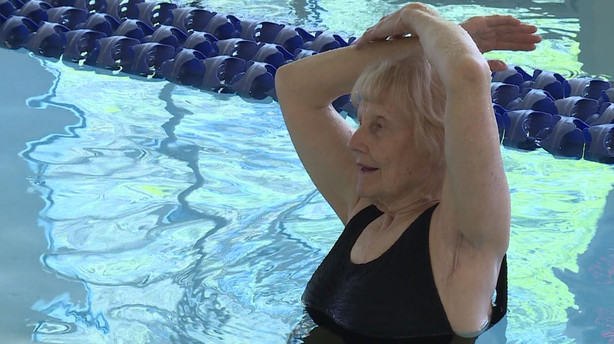 "It's really been like a saving grace for me," she exclaimed.
Fredman said water aerobics has helped her get back to the active lifestyle she loves. "You get out of breath and you can't tell if you're sweating," she said.
Burnett said the class offers many health benefits and is a whole body workout.
"We are able to work on strength and flexibility, burn body fat, build cardio stamina, increase circulation, improve core/balance and rehab healing muscles and joints," she said.
Burnett said they modify the course to accommodate individual health challenges.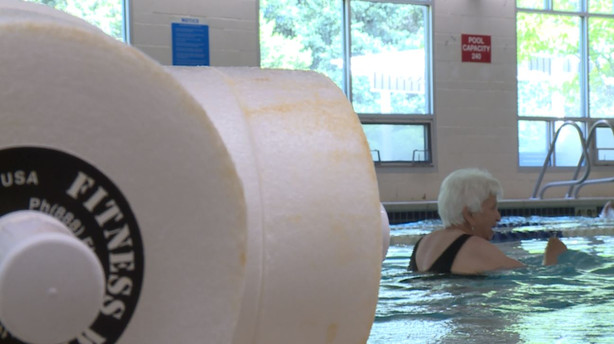 Cookie Rosann said she is more flexible than ever before since participating in water aerobics class. She said the class makes her feel good but admits the social camaraderie in the group is the best part.
"It's energizing! It's an experience just to be in a group like this!" Rosann said.
Agnes Robert-Michon is a newbie to water aerobics after recently moving from France. She was looking for new friends and a new place to swim. She comes to class three times a week and said, "Come! If you're young, (or) if you're less young. It's perfect!"
Burnett said people who do not even know how to swim are able to participate. The club offers flotation belts to help students who are uncomfortable in deep water.
Visit the Salt Lake Jewish Community Center to find the summer pool schedule.
×
Photos
Related Stories