Estimated read time: 2-3 minutes
This archived news story is available only for your personal, non-commercial use. Information in the story may be outdated or superseded by additional information. Reading or replaying the story in its archived form does not constitute a republication of the story.
SALT LAKE CITY — The official high at the airport Monday was 97 degrees and temperatures are expected to remain in the 90s for the remaining workweek. While it's not unheard of, it's rare for temperatures to reach in the 90s this early in the calendar year.
The National Weather Service noted Monday night it's a three-way tie for the second-earliest date for 97 degrees or higher temperatures since records were first kept in 1874. It also reached 97 degrees or higher on June 4, 2012, and last year.
The record, according to the agency, is May 28, 2003.
"We're just getting an extra-warm flow of air coming in from the south and the west," KSL meteorologist Grant Weyman explained of the current stretch of heat. "The winds helped mix the air and make it a little bit warmer yesterday. They picked up out of the south, and we've got this big, summer-like high pressure that's starting to set up already in the desert southwest."
With temperatures already reaching the upper 90s before summer, does that mean this summer will be above average? That's not always the case, Weyman said.
However, the National Weather Service's Climate Prediction Center projects most of Utah has a 60 percent of having above average temperatures during the June, July and August months. The upper northeastern portion of the state has a 50 percent chance.
Only most of Arizona and New Mexico, as well as the New England region have as high as a probability in the contiguous United States.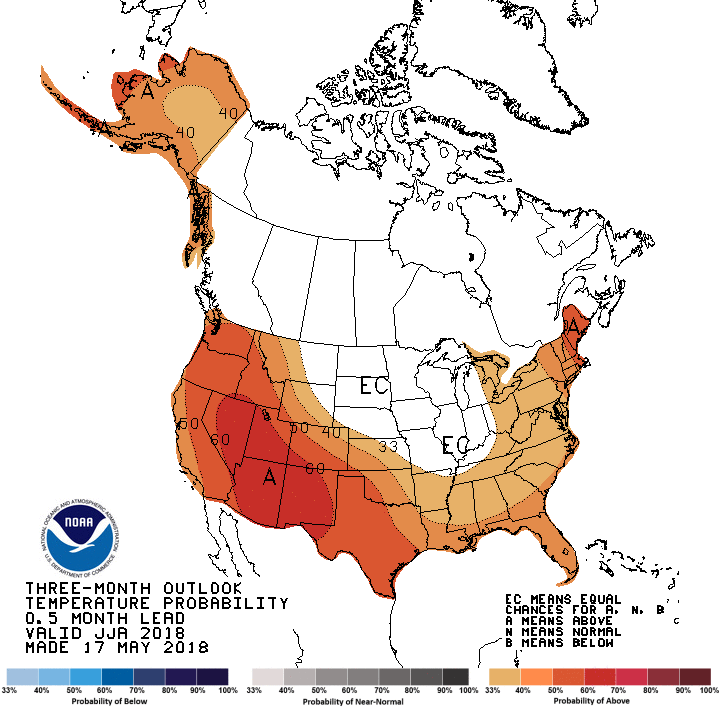 "How many triple-digits and high 90s will we get? (That's) tough to say, but if we get a hotter-than-average summer, we would expect plenty of more days in the high 90s, since the average by the time we get into July and early August is 93 or so," Weyman said.
It's worth noting the Climate Prediction Center also projects an above-average precipitation probability for eastern Utah and western Colorado. Though, much like heat, it's unclear how much precipitation Utah will get during the summer months.
If the summer winds up above average, it's possible a recent trend of warmest years on record could continue. The five warmest years on record for Salt Lake City have each been recorded since 2012, according to National Weather Service records.
Weyman said residents should remain hydrated, as well as taking care of physical activities or exercising early or late in the day when temperatures are cooler to prevent heat-related illnesses.
×