BOUNTIFUL — All Brighton's boys soccer team needed was time before it could put away upstart Viewmont in the semifinals of the Class 6A state tournament Tuesday at Woods Cross.
All Viewmont's Preston Pitt needed was one shot, though.
Pitt scored the only goal of the match with just under four minutes remaining, and goalkeeper Isaac Roy made five saves to make it stand up in leading the Vikings to a 1-0 win over Brighton and advance to Thursday's state championship.
"Brighton's a heck of a team, and nobody believes in us," Pitt said as he was getting mobbed by energetic cousin Britain Covey, the Utah wide receiver who recently returned from a two-year LDS Church mission. "Our clan of brothers are the only ones.
"The final whistle, though, was insane."
Viewmont (9-5-4) will play Alta in the championship match at 7 p.m. at Rio Tinto Stadium.
The Bengals (12-2-5) outshot the Vikings 4-1 in the first half. But Roy made three saves to keep the match scoreless at the break.
Roy made another point-blank save about 10 minutes into the second half to keep Brighton off the board.
Moments later, the match was halted by rain and thunderstorms that pelted the field at Woods Cross High School.
The Vikings used the time well, passing a ball around and snagging Sour Patch Kids out of an assistant coach's secret stash, staying loose through the roughly 40-minute halt to play.
After the break, it was all Viewmont.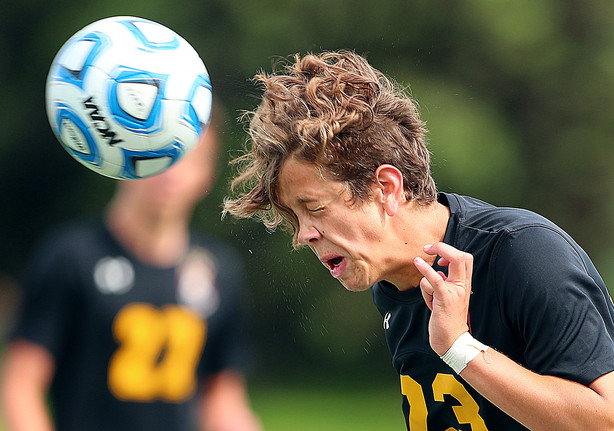 "Brighton attacks really well," said Roy, who has committed to Salt Lake Community College. "If they break us down on the defense, it was up to me.
"I just had to be in the right position and get set early. I've seen them play before, and they have a lot of quick-release attackers. I had to be set the whole time in the box — and my midfielders pressed high to stop their shots."
Pitt struck with a clean shot on the counterattack, pulling down a long ball over the back line as Brighton goalkeeper Harrison Nutall tried to clear it in the edge of his box.
"We knew Preston would get a goal," Roy said. "He always does."
Pitt got to the ball first, bobbled it over Nutall and put the only goal of the match into the empty net for the 1-0 advantage.
"I saw them play it back, the ball was in the air, since it was raining, the ground was slippery," said Pitt, who has committed to kick for Utah football. "They call me 'The Dog' on the team because I've just gotten about eight scrappy goals like that, and I was just going to go.
"Three minutes left to play at Rio Tinto, and I was going full out. It bounced my way and I tucked it in."
Josh Affleck had a hat trick -- all on headers -- as @AltaHawkSoccer rallied for a 4-3 win over Skyline in a 5A state semifinal. Hawks will meet @pghighschool in Thursday's championship. #KSLprepspic.twitter.com/h4XNDvuubA

— KSL SportsBeat (@kslsports) May 23, 2018
Alta 4, Skyline 3
At Woods Cross, Josh Affleck scored three goals to help the Hawks rally from two-down in the final 20 minutes and edge the Eagles.
Skyline took a 3-1 lead with 20 minutes left. But Affleck rallied Alta (12-4-3), scoring two goals on two headers that included the game-winner with two minutes remaining to send the Hawks into the 5A state championship.
Kenny Kocherscheidt converted a penalty kick during the Hawks' rally.
Ellis Spikner, Grant Balls and Jake Jensen each had a goal for Skyline (15-4-1).
×