SALT LAKE CITY — Adam Carlisle wanted to get clean after years of using meth.
But he didn't decide to make the change when he overdosed and landed in a hospital bed, or when his tally of drug arrests broke into the double digits.
The difference came when a judge said his priority was to help Carlisle, now 33, get clean and stay sober.
"This was the first time I felt like anyone believed in me," Carlisle said Monday evening at the Utah Capitol, where he joined 40 other graduates of Salt Lake County's drug courts for a ceremony honoring their sobriety and completion of the rigorous programs.
Carlisle and several of his peers choked back emotion as they spoke about their paths from constant arrests to new jobs and mending relationships with their families. Several received bouquets and wiped tears from their eyes after their names were called at the ceremony.
Months earlier, they agreed to plead guilty to some drug offenses. In exchange, the charges were dismissed once they made their way through a rehabilitation program that lasts between a year and 18 months.
Salt Lake County's six drug courts, including one that's just for military veterans, allow offenders to stay out of jail but require supervision and treatment. Other such programs are available across the state, but the Salt Lake graduates were celebrated Monday in the first ceremony honoring all of them at once in more than two decades.
The graduates were joined by more than 200 others, including their families, prosecutors, defense attorneys and the judges who presided over their cases. Utah House Speaker Greg Hughes, Salt Lake County District Attorney Sim Gill and county councilwoman Jenny Wilson also attended.
The ceremony was also sweet for those behind the bench, who said the programs represent a much different approach to criminal justice than 25 years ago.
Dennis Fuchs, the 3rd District judge credited with founding Salt Lake County's first drug court program in 1996, recalled that those convicted in drug cases at the time had been locked up without regard to the addictions they battled.
"It seemed like an absurd way to treat individuals that had nothing more than a disease, like other individuals in our society who go to hospitals and care centers," he said to applause. "Drug dependency is a disease," he said, adding that mental illness and issues veterans face also were long ignored.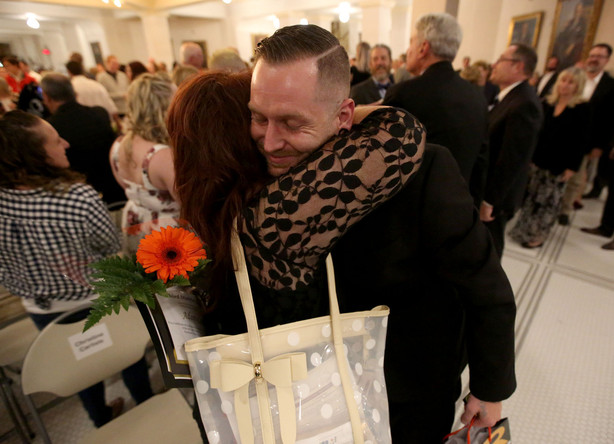 The judge noted that several in the graduating group were peer counselors who had already begun helping others.
The graduates are "some of the greatest success stories," said retiring House Speaker Greg Hughes. He thanked participants for taking a risk on the program and urged them to share their own transformation with others battling addiction.
"The only way that this program, the drug courts, are going to work, is when people show grit — when people decide to change their lives and they know that not all hope is lost," Hughes said.
The Salt Lake graduates aren't alone. More than 150,000 people complete similar programs from more than 3,000 treatment courts across the country each year, according to the county.
The special courts aim to cut down on repeat offenses by focusing on those with criminal histories who are deemed nonviolent, connecting them with treatment programs and a busy schedule of court appearances and meetings with case managers and therapists.
Those participating in the Salt Lake County programs must undergo random substance use tests and show up in court for the judge to evaluate their progress. If they meet their goals, they're rewarded, but they're slapped with sanctions if they don't check off requirements.
Carlisle said he initially was overwhelmed by the demands but came to believe he could meet them and move past his addiction.
"I love the person I am today," he said, adding that he is a much better father.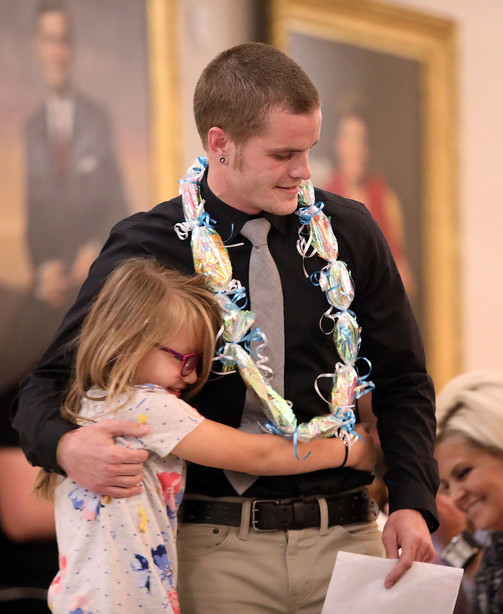 "He had to believe that he was worth it," added his mom, Christine Carlisle.
Despite the success celebrated on Monday, enrollment in Utah's drug courts has dipped following 2015 state criminal justice reforms. Utah lowered some drug felonies to misdemeanors, reducing possible sentences for the charges.
A Deseret News analysis of state data found that the number of addicts participating in drug court fell by 10 percent between 2015 and 2017, a trend that is mirrored in other states.


×
Photos