SANDY — At the end of Real Salt Lake's latest win over D.C. United, goalkeeper Nick Rimando fell to the turf.
It wasn't a reaction to the emotion of a win over his former club, or even the exuberance of winning his 200th match in Major League Soccer play.
Rimando dropped after colliding with a couple of D.C. players rushing the goal for a last-minute corner kick, trying to equalize in the dying moments of stoppage time. The 36-year-old goalkeeper stayed down, receiving medical attention while holding his head.
Then he stood up — and applauded the crowd of 16,961 in attendance before receiving a special trophy from RSL owner Dell Loy Hansen and team captain and longtime friend Kyle Beckerman during a post-match ceremony
"It's special, for sure," said Rimando, who visibly bristled when asked about one of his personal accolades. "I have to give credit to my teammates. I don't win games by myself. It actually feels good to do it in front of my fans, at home, and to take it in with my kids and my teammates."
Albert Rusnak had a goal and an assist, and Corey Baird and Jefferson Savarino each added a goal to help Real Salt Lake to a 3-2 win Saturday night over D.C. United at Rio Tinto Stadium.
The win snapped a two-match skid for Real Salt Lake (4-5-1) and propelled them back into the playoff conversation with a much-needed three points.
🎥 highlights of #Rimando200, 3-2 over DC United. pic.twitter.com/VVqtIvyZLq

— KSL SportsBeat (@kslsports) May 13, 2018
And that, more than any other accolade, was the most important thing for Rimando, who spent most of his 18-year MLS career with RSL and D.C. United.
"The win is huge," Rimando said. "We keep on saying we need to win our home games, and D.C. came out strong and on the front studs. They pressured us high. The win for us is something we needed. We just lost two in a row, and we're on the road next week."
Still, the night belonged to Rimando, at least after the match. Ben Olsen knows; he played with Rimando at D.C. United before assuming the head coaching position, and he was on the sideline at Rio Tinto Stadium when Rimando broke the all-time MLS record for career shutouts.
"He's an unbelievable competitor, and a dear friend. I'm very happy that he's the guy breaking records," Olsen said of Rimando, before displaying the same fiery demeanor he had during his 11-year career with D.C.
"I'm not happy that every time I am here, there's another record for him to break. It's getting a little bit old, but I will tell him that later."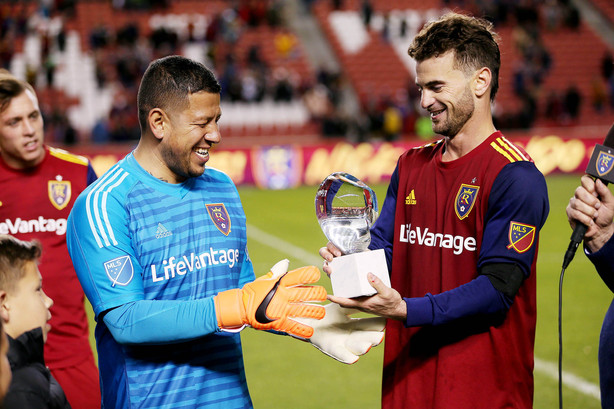 Paul Arriola gave D.C. (1-5-2) the early lead just nine minutes into the match, but the early advantage didn't last long for the visitors, who allowed three unanswered goals before Steve Birmbaum scored inside the final 10 minutes to trim the deficit to one.
But RSL didn't fold.
"It always comes down to the three points, and I wouldn't want someone on my team who would rather have personal glory than three points. That's Nick to a Tee," Salt Lake coach Mike Petke said. "I made reference to 200 wins in the pregame meeting, and you could tell he didn't want to hear that. That's a credit to Nick.
"The three points are great, and obviously it's a special night for Nick and for all of us in the locker room. Nick represents this organization, along with guys like Kyle and Tony Beltran, and any time he can get recognized is phenomenal."
Baird scored the third goal of his rookie campaign, heading home a cross from diminutive forward Joao Plata to equalize around the 20-minute mark.
Plata's ball 🔥
Baird's header 🔥 pic.twitter.com/pI9GbQ7ejL

— Real Salt Lake (@RealSaltLake) May 13, 2018
But the home side was just getting started.
Salt Lake out-shot United 9-4 in the first half, including four shots on goal and two goals just five minutes apart.
"We knew we needed to respond, to get back in it," Beckerman said. "The good thing is, when we went down, nobody panicked. We just felt like we could continue, and we got the goal, then the second one, and it really pushed on for the third and to get the win."
Rusnak scored the go-ahead goal in the 26th minute, just moments after Joseph Mora was shown a red card for a dangerous tackle in the midfield. The Slovakian international slipped one past goalkeeper Steve Clark to give the hosts a 2-1 advantage against the 10-man United squad waiting to open its new home at Audi Field in July.
Savarino scored his first goal since April 7, running on to a through-ball from Rusnak and finishing between Clark and the near post to give Salt Lake a 3-1 lead in the 55th minute.
Next up:
Real Salt Lake plays at the Philadelphia Union at 5:30 p.m. MT Saturday, May 19.
D.C. United plays at San Jose on Saturday.
REAL MONARCHS 1, FRESNO FC 0
HERRIMAN — Maikel Chang scored a goal to lead Real Monarchs SLC to a 1-0 win Saturday afternoon over Fresno at Zions Bank Stadium in Herriman.
"To come through that grueling schedule and that amount of games in such a short space of game, I'm really proud of them," Monarchs coach Mark Briggs said. "They deserve the couple of days off that they are going to get."
Chang gave Monarchs a 1-0 lead just eight minutes into the match, seizing an opportunity from Sebastian Velasquez and netting his third goal of the season for the halftime advantage. The Monarchs move to 7-1-1 with 22 points, just ahead of second-place Phoenix Rising and Sacramento Republic.
×