This archived news story is available only for your personal, non-commercial use. Information in the story may be outdated or superseded by additional information. Reading or replaying the story in its archived form does not constitute a republication of the story.
MURRAY — Paul Lloyd, an honorably discharged disabled U.S. Army veteran, is left scratching his head after he received an eviction notice from Hunters Wood Apartments.
"I finally got to a point where I could live on my own," Lloyd said.
After joining the Army in 2006 Lloyd endured a violent and traumatic attack; he was sexually assaulted. Because of the attack he was honorably discharged in 2008 and diagnosed with PTSD, he has been on permanent disability and receiving benefits ever since, Lloyd said.
"I'm unable to work due to my PTSD … also, hypervigilance is a symptom of my PTSD, which means I say something when I think something could be a safety issue," he said.
While living at his current apartment Lloyd admits to making "dozens" of complaints related to safety to the property management, things like not having enough handicap parking, and not clearing the ice from the driveways in the winter.
"I fell seven times last year, I have it documented with the ER at the VA," Lloyd said.
Over the last three years he has been living at the Hunters Woods Apartments with his wife, daughter, and two service dogs, Luca and Cowboy. But he's worried now they will all be homeless by the end of the month, Lloyd said.
They are "not going to renew my lease," he said, reading an email from the property management.
---
It's not right ... I've lived here for three years and I've never received a notice for any misbehavior, of any noncompliance. I've always paid my rent on time.
–Paul Lloyd, resident of Hunters Woods Apartments
---
Lloyd received the notice 10 months ago, he reached out to KSL 5 TV then but feared the eviction notice would be cut shorter than the 10 months he was given to vacate if he went public with his story. Since the eviction date is only a few weeks away, he decided to share his story with KSL 5 TV, he said.
"It's not right, I don't know how I'm considered a 'nuisance,'" Lloyd said. "I've lived here for three years and I've never received a notice for any misbehavior, of any noncompliance. I've always paid my rent on time," he said.
In an effort to get to the bottom of why he was told via email by the property's attorney, Kirk Cullimore, Lloyd was exhibiting "nuisance behavior," KSL reporter Nicole Vowell attempted a number of times to speak with the property manager, Kathy Archuletta, and attorney Cullimore. While she was attempting to speak with Archuletta, Murray police were called and Vowell was told by the officer Archuletta did not want to speak and was "advised by her attorney not to."
The number of attempts to reach Cullimore were met with no response.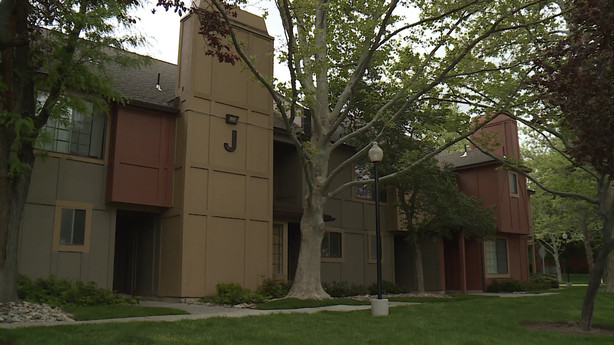 "What they call nuisance behavior I call symptom of my permanent disability," Lloyd said.
He feels like he's wrongfully being forced to vacate, and now will have no place to go by May 31, he said.
In an email correspondence obtained by KSL, Cullimore tells Lloyd, "You have been given an appropriate and timely notice to vacate at the end of your lease term. It will not be withdrawn at this point. It is expected that you will vacate as required. If you fail to vacate an eviction action will be filed. You may want to seek legal advice before you make any further demands or choose not to follow the requirements of the notice. Neither I nor Hunters Woods will continue to discuss or communicate with you about this issue. You should schedule a move out inspection once you have vacated."
Lloyd said, "My family and my daughter are going to be homeless because my disability can't be understood by corporate." He goes on to say, "This should be the last time someone like this, someone like myself is treated this way. Laws need to be changed and protections need to be put in place."
×
Photos