Estimated read time: 2-3 minutes
This archived news story is available only for your personal, non-commercial use. Information in the story may be outdated or superseded by additional information. Reading or replaying the story in its archived form does not constitute a republication of the story.
LEHI — A family that started a landscape project on their back yard instead found bones, and a paleontologist said Wednesday he believed the bones may date back as much as 16,000 years.
"I think it's pretty amazing!" said Laura Hill, whose husband, Bridger, and their children initially discovered what appeared to be a spine last September.
Laura Hill said she consulted a neighbor, Scott Ritter, who is a BYU geology professor with expertise in paleontology.
Ritter, Hill said, told her the bones — which were believed to have been from a horse — were far older than she thought.
"I was thinking a pioneer-age farm animal, and when I heard Ice Age—that blew me away," she said.
Hill said her neighbor shared pictures of the bones with his colleagues, but because their interests were more on par with dinosaurs, she was left to figure out on her own what to do with the animal's remains.
Last Thursday, during a visit to Thanksgiving Point's Museum of Ancient Life, Hill's story drew the interest of paleontologist Rick Hunter.
Tuesday and Wednesday, Hunter and his team carefully excavated the bones, which Hunter agreed belonged to an Ice Age-era horse.
"We'll be able to learn some really interesting things from this skeleton," Hunter said. "It's probably about 16,000 years old, roughly."
Husband Bridger Hill said he couldn't believe what came from a landscaping project.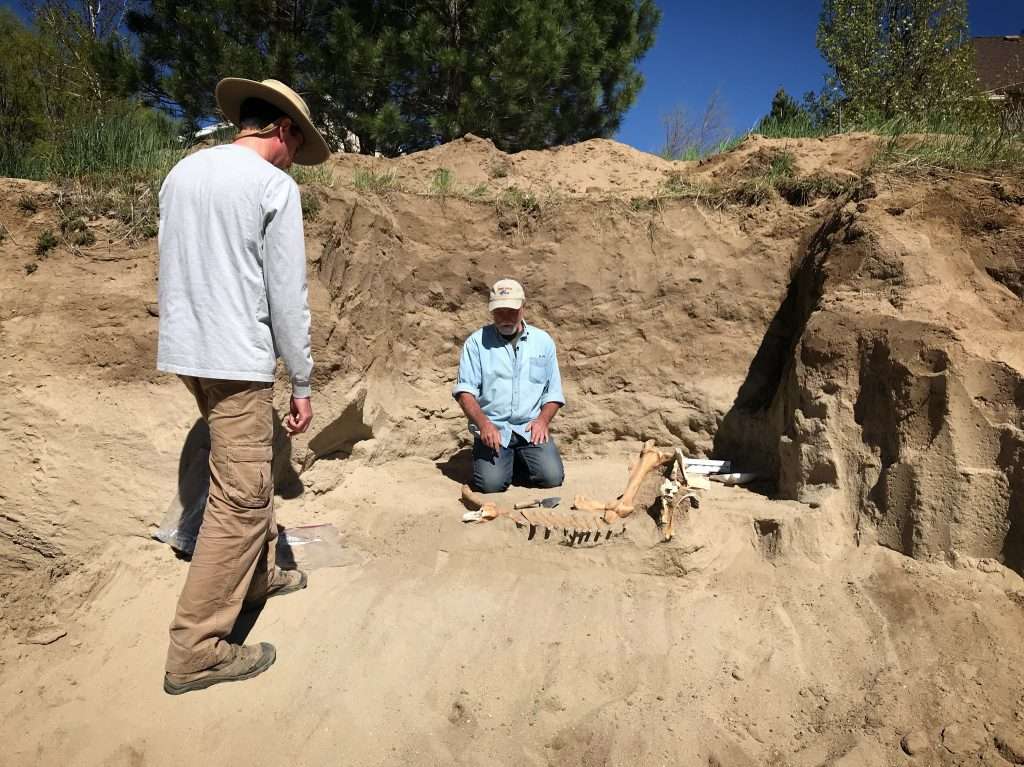 "We started digging away with our fingers and saw ribs," Hill said.
Hunter said the skeleton was mostly intact, though team members were still working to locate the skull.
"What you see behind us there is a massive excavation to find more skull elements and teeth," volunteer Lane Monson said.
The scientists ended up recovering several teeth, including a molar that wound up in fossil preparologist Sara Wootton's hands.
"Yeah, it's just a treasure hunt all the time," Wootton's fellow preparologist, Jodie Visker, said. "It's super fun!"
Visker said the team had been carefully sifting through the sand and dirt in the Hill's backyard over the past two days.
"You have to have a lot of passion for something to want to dig all day long in the dirt, I guess," she chuckled.
Hunter said the scientists would take the remains back to the paleo lab and try to reconstruct the bones, with hopes that they would be able to determine the exact species, as well as answer several other questions about the creature's health and structure.
Bridger Hill said he never expected that kind of find in his yard.
"It's pretty neat," Hill said.
Laura Hill said Thursday it was remarkable that since news of the discovery started to spread, numerous people on social media had expressed interest in digging through their own yards.
"It's creating this fun little buzz and it's cool to see that," she said.
×
Most recent Utah stories