SALT LAKE CITY — Quinn Starks was 7 years old when doctors first found a brain tumor between his brainstem and cerebellum.
Medulloblastoma, the most common malignant brain tumor in children, affects between 250 and 500 children each year in the United States, according to St. Jude Children's Research Hospital, and Quinn was one of them.
Following a surgery, Quinn had a stroke and was subsequently placed in a coma for three weeks. After that, the boy was paralyzed "for the better part of a year," his father, Wade Starks, told KSL.com. "That surgery did affect his mind some," he said, "and some of his physical abilities."
Still, Quinn was able to recover and live a fulfilling life: he served an LDS service mission, was issued a driver license, and worked as a cashier at Target.
Twenty-six years later, doctors have given Quinn, now 33, "weeks to months" to live after finding another brain tumor in the same region of his brain, according to his father. This time it is a Glioblastoma tumor, an aggressive form of cancer that, according to the Mayo Clinic, is difficult, and oftentimes not possible to cure.
When the brain tumor was discovered last October, Quinn underwent a surgery that "he has not been able to recover from," Wade Starks said. "It didn't bother his mind much, but it impacted his physical abilities quite severely. So he is unable to walk without full assistance and things like that," he said.
An MRI scan on April 3 "showed that the cancer was spreading throughout his brain," Quin's father said. "So we've been doing some different things to try to have some fun for him," he added.
Quinn is living out the last weeks of his life doing things he has always wanted to do. He was at the Utah Jazz game on March 25 when they blew out the Golden State Warriors, 110-91. A few days later, he went tandem skydiving in Erda with his nephew. On April 18, he went for a plane ride in Heber City with a family friend.
"Then we have some other things planned," his father said, such as going to the Rocky Mountain Raceway and watching a race during the historic raceway's 50th and final season.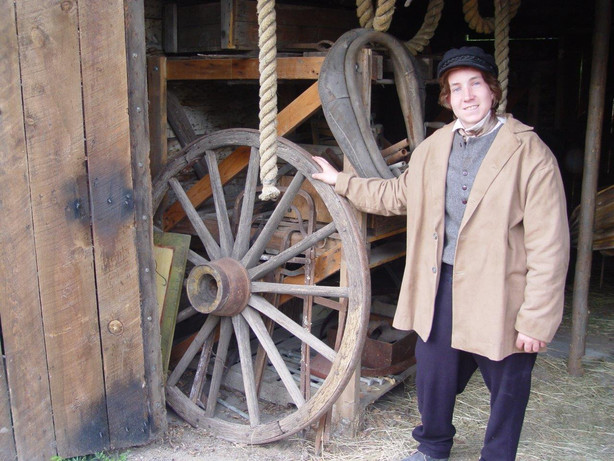 Quin's mother, Linda Starks, said her son's condition has brought the family closer together.
"I think he's really enjoyed having his siblings around," she said, noting that the 33-year-old is the youngest of eight siblings. "They've been really good and arranged these things, and paid for things and accepted his situation quite well."
He's also enjoyed the company of the family dog, Bella, who "seems to understand his condition and stays with him for hours at a time," Wade Starks added.
Because he is paralyzed on the right side of his face, a symptom of the last surgery he had, it is "very difficult for him to talk," Wade Starks said of his son.
Despite this difficulty, Quinn Starks managed to say "hello" and that he felt "good," during our interview with Wade Starks. "Just let me know when you want to talk to my dad again," he said.
Speaking through his mother, Quinn expressed excitement for the various activities and events he has participated in over the last few weeks. "He says it's cool," she said. "He really enjoyed the skydiving. He wanted to go again."
One of the fondest memories Linda Starks has of her son was when he served an LDS service mission in 2005 at the LDS Motion Picture Studio in Provo. Not only did he help build sets for movies, in addition to providing security during events, but the 19-year-old acted as an extra in the film "Joseph Smith: Prophet of the Restoration" and can be seen in multiple scenes throughout the movie, including one where Joseph Smith addresses a crowd of followers after being attacked by a mob.
"He's led a happy life," Linda Starks said.
×
Photos