Estimated read time: 3-4 minutes
This archived news story is available only for your personal, non-commercial use. Information in the story may be outdated or superseded by additional information. Reading or replaying the story in its archived form does not constitute a republication of the story.
SALT LAKE CITY — During the Utah Jazz's first-round playoff series against Oklahoma City, the young, fresh-faced squad has turned a sly nod to the legendary age of Jazz yesteryear.
First, Donovan Mitchell scored more than 20 points in his first two postseason appearances, the first Jazzman to do so since Karl Malone.
Whether Mitchell lives up to the career of The Mailman is debatable. It's probably unfair to assume or mount so much pressure, notwithstanding the sensational season that the rookie has already had.
But Mitchell's contemporaries foresee a career filled with promise.
"He was competitive from day one when I saw him," said Thunder guard Paul George, who worked out with Mitchell prior to last summer's NBA draft. "He was feisty then. He's feisty now. That's why I knew he was going to stick.
"I don't think anybody knew he'd have the season he was having this fast. But I thought he was going to be special throughout his career in this league."
The throwbacks continued Saturday night during the Jazz's 115-102 win over the Thunder. That's when Ricky Rubio went and invoked the name of legendary point guard John Stockton.
Rubio's triple-double of 26 points, 10 assists and 11 rebounds didn't just give the Jazz a 2-1 series lead. It was also the first postseason triple-double in Jazz history since Stockton's triple-double on April 28, 2001, against Dallas.
It's the kind of win that can invigorate the local fan base, even beyond the electric atmosphere at Vivint Arena.
It was open mic night at Vivint Arena after the #utahjazz Game 3 win. Ricky Rubio has all the jokes. #takenote#nbapic.twitter.com/zIn8oVkeW0

— Jeremiah Jensen (@JJSportsBeat) April 22, 2018
"Having my name next to his name is an honor," Rubio said. "I don't know what else to say; it's huge. I have huge respect for him, and playing here, he was great. I know how important a point guard he is for this franchise.
"I feel great here."
It's not just the Jazz's winning that is a throwback to the Stockton-to-Malone days when they made back-to-back NBA Finals appearances and were consistent postseason contenders in the Western Conference.
It's also the way they are doing it — as a team. While Stockton and Malone had a rave supporting cast of players like Jeff Hornacek, Bryon Russell and others who were capable of having a big game on a given night, the Jazz are complementing the big games from Mitchell and Rubio with stellar play from defensive player of the year candidate Rudy Gobert, rebounder Derrick Favors and sharpshooter Joe Ingles, among others.
In short, the Jazz are playing team ball at its finest.
Opponents are — pardon the pun — taking note.
"He made some shots. Too comfortable," OKC star Russell Westbrook said after the outing. "But I'm going to shut that (expletive) off next game, though. I guarantee that."
Westbrook's mic drop played out overnight on message boards and social media, and Jazz forward Jonas Jerebko assured media Sunday that the players had all seen the postgame tirade.
They'll be ready come Monday night for the game beyond the game.
"We're not really worried about that," Jerebko said. "We're just going to play together. Next man up, and Ricky is going to keep playing well.
"We all have phones. We all have social media. Of course we're aware. But what else is he supposed to say?"
Gobert added he understands the Thunder's frustration, even from Westbrook.
"When you lose, it's always frustrating. When I lose a game, I'm frustrated," Gobert said. "They're probably going to try to react in this game. We just have to keep focusing on us and keep doing what we do as a team."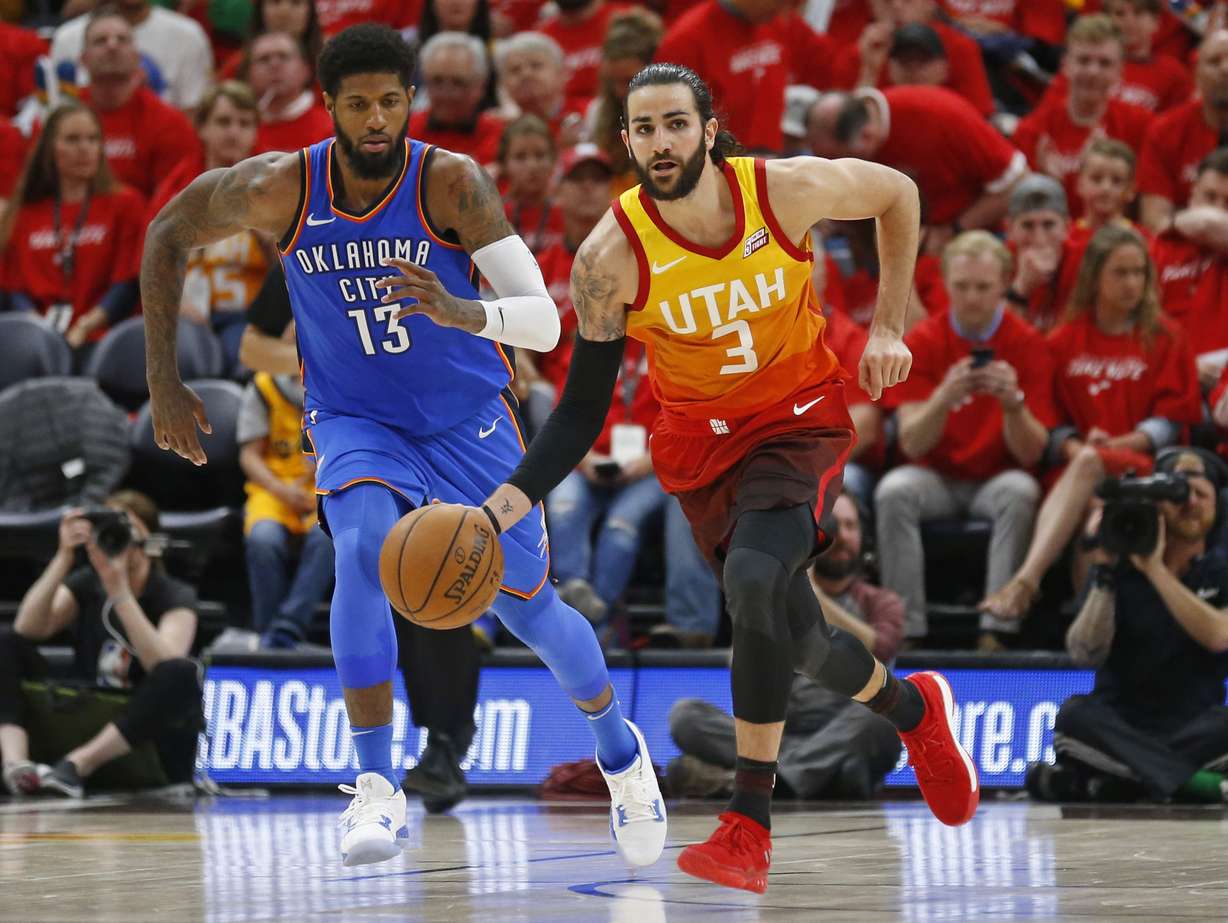 ×