This archived news story is available only for your personal, non-commercial use. Information in the story may be outdated or superseded by additional information. Reading or replaying the story in its archived form does not constitute a republication of the story.
SALT LAKE CITY — Soon after the shooting at Marjory Stoneman Douglas High School in Parkland, Florida, Brynna Dow's school was evacuated for a fire alarm.
As the Skyline High School sophomore and her classmates exited English class, their substitute teacher said, "Oh no, this just happened in Florida. I hope there's not a shooting here," Brynna recalled.
The teen said that moment was the most terrified she's ever been in her life.
"There was no reason why I should be that scared at my school, where I'm supposed to be able to feel safe," she said.
She was one of more than 200 students from the Salt Lake area participating in the Utah School Walkout at the state Capitol Friday. Many carried signs and listened to impassioned speeches as well as a song written by one young songwriter for those who had lost their lives.
The students also held a "die-in," lying flat on the cold concrete for 6 minutes and 20 seconds, the same amount of time in which the Parkland shooting occurred.
"I'm scared to think that my life could end in one second because of a gun," said Amanda Demelo, a Skyline High School sophomore.
The students chose the 19th anniversary of the Columbine High School massacre to say they're not giving up the fight for gun reform.
"We've grown up with the ability to have a voice," Giles Fielder, a Highland High School freshman, explained.
One of the organizers of the event, Ainsley Moench, said when she first heard about the Parkland shooting, she "just thought of it as another shooting before it really hit me that it was like 17 students that were killed that were my age."
"That really struck home with me. … This is the turning point," the Skyline sophomore said.
Highland High 11th-grader Maren Moffatt, another of the event's organizers, said the teens wanted to make their rally a "day of action" after the other events that were more for "raising awareness."
"I really feel like I'm in a peer group with students across the country, and we're the ones who are being affected, so we're the ones that have to make change," Maren said.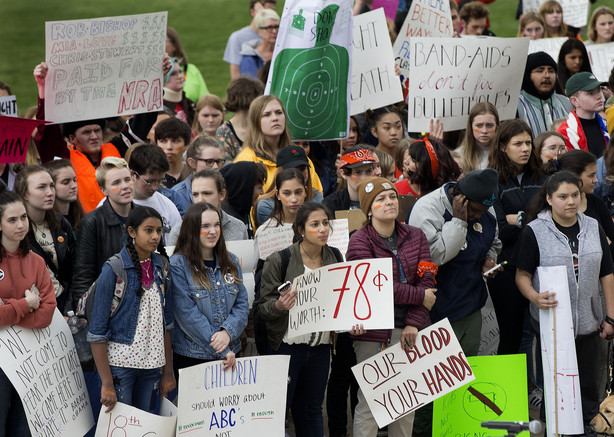 Kaela Peterson, a freshman at Highland High School, said anxiety about their safety can take away from her and her peers' ability to care about success in school.
"What if the school gets shot up today? They're not worrying what their test scores are going to be. We need to be focused on our education," she said.
The students carried signs with emotional slogans, such as, "Why doesn't pro-life exist outside of the womb?"
"Your silence is killing us," one student wrote. "Armed with education, not ammunition," another sign said.
While most at the rally pleaded for gun reform, Haydn Chambers took an opportunity to counterprotest.
The 11th-grader at the Salt Lake School for the Performing Arts carried a sign that said, "We will march until we disarm every American."
"It's sarcastic," he explained. Though he believes school shootings are a problem, he said the gun control measures his peers are rallying for are "authoritative" and "too big of a measure."
His opinion didn't appear too popular among those rallying Friday. When approached by the Deseret News, he was involved in a heated debate with several teens.
"I do think people attack me because when I was having a debate here, it was respectful, but still, they were constantly interrupting me," Haydn said.
With anxiety over his safety, fellow Salt Lake School for the Performing Arts student William Black said, "I just don't want to have to go through every day having the fear that I'm going to get shot," stating a common theme among the students at the rally.
---
There was no reason why I should be that scared at my school, where I'm supposed to be able to feel safe.
–Brynna Dow, Skyline High School sophomore
---
Toward the end of the rally, student organizers read their mission statement of specific legislation they want lawmakers to enact.
Measures the teens ask for include banning assault weapons and high-capacity magazines; closing a loophole in background checks for those purchasing guns online or at gun shows; and adding mandatory waiting periods between the purchase and delivery of firearms.
They also want lawmakers to raise the minimum age to buy firearms to 21 and institute a red flag law, which would allow police to take weapons from those deemed a threat to public safety.
After the rally, many of the student participants sat down in front of a table set up at the base of the Capitol stairs to hear a group that included five state Democratic lawmakers answer previously submitted questions.
While the members of the Utah Legislature's minority party said they plan to work on the gun control measures sought by the students and others, they also urged action at the ballot box.
"Voting is what's going to count. Because if you look at who votes, it's people that are older. People that are younger don't vote," Rep. Patrice Arent, D-Millcreek, said.
Arent told the students they have two choices when it comes to dealing with the Republican-dominated Utah Legislature on gun control.
"You can try and keep changing the minds of the people who are up there — legislators who don't support our positions — or you can change the legislators who are up there. And that's what we need to do," she said to cheers.
Leaders of the Legislature's GOP supermajority talked briefly about the need to address guns and school safety after the Parkland shooting, but the only step they took was forming a committee expected to make recommendations later this year.
House Minority Leader Brian King, D-Salt Lake City, said any change takes time and advised persistence, especially when it comes to an issue like gun control.
"You have to keep going until you win and that's not easy," King said, citing his experience as a Democratic lawmaker. "We keep banging on the door. We keep raising our voices. We keep talking. We keep working. We do not give up. You cannot give up."
Contributing: Lisa Riley Roche

×
Photos
Related Stories