This archived news story is available only for your personal, non-commercial use. Information in the story may be outdated or superseded by additional information. Reading or replaying the story in its archived form does not constitute a republication of the story.
BENGALURU, India — Members of The Church of Jesus Christ of Latter-day Saints in India welcomed President Russell M. Nelson Thursday to a place he says he loves.
Many Latter-day Saints in southern India drove hours just to be in the presence of a man they revere as a prophet. One thousand LDS Church members gathered at a downtown hotel for a special member meeting with President Nelson that was broadcasted throughout the country.
"The gospel of Jesus Christ has only one purpose really, bottom line. And that is to make life better for people, and that's what we're going to do," President Nelson told members during the meeting.
Saritha William said it was "amazing to listen to his words" as Indian LDS members prepare for the coming of an LDS temple, which President Nelson announced on April 1 during the church's 188th annual general conference.
President Nelson also toured Bengaluru — India's third largest city with a population of 12 million — considering sites for the construction of a temple.
For Punitha Amalaraj, a member of the LDS Church for 10 years, hearing the announcement that a temple would be built in India was a gift. Finding out President Nelson would stop there during his world tour was a second gift.
"Prophet Nelson visiting India is like he's visiting the other fold," she said. "It's like the resurrection of faith for me."
President Nelson has traveled to India many times before as a doctor and as an apostle. But now, as LDS Church president, he said believes it is an important time for the faith in the nation.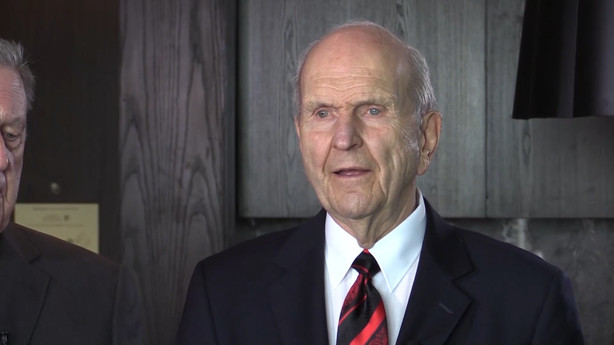 He also met with more than a hundred missionaries, which was available via Skype to others serving LDS missions in New Delhi and Lahore, Pakistan.
Elder Dalton Thomas, who is serving a mission in Bengaluru, said members are starting to see an increase of missionaries in the area.
"When I first came, there were 80 or 90. Now there's 133," he said. "So the work is increasing. There's so much good going on."
Sister Wendy Nelson, President Nelson's wife, accompanied him on his world tour and said the whole trip has energized her 93-year-old husband.
"...That clarity, that boldness, that focus — I've watched him become even younger at the pulpit," she said. "I've watched the Lord move upon him in a most magnificent way."
President Nelson leaves India Friday morning. His next stop is Bangkok, Thailand.
×
Photos