This archived news story is available only for your personal, non-commercial use. Information in the story may be outdated or superseded by additional information. Reading or replaying the story in its archived form does not constitute a republication of the story.
SANDY — The jerseys have been pressed, the shorts laid out and the stadium filled.
After a long journey of the past several years, the Utah Royals will debut in front of their home crowd Saturday at 1:30 p.m. MDT at Rio Tinto Stadium.
Wait … years?
No, Utah Royals FC — the professional women's soccer team plucked from a dissolved franchise in Kansas City — has only been anything remotely close to a reality since Real Salt Lake owner Dell Loy Hansen held a few clandestine meetings in Portland last November.
But Hansen had a vision — build the top women's soccer team in what is considered the top professional league in the world, and the fans would come.
The vision is already unfolding into a reality.
With just a few months to gather a head coach, roster, facilities, a schedule and a fan base, the Royals will introduce themselves to a standing room-only crowd of about 19,000 fans Saturday against the Chicago Red Stars (0-1-1) on Lifetime.
"I don't think any of us could've imagined it, but it's fantastic that the stands are going to be filled," said Royals midfielder Desiree Scott, who has played at the game's highest level — even the Women's World Cup — with the Canadian national team. "We're pumped to get out on that pitch and show them what it's all about.
"From everyone I've talked to and met, they are so pumped. The energy and the excitement around this game is going to be huge."
Everything is set except the actual soccer, which has been the job of head coach Laura Harvey. The two-time National Women's Soccer League coach of the year in Seattle was semi-retired, vacationing with her family in Hawaii, when she received a phone call from a Utah-area code that had Hansen's voice on the other side.
Almost immediately, he promised her a sold-out Rio Tinto Stadium for Utah's newest professional sports franchise to play its games. If she was incredulous then, she wasn't Friday afternoon when the team finished off its final training session before hosting the Red Stars, which boast former BYU standout and Utah native Michele Murphy Vasconcelos.
"Dell Loy told me it would sell out, so I've believed we were going to sell out," Harvey said. "I think he's a man of his word. He knows the community, he knows what this club can do, and it's now our job to put on a performance that the fans are proud of."
In addition to the just-under 20,000-seat stadium filled with women's soccer fans and fans of pop star Rachel Platten (who will host a special post-match concert), close to 5,000 season tickets have been sold for the Royals' inaugural 12-match home slate.
FC Kansas City posted a total attendance of 21,500 during the entire 2017 season. Utah's franchise home opener will dwarf close to 85 percent of that number by Sunday morning.
"We've been on the road twice now for our first two games, and we're ready to play at home in Utah and see what the fans have to offer," said Utah midfielder Katie Bowen, a New Zealand international. "We're going to be nervous. We've got things to execute. But we're certainly ready."
At the end of the day, a sold-out stadium and post-match concert with all the pageantry and professionalism the Real Salt Lake organization has to offer won't mean much without a game to play. And Royals FC need a win.
Opening the season with back-to-back road matches, the NWSL's newest franchise pulled a 1-1 draw from the Orlando Pride and held the Houston Dash to a 0-0 draw, thanks to a head-standing performance by U.S. international goalkeeper Jane Campbell.
Now it's time to pick up the points at home.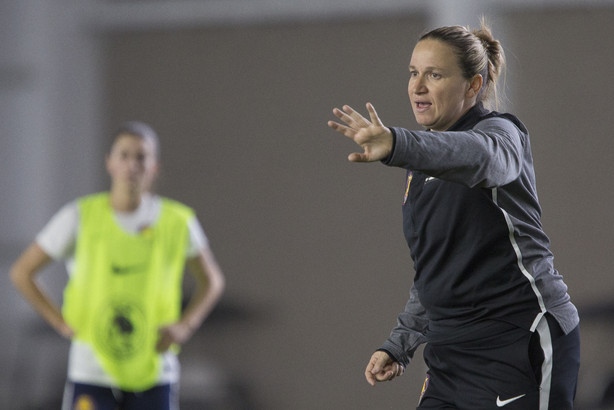 "When you're in the locker room, you do your thing. But when you're in the tunnel, I think you need to take in that energy and those vibes," Scott said. "Once you get out on the pitch and hit that first tackle, you can focus on the game. But (the full stadium) helps."
Team captain Becky Sauerbrunn recently returned from a pair of international friendlies against CONCACAF rival Mexico, returning to Salt Lake City on Tuesday so that she would be fit and available for Saturday's match.
"A lot has been building up to this game," Sauerbrunn said. "Off the field, I know a lot is going on, so Laura is trying to make sure we are focused on the soccer and that we put on a good show for everybody that will be there."
Another help will be former U.S. international Amy Rodriguez's return to Utah's lineup. The 31-year-old forward with 30 international goals was cleared from the disabled list Friday morning, and has set her sights on introducing herself to new Utah Royals fans alongside an attacking tandem that includes Icelandic international midfielder Gunny Jonsdottir.
The duo becomes another weapon to help Utah claim the real prize of Saturday — more than cheap tickets or a swath of loud, energetic fans.
"At the end of the day, we are playing a game of football," Bowen said. "We're here to win. It's awesome to have the sellout and fans wearing our jersey. But we need to win and get the points."
×
Related Stories