This archived news story is available only for your personal, non-commercial use. Information in the story may be outdated or superseded by additional information. Reading or replaying the story in its archived form does not constitute a republication of the story.
SANDY — If you can't say "Gunnhildur," then "Gunny" will do just fine.
That would be the answer to a prominent piece of trivia about Utah Royals FC: Who scored the first-ever goal for Utah's first National Women's Soccer League franchise?
Gunny Jonsdottir did the scoring on a one-touch finish inside the box during a 1-1 draw against the Orlando Pride — a goal that won NWSL goal of the week, mind you — but the 29-year-old Icelandic international didn't take any credit for the run of form that produced a highlight just three minutes into the Royals' inaugural season.
"It was definitely a team effort, a great goal from beginning to start," Jonsdottir said Tuesday after training in Sandy. "I got a great ball from Diana (Matheson), and all I could do is just finish it.
"It's definitely not my goal; it was a team goal. I'm glad we got a point on a very hard away field, and now it's just going to the next game, hoping for three."
🥁🥁🥁…Your @NWSL Goal of the Week winner is Gunnhildur Jónsdóttir!!!

Congrats Gunny 🇮🇸 and THANK YOU to all the amazing fans who voted. pic.twitter.com/lEfpQ2iASf

— Utah Royals FC (@UtahRoyalsFC) March 27, 2018
Utah plays one more road match Friday at the Houston Dash (6 p.m. MDT, KSL TV app) before the club's inaugural home opener April 14 against the Chicago Red Stars.
But the first-year side coached by two-time NWSL coach of the year Laura Harvey isn't playing like a brand-new outfit, if 90 minutes in the Sunshine State are to be believed at Rio Tinto Stadium.
Ask Harvey, and she still feels disappointed the Royals didn't collect a win at Orlando. Marta's penalty kick in the 20th minute off a controversial "handball" call against Utah defender Becky Sauerbrunn (who mashed a shot with her face) kept the home side to a point in their own opener at Orlando City Stadium.
"When you reduce a team like Orlando to three shots on goal, and (goalkeeper Abby Smith) didn't have to make an exceptional save, you want to come away with three points," Harvey said matter-of-factly. "It doesn't matter the possession or stats like that … for us to not come away with three points, you could be disappointed — and we are."
Harvey isn't disappointed in her potential star Jonsdottir, the No. 10 midfielder who came to Utah in the offseason after just one phone call with her new head coach. A chance encounter in Iceland with U.S. goalkeeper Michelle Betos at Norwegian club Valerenga also helped the midfielder known as "Gunny" to uproot to the United States, despite having no previous intentions of playing in a league described as "physical" and "like a UFC fight" by European soccer fans.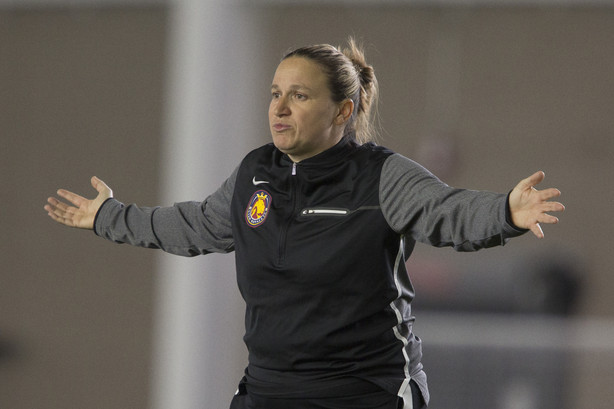 It wouldn't be the craziest thing Jonsdottir has ever done, either.
"I'm Icelandic, so I'm a little crazy," she said with a laugh. "I've always known that physicality is something you can control. How fit I am is up to me. I work really hard to be 100 percent there, so I can be better than anyone else."
Off the field, Jonsdottir is as lighthearted and personality-driven as her physical presence on it.
"She's gregarious and fun to be around," teammate Diana Matheson said. "I think she meshes well with everyone she meets."
Just don't make her angry.
"She's an athlete — the ultimate athlete," Harvey said. "The conversations we've had is that I feel like she does so much work, and I am maybe trying to hold her back — so that she can be more effective higher up the field.
"She's a work in progress, but she wants to be better and wants to be coached. I want to play with players like that."
×
Related Stories