This archived news story is available only for your personal, non-commercial use. Information in the story may be outdated or superseded by additional information. Reading or replaying the story in its archived form does not constitute a republication of the story.
PROVO — For the second-straight year, the BYU football team held its annual spring scrimmage under dark and rainy skies at LaVell Edwards Stadium in Provo.
But we learned a little more about new offensive coordinator Jeff Grimes and the Cougars' offense.
BYU opens the 2018 season in 147 days, or Sept. 1, at Arizona. The home opener is one week later, Sept. 8, against Cal.
Here are five things that stood out from BYU's end-of-spring finale.
The quarterback race is still on
Tanner Mangum didn't practice under full contact again, but he was the first quarterback out of the gate during the Cougars' 7-on-7 portion of the scrimmage.
After the scrimmage, the race to name a quarterback after a demeaning 4-9 season seems just as unclear as ever — though that may have been the intent of Grimes, who coached Saturday's scrimmage from the press level of the stadium.
"We kept it pretty simple today," Joe Critchlow said. "We put a few wrinkles in here and there for different situations. But I feel like we'll have a lot more offense to see in the fall. We're all just doing our best, trying our best, and trying to show ourselves to prove that we can be the guy to help this team win."
Critchlow led three scoring drives with his offense, and he took the first snaps of the full-contact scrimmage behind what appears to be the starting offensive line of Austin Hoyt, Tristen Hoge, James Empey, Thomas Shoaf and Brady Christensen.
The 6-foot-4, red-haired native of Franklin, Tennessee, looked to be the most polished quarterback in the rainy weather, connecting on 9-of-12 passes for 130 yards, including a 21-yard TD strike to Micah Simon on the seventh series.
"I'm definitely feeling more comfortable," said Critchlow, who is barely a year removed from a two-year mission for the LDS Church. "I feel like all the quarterbacks have an even mindset, though. We're all getting a pretty good feel of the offense and learning it quickly."
Zach Wilson showed talent, but also looked like a freshman
The highly-regarded quarterback from Corner Canyon completed 4-of-7 passes for 29 yards, and he led a scoring drive on his first series that ended in a 4-yard run from Squally Canada — one of three scoring plunges of the day.
But he also took an intentional grounding penalty, and overshot his receivers when looking to pass downfield.
Wilson was candid in his assessment of his own performance during his first trip to LaVell Edwards Stadium when asked if he feels like he should be the starting quarterback right now.
"I don't think so," he said bluntly. "I think I can improve a lot, and it's not just me; it's everyone. It's still early, and we're going to get a lot better. Come fall, we'll have a great push with this offense."
No starter was named after Saturday's scrimmage. The quarterbacks will resume competition during the summer and into fall camp, when Mangum should be healthier and former Maple Mountain star Jaren Hall will join the room after serving a two-year mission for the LDS Church.
BYU's offensive line is more aggressive
It's just a spring scrimmage, and it came against a defensive front seven with a lot of new faces. But BYU's offensive line wants to be better, and it's trying hard to prove itself to be the best unit on the 2018 squad with an eye on culture and accountability.
Sitake expects nothing less than the best from Empey, Hoge and the rest of the big hogs.
"They've got the best O-line coach in the country as their offensive coordinator, another great O-line coach, and Dallas Reynolds as their graduate assistant," the third-year head coach said. "They've got some great O-line coaching, and should be really good."
Accountability is key, and it starts with the line.
"We're all holding everybody accountable, and it's not just the coaches," Simon said. "That's something they instilled in us, but it's the leaders on the offense. We're trying to hold everybody accountable, and not let anybody slack."
BYU's defense may lack depth in 2018
It's hard to judge the defensive miscues from a spring scrimmage that held out so many players; Butch Pau'u and Zayne Anderson were among those who saw limited or no snaps, for example.
While there were a few young standouts, like recently returned missionary Devin Kaufusi playing alongside his brother Corbin on the defensive line, the offense set the tone and demeanor of the scrimmage. Corbin Kaufusi registered a sack on Wilson's intentional grounding, and Mitchell Price and Nate Sampson each recorded a pass breakup.
But the Cougar O-line got all of the push up front it needed, and a defense that was unable to force a turnover on the day stopped several big plays but also struggled to stop the offense.
It could be a long season defensively in Provo — or it could just be a lack of starters from what was shown Saturday.
"We wanted to see how our quarterbacks would respond to some pressures," Sitake said. "But we had a lot of young guys in on defense, even though we didn't hold back on scheme."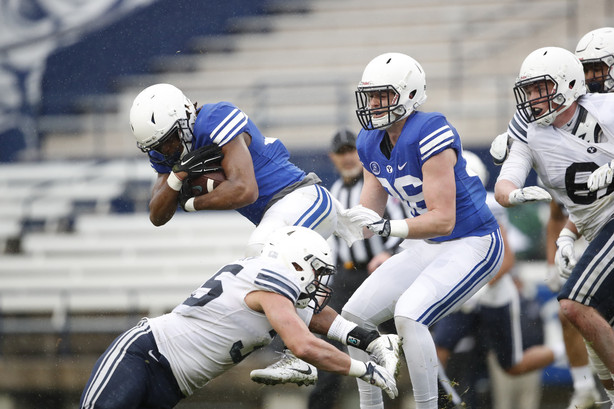 Canada's ready, and so are the rest of the running backs
That offensive line should lead to a solid ground game for the Cougars, though the conditions also likely led to more carries for Squally Canada, Zach Katoa and the rest of the running backs.
Katoa ran for 86 yards on 17 carries, Canada added 55 yards rushing and three touchdowns, and Riley Burt added 26 yards on nine carries to lead the Cougars.
"I thought the running backs did a good job of running the ball," Sitake said. "They caught the ball well out of the backfield, and they will be a big part of our success, both running the ball and catching the ball out of the backfield."
×
Photos
Related Stories