PROVO — There's been a lot of focus on newcomers to the BYU football team during spring camp, as is the case at a lot of universities around the country with the advent of the NCAA's early-signing period.
More and more high school seniors continue to enroll in college early, hoping to get a jump start on their collegiate careers and make a case for immediate playing time.
In Provo, newcomers that have stood out include freshman quarterback Zach Wilson, who was a Corner Canyon High standout just six months ago; offensive guard Tristen Hoge, the Notre Dame transfer who sat out last season at BYU; and new center James Empey, who has been tasked of replacing four-year starter Tejan Koroma.
With youth and a bevy of injuries to older players in spring camp, the development of these young players has accelerated — and they are handling it well, head coach Kalani Sitake said.
"I've seen a lot of improvement in the young players, and that's comforting to see that when you soak reps into young guys that they actually get better," Sitake said during the final week of practice until August. "Every position coach has really improved their group.
"A lot of coaches can probably say that about spring ball, but I have been really impressed with what our guys have been able to do."
BYU's newcomers will get one final chance to make a case for immediate playing time after a dismal 4-9 season Saturday morning at 11 a.m. MT, when the Cougars will face off in the final scrimmage of spring camp at LaVell Edwards Stadium. The event, which is open to the public, is scheduled to begin around 11 a.m. MT, with gates opening an hour before.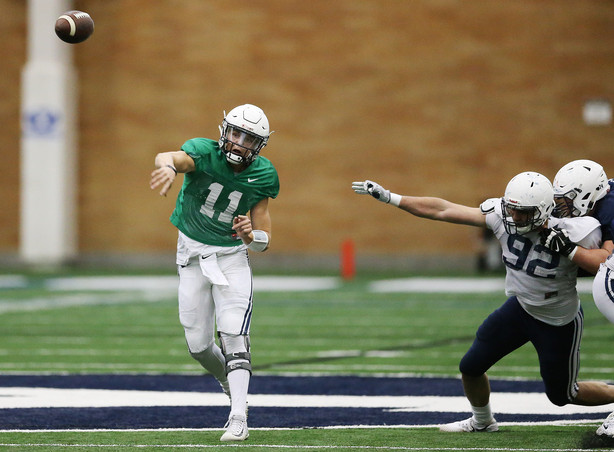 Tailgate lots will be available begin at 8 a.m. in the west parking lot of the stadium, and the first 5,000 fans will receive a 2018 season poster from the school's marketing department.
Sitake and offensive coordinator Jeff Grimes remained non-committal about how much of the playbook they will unveil during Saturday's scrimmage. It's unlikely to include much, with several starters being out for the afternoon on both sides of the line of scrimmage.
No starters will be named immediately following Saturday's scrimmage, though Sitake said a rough depth chart is beginning to come into shape at some positions.
Grimes, meanwhile, could use more time in making big decisions — like who will start at quarterback when the Cougars open the season Sept. 1 at Arizona.
"I could go for another 15. But what we try to do first is just build a culture," he said. "If the culture is right, then I think these guys will do enough between now and next fall."
Still, Saturday's play will be live, the hits will be full, and full tackles will take down every play — even the green-shirted quarterbacks, according to Grimes.
The scrimmage won't be a full game, though, and certain players or groups of players will likely cycle through both "teams," or whatever format is decided through the day.
"We're down in numbers because we've had such a physical spring camp," Sitake said. "We don't have the numbers to split into two full teams right now."
Spring Football
That will only help the offense, Grimes added.
"I think it certainly helps, but it helps at some positions more than others," he said. "It probably helps the quarterback and running back more than any other. For the line or receivers, it's almost live every day, no matter (if tackling is live). But this show what they can do that is extra."
Grimes has put an emphasis on accountability for his offense — and the offensive line, in particular, Hoge said — during his first spring camp in charge in Provo. He wants his offense to "do things the right way" and added "discipline" and "execution" would be the focus of the final scrimmage.
"We've got way too many mental mistakes, and we still aren't always getting off on the snap count crisply," said Grimes, the former LSU offensive line coach. "We just want to eliminate those mistakes.
"If we don't beat ourselves, then I feel like we will have a chance to play with anybody. But beating ourselves? that's not how we want to play."
×
Related Stories