This archived news story is available only for your personal, non-commercial use. Information in the story may be outdated or superseded by additional information. Reading or replaying the story in its archived form does not constitute a republication of the story.
SALT LAKE CITY — Saturday, millions of members of the LDS faith are expected to raise their hands to signify they will support and sustain President Russell M. Nelson as the 17th president of The Church of Jesus Christ of Latter-day Saints during the church's general conference.
President Nelson and Presidents Dallin H. Oaks and Henry B. Eyring make up the First Presidency, which is the highest governing body in the church.
Through his life and storied career as a physician, President Nelson has exemplified grit and hard work combined with love of family, God and his fellow man. And he remains humble.
"The honor of leadership is not as important as the good that one is able to accomplish with that privilege," he once noted, according to his biography.
In his almost three months as leader of the global faith, he has actively shown the good he can do as the faith's leader. And the work continues.
After the worldwide conference concludes, President Nelson will prepare for a worldwide tour where he and his wife, sister Wendy Watson Nelson, will be joined by Elder Jeffrey R. Holland and his wife, sister Patricia Terry Holland, and visit Latter-day Saints in eight cities in Africa, Asia, Europe and the United States in a span of less than two weeks.
His youthful energy seems to have prepared him to reach out to younger generations of the faith: In late February he gave a devotional address to hundreds of LDS young adults in the Las Vegas area. He warned them against temptations and talked to them about their potential.
"When you begin to catch even a glimpse of how your Heavenly Father sees you and what He is counting on you to do for Him, your life will never be the same," President Nelson told the young adult church members.
In June, he and his wife will speak to LDS youth.
It was a member of President Nelson's childhood congregation, Jonas Ryser, who helped pave the way for the future prophet to be baptized at the age of 16.
Since then, the man now known to LDS faithful as their prophet has incorporated the spiritual into his everyday life, and has extracted divine meaning from his life experiences.
Pres. Nelson's background
Once, a family approached President Nelson to see if he would operate on their daughter who had congenital heart disease. A child in that family had already died from a similar ailment. Success was not certain in this case, but President Nelson "vowed to do all in my power to save her life," he told members of the LDS faith. The child did not survive. Later, the child's parents requested he operate on another young child of theirs who also had a malformed heart. She also died.
"This third heartbreaking loss in one family literally undid me," he said in his address to church members.
After this, President Nelson spent a tear-filled night saying he would never again perform surgery. His wife listened and sat with him; in the early morning, she suggested he get back to work and learn what he could. Otherwise, others would need to start from the beginning to learn what he already had.
"Oh, how I needed my wife's vision, grit and love! I went back to work and learned more," he told church members.
Because he stayed with his profession, he added, he was ready in 1972 to operate on then-Elder Spencer W. Kimball, an LDS apostle who would later become the 12th president of the LDS Church.
President Nelson's biography mentions an address he gave to members of the LDS faith that hints at his loving determination to be his best and lift those around him.
"Remember, my dear one, not an age in life passes without temptation, trial or torment experienced through your physical body," he told members of the LDS Church in 1985. "But as you prayerfully develop self-mastery, desires of the flesh may be subdued. And when that has been achieved, you may have the strength to submit to your Heavenly Father, as did Jesus, who said, 'Not my will, but thine, be done.'"
President Nelson has lived a life of self-mastery.
He received a Bachelor of Arts and Doctor of Medicine from the University of Utah before serving for two years in the U.S. Army on medical duty during the Korean War, according to an online biography.
When he returned from the military, he completed his surgery residency rotations at Massachusetts General Hospital in Boston and the University of Minnesota, where he received his Ph.D. in 1954.
Pres. Nelson's professional life
During his schooling, President Nelson met and married Dantzel White, and the couple had 10 children together. President Nelson's wife and children said he made it a priority to be with them, though he was often busy.
Former LDS Church President Harold B. Lee once asked Dantzel Nelson how it felt to be the spouse of such a busy man.
"When he's home, he's home," she replied.
His daughter Sylvia Webster said her father taught his children how to ski on the Utah slopes, how to ride a bike and how to drive.
"He was very hands-on," she said.
After the death of his first wife in 2005, President Nelson married Wendy L. Watson in 2006. Watson is an author, holds a PhD and worked as a marriage and family therapy professor at BYU.
Even as a busy family man, President Nelson always made it a priority to focus on emulating Jesus Christ and his healing power.
He helped develop the first heart-lung machine, making open-heart surgery possible by maintaining blood circulation. Early in his career, he discovered a way to better oxygenate a patient's blood during surgery.
Through his career, he was fascinated by what he saw as God's laws "that govern the function of the body," he told young adult members of the church in a 2017 address. As he researched, he discovered how these laws worked in connection with the heart's function.
But despite his own medical accomplishments, President Nelson maintains that true healing power comes from Jesus Christ.
"I marvel at his matchless power to heal. I testify of Jesus Christ as the master healer. It is but one of many attributes that characterize his incomparable life," President Nelson said during a 2005 address to LDS Church members.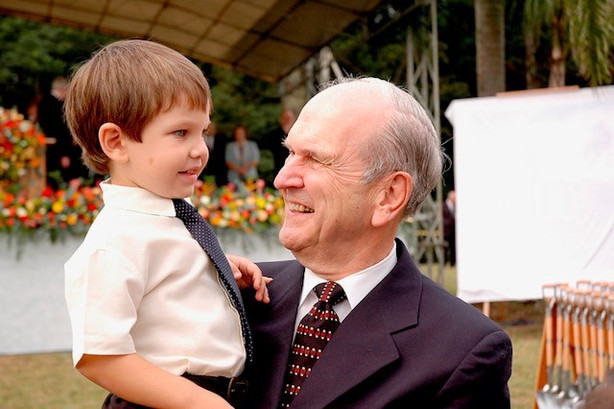 President Nelson was 60 when he accepted a lifelong calling as an apostle in the church's Quorum of the Twelve Apostles. Church members believe these men serve as special witnesses of Jesus Christ. He was called as the president of the Quorum of the Twelve Apostles after the passing of President Boyd K. Packer in 2015.
Prior to and during his calling as an apostle, President Nelson served on several councils in the LDS Church, which provided him with varied experiences that have served him well throughout his ministry.
Under LDS Church President Ezra Taft Benson, he also worked to further missionary work in the Eastern European nations, visiting 31 countries in Europe in 27 trips made over 5 years, LDS Church News reported.
In his most recent general conference address to members of the LDS Church, President Nelson spoke of the Book of Mormon — a book of scripture members of the faith believe to be an account of Christ's ministry in the Americas. President Nelson challenged members to think about their lives without the Book of Mormon, what they would not know or have.
President Nelson said he studied the book in response to a challenge given by then-President Thomas S. Monson to LDS Church members. Typifying his meticulous nature, President Nelson made lists of what the book is, affirms, fulfills, clarifies, refutes and reveals.
"When I think of the Book of Mormon, I think of the word power. The truths of the Book of Mormon have the power to heal, comfort, restore, succor, strengthen, console and cheer our souls," he said in his address.
×