This archived news story is available only for your personal, non-commercial use. Information in the story may be outdated or superseded by additional information. Reading or replaying the story in its archived form does not constitute a republication of the story.
Editor's Note: This is the second article in a two-part series. The first article can be found here.OGDEN — It was late July when a strange note popped up on Ogden resident Ben Taylor's Facebook one evening.
"Helo Sir, wel my name is Joel from Liberia, West Africa. Pls I beg u in name of GOD, I need some assistance from u, business or financial assistance dat will help empower me pls," the message read.
While Taylor's common sense told him it would be best to ignore the poorly-spelled plea for financial help from a man in Africa, he hadn't let that stop him in the past. He would often try to waste scammers' time by responding to their messages, even documenting some of the antics on his YouTube channel.
So Taylor decided to bite and — like any good YouTuber — press record. What followed was an experience he still finds hard to believe.
In the ensuing months, Taylor slowly became friends with Joel after sending his would-be "scammer" a camera and instructing him to take pictures of life in Liberia in exchange for a few dollars.
To Taylor's surprise, Joel was willing to put in the work, though the pictures of the man's impoverished village surprised Taylor. And though photography didn't seem to be Joel's strong suit, Taylor decided to create a booklet with some of Joel's best photos, titling it "By D Grace of God" — a phrase Joel would often use in his messages to Taylor.
Taylor launched the book on Indiegogo, hoping to raise $2,500. The campaign soon raised over five times that amount, and the book was purchased by YouTube fans of the series from over 40 different countries.
Taylor gave Joel half the proceeds to spend, then went searching for a Liberian charity to donate the rest. When he couldn't find one he was comfortable with, he decided to take a leap of faith and wired Joel $1,000 to buy backpacks, notebooks and other supplies for the school children in the village.
A few days later, Taylor received pictures Joel took as he visited schools in the area and handed out the supplies he had bought from the local markets.
KSL documented the first part of Taylor and Joel's story in October, but, unlike the words on the page, the saga didn't end there.
Related:
As the story continued to spread, Taylor's website blew up with more and more orders for the book and other products Taylor had created with the book's logo.
"We had this extra money and I wanted to do something special for Christmas," Taylor told KSL.com. "Joel told me the real need for the kids over there was used clothing. That kind of took me back because I had thought, let's just do something fun, … (but) used clothing was the real thing they needed."
So Taylor wired Joel some money, and Joel bought used clothing for the children and rice for the adults in his village as a Christmas treat.
"I think it's just given him some purpose and some meaning back into his life. This was all his idea, as you remember," Taylor told KSL.com. "Joel's just taken the lead on this. I think he's happy to be helping. I think he's just tickled to be part of it all."
Taylor has received messages from fans of his YouTube series around the world who want to help, one even offering to fund the schooling of a disabled orphan in Joel's village. But a certain request came more frequently than any other in the comments of Taylor's videos: "When will you go visit Joel?"
---
Joel's just taken the lead on this. I think he's happy to be helping. I think he's just tickled to be part of it all.
–Ben Taylor
---
Though Taylor said the thought had been floating around his head for awhile, the idea of traveling to a foreign, third-world country to meet a man he'd only spoken to on Facebook seemed both daunting and expensive. But thanks to some generous viewers of the series, Taylor was soon able to fund the trip.
In late February, he packed his bags and took off with a few friends in tow to help film.
"What you gotta know about the trip to Liberia is that it's long, like, 36 hours long," Taylor said in one of his many YouTube videos documenting the adventure. "But I knew that I was headed somewhere special because the lady sitting behind me sang and prayed to Jesus the entire time."
When Taylor landed, however, and night began to fall, he wondered what he'd gotten himself into.
"The place just screamed third-world," he said.
What surprised Taylor most, however, wasn't the poverty but the once-decadent and now abandoned and dilapidated buildings that cropped up in the middle of the slums. Taylor soon learned these buildings were remnants of a war-torn country, but had once been beautiful — welcoming tourists from around the world.
"I can't tell you how much potential this country has," Taylor said in a video. "I knew right then that this is what we needed to be doing in Liberia. We've gotta get Liberians working again. We've gotta get the economy back to where it was. These vacant war-torn buildings stand as a testament of what Liberians are capable of when given the chance."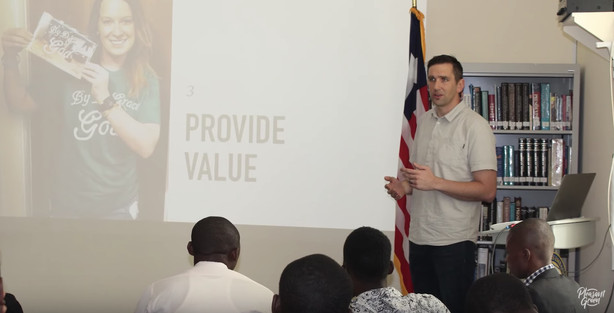 This impression stuck with Taylor as he went to speak to young entrepreneurs at the U.S. Embassy in Liberia about his experience with Joel.
"We met with some of the brightest young minds in Liberia and talked about creative marketing and setting yourself apart from the competition," Taylor said in a video. "I listened to them about what needed to change and what businesses needed to get off the ground."
Taylor then held a mini "Shark Tank" competition, choosing certain businesses in which to invest using the money that was still rolling in from the book proceeds.
The YouTuber then visited a school he had heard was in dire straits after a drought and dropped off a generator that would help the kids pump water to their crops instead of requiring them to walk hours to fetch small amounts.
"How are these kids in Liberia so perfect? They're beautiful, they're polite, they're just the best people under the sun. I could have stayed and played with these kids for hours, but Joel was in Monrovia and he was expecting me," Taylor said in a video.
Yet there was one catch: Taylor had never been to Liberia before, and, while he knew the name of the area where Joel lived, the house had no address. When he reached the neighborhood, however, something clicked.
Taylor began to recognize bits and pieces of the neighborhood from the photos Joel had sent him many months ago and walked confidently in what he knew was the right direction.
"I had never been to Liberia before, but I had been down this path. I'd never been in this neighborhood, but I knew which house was Joel's. And the guy sitting right (in front of the house), I recognized like we'd known each other for a year," Taylor said. "We had never met, but we were business partners, and we were friends."
Taylor smiled as he approached Joel, who smiled back when he recognized the tall American. The two embraced as if they'd known each other a lifetime.
And it didn't take Joel long to point out to Taylor the new roof he was able to install on his home thanks to the proceeds of the book.
"He was so proud of the new roof … and his kids who were so cute and were now enrolled in school," Taylor said in a video.
Taylor asked Joel if he still had the camera he sent to him those many months ago, and Joel quickly pulled it out. He hadn't sold it, he said — it was a memory. And near the camera was a copy of the book, "By D Grace of God", to "remind him what made it all possible."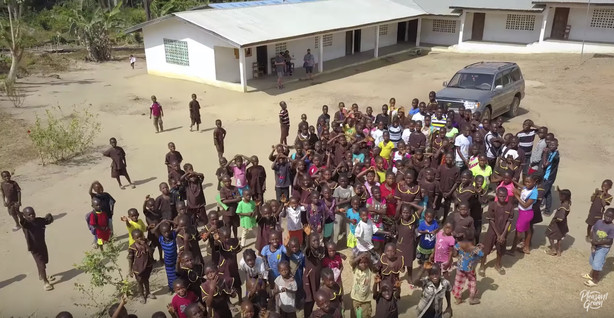 Once others in the village heard of Taylor's arrival, many who had benefited from the Christmas gifts or Taylor's business loans came to thank him, and the YouTuber was soon lead to the schools he and Joel had helped and the orphanages they had funded so everyone could say a proper hello.
"I thought, 'Is this real life?' This just started with me responding to a crazy message on Facebook from a guy named Joel in Liberia," Taylor said in a video. "I saw the places and faces from the pictures Joel had sent, and I promised myself that as long as people watched these videos and as long as people supported Joel and I, I would continue to give back."
And Joel also had a message for the many viewers who had made everything possible.
"I want to tell them that I appreciate everything that they have done for me and for the business. I appreciate it," he told Taylor. "I'm not a scammer. I'm just someone who needed help in their hour of need, and God sent Ben to assist me."
Taylor also believes the two may have been thrown together by a power slightly more divine than luck and Facebook Messenger.
"Sometimes in life, there will be people like Joel who will find themselves in places where nobody can or even will help, and that's when God will search the entire planet for a heart that's willing and even crazy enough to enter into a situation with no guarantees," Taylor told his viewers. "I think if you take a chance on someone, maybe you'll find something too, and maybe you'll treasure it the rest of your life."
Taylor has documented the entire series in a 24-part YouTube series here. Those wishing to purchase a copy of "By D Grace of God" can find them here.
×
Photos